by Jessica Holyoke on 25/02/08 at 5:31 pm
by Jessica Holyoke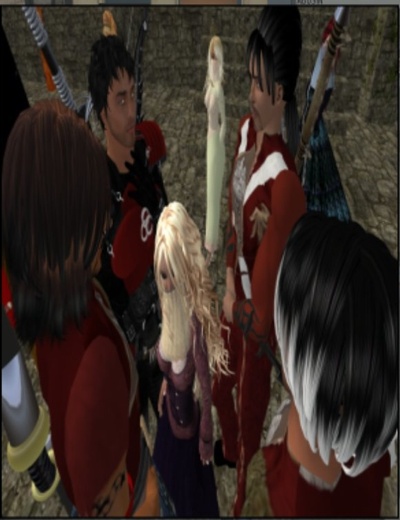 Free Men of Gor abusing an innocent woman
A Green Caste enters the Courtyard. "Lady, I hear you are looking for a Feminist in Gor!" So began an interesting and enlightening night in Port Kar.
Readers of the Herald, or those who just like seeing naked men, might remember Hanze Melnitz, Admiral of Port Kar, posing for Post Six Guy many months back. I recently returned to Gor and started to notice that the women far outnumbered the men and sometimes the Free Women outnumbered the slave girls. I decided to take a night off from my own role play and travel to Kar to talk to the Free Women there.
As I telepoted in the market, I was lucky to see both the Port Administrator Dark Starr and his Free Companion, or what would be on Earth a wife, Devyne Daligdig. I introduced myself and my paper and asked if I could talk to the women out of character about their experiences. I had to explain a few times how I wasn't a centerfold photographer but rather just a journalist/editorialist.
I changed into some Free Women clothes and teleported down to the Docks of Kar. Seeing Kar reminded me of why some people take part in Gorean role play in SL. There were small details of seagulls and turnbuckles. Everything was designed to replicate the feeling of being on another similar world but by the sea, in this case, at the mouth of the River Thassa.
My reception in Kar also reminded me how people can be judged by their groups. Combining a few Gorean groups with my Feminist group and a female domination group conjured this image of myself as a man-hating lesbian. Add the fact that I was asking these women why they willingly covered their entire bodies, including a veil on their face, surrounded themselves with barely dressed, fawning girls who are referred to as sluts, knowing that they themselves could find themselves naked in a collar for certain infractions, and submitting to a variety of restrictions on their movements and actions and it was not the warmest of receptions. At one point, the Free Men sent me a picture showing them abusing innocent women.
I started by talking to my hostess, Devyne Daligdig. She began with another account as a slave, but then came to Gor as Devyne, the Free Woman. While she started out in a BDSM community, she came to Gor and liked it more than where she was before. She tried other role playing areas, such as Star Wars and the Elves, but the community and family of Kar is what brings her back to the Port.
One of her slaves – a kajira – came up to us. I asked Devyne how does owning a pleasure slave work with having a Free Companion. She told me how knowing what the expectations were upfront, on both sides, was important to making the relationship work. Her slave was a student of Gor and Devyne enjoys her role as a teacher of the ways to be Gorean in SL.
Some women start out as kajirae due to the frequency of learning opportunities. Sela Montgomery started out that way. She learned the ins and outs of Gor as a slave before becoming a Free Woman. She now serves as Port Kar's Ambassador.
When asked what would you tell someone who thought that it is demeaning or anti-feminist to be involved in Gor, not as a kajira, but as a free woman, she had this to say:
"If someone were to focus on specific aspects of the role play, it could be interpreted in many ways. True, Gor is a male dominated fantasy world. But fantasy is the key word here. I am treated with most excellent respect both by the men of this city and any of the many cities I have traveled to in my duties as Ambassador.

I think the thing to keep in perspective when looking at Gorean role play is that for most, it is role play. We always consider the human behind the avatar and their feelings, needs and their heart.

We would both be rather silly to believe that everyone in SL has a pure heart and honorable intentions – but that said, we cannot in good faith limit that realization to Gor. One does not have to look far into other role plays I am sure. Human nature being what it is, those issues exist on Earth sims, as well as role play sims I would suggest.

Yes, there is a huge aspect of Gor that is about the slaves, of course. But unlike the novels, you will rarely see a slave sold if she does not wish to be sold to that particular Master – the same as you would not see someone literally forced to a collar as you would in the novels."
Other free women's responses where similar. I asked the same question of the Chief Scribe, Silua Mills. She told me that a feminist would demean her if they tell her that she cannot choose to role play in an environment where she doesn't have to pretend to modern ideas of equality to be valued. The Free Woman in Gor is not the same thing as in real life. She still lives in a Man's world and she isn't expected and is indeed forbidden from trying to act in masculine fashions. Most feminists would say that is demeaning. She says that it is liberating.
I then was greeted by the Green Caste elder, Kaiila Mahoney. The Green Caste are the Physicians on Gor and as such have a slightly different role. Kaiila is the head of her Green Caste group that spans many Sims and cities. Apparently my reputation preceded me as she asked me if I was looking for a feminist. That's when I found out her story.
She told me that she was a feminist, a retired police officer who spent 27 years in uniform. She was in the first female army unit after the Woman's Army Corps was disbanded. She told me why she took part in this role play, first in text chat and then on Second Life.
"I have commanded men in war, real war. I am retired now and work in industry and run a successful business. Many of our slaves and FW are successful powerful women.

So why do we play in Gor? What brings us here? Why would we want to demean ourselves as you call it? Because there is a deeper core to this. Something many don't grasp.

It has to do with what I lost when I retired, a sense of service, a sense of honor.

Honor is used a lot in this role play. All my life I have been the protector, a single mom raising a son that is also successful.

I come here because in fantasy, I want to at least try and to pretend there are strong men. I want to believe there is honor. I want to think there is a sense of country, duty.

The panthers, the outlaws, you know what most of them are, just the opposite. They are the frustrated housewives. They have not had the opportunities I have to be equal to men

They feel that standing on docks spitting insults and capturing men and raping them gives them power.

Do you know what gives my power? What gives me power is respect. What gives me respect is how I treat men with a sense of grace and dignity that comes with respecting them. Many of these men are just boys, much like the young recruits I had in real life. They give me respect. I don't demand it. I don't require it. I get it. I have never been collared. I have never been captured.

I am also the elder of the green caste if you know what that is. That is all the healers in the game. I have over 300 physicians that look to me and I work with most of the Gorean sims. So I come her to be a lady. And you know what? I am still leading.

And the men? They talk with respect to me. So am I a woman's liberationist? No. I used to laugh when I was in my fox hole in real life, saying I challenged them to come and crawl through the mud like me or worse when I had to deal with death and life in the rawest form. I would sit and cry. And wonder why can't I be like the little housewife and not have to experience this. So I come here to think there can be a land where I can be protected and cared for where I can just love and not have to hurt or push or be angry.

Monday morning, I will go back out into my world and be that women's liberationist but tonight, I want to be a lady."
In taking my leave, I asked one last question of my hostess. What would you tell someone who thought that it is demeaning or antifeminist to be involved in Gor, not as a kajira, but as a free woman? Devyne had this to say:
"I would tell them that Gor is NOT feminist, those who are would hate it as a Free Woman, and feel demeaned as a slave. People in Gor understand what it is. Its harsh, Men are Men, women are weaker than men. A free woman is free because men allow it. Free Women have standards to uphold. Slaves are free to be women, to be free in their sexuality and in giving themselves to their owner. To come in yelling how terrible it is, is judging something you do not understand and demeaning to these people's personal preferences

I think what it comes down to, when coming into something like this, for whatever reason, you have to be open to any possibility. Be honest with yourself, be willing to push limits and learn who you really are. People here KNOW who they are, more than any community I've even been in. We all have a sense of self unlike anything….and that it itself is an amazing experience."