by Jessica Holyoke on 14/02/08 at 8:22 am
Residents with a positive monthly L$ cash flow declines for second consecutive quarter
by Jessica Holyoke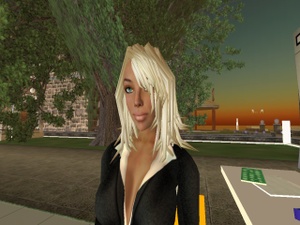 After the banking ban, there are commentators who state that the Second Life Economy is in a recession and then there are the opposing commentators that say that the Second Life Economy is not in a recession.
According to Wikipedia, a recession "is a decline in a country's gross domestic product (GDP), or negative real economic growth, for two or more successive quarters of a year." Linden Lab does not have figures on GDP or economic growth. But the Economic Statistics page does provide two numbers that can assist in seeing if there is a recession, Positive Monthly Linden Flow (PMLF) and total User Hours Logged.
PMLF is the number of unique users that showed profit over a particular month. On the statistics page, they are grouped by number of users that have experienced a degree of profit in U.S. dollars. This number is better than the other monthly spending numbers because it eliminates any Alt effect. For the resident transaction numbers, if I gave an Alt any amount of money, it would be counted in the totals, even though I was not spending money, just shifting it around.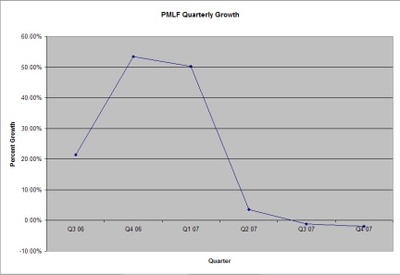 Second Life users with positive monthly L$ cashflow getting harder to find
PMLF does not include land sales. According to the source, land sales are investments and not receipts. So they do not get counted as business receipts. This makes land comparisons more isolated and it takes out any land businesses, like land barons and banks. PMLF covers the buying habits of everyone who is not in the land business.
In looking at the PMLF, I took the mode, or the central number, of each category except for the $5000 and above category. For that category, I used $5000. I then multiplied the amount earned by the number of users in that category. I then added all of those sums to create a monthly total which is an estimate of the total PMLF. I was then able to compare the average PMLF for a calendar quarter and track percent growth within that particular quarter. Growth is measured as the difference of the starting value and the ending value divided by the starting value.
Quarter 3 and Quarter 4 2007 both saw negative PMLF Growth. The percentages were not more than 2%, but they were both negative. Negative economic growth for two calendar quarters is an indication of a recession.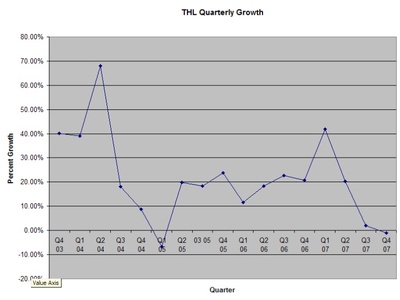 Total hours logged also decline
THL also avoids the alt effect because it measures how much total time is spent in world. While certain content creators do not need to spend any time in world, people searching, purchasing and using their products do need to be in world to use their purchases.
THL growth was negative for Quarter 4 2007. The only other time it was negative was in Quarter 1 2005. In talking with wise resident Gwyneth Llwellyn, around that time, the Lindens stopped paying L$500 for each host of an event. This may have created a negative use rate.
In dividing the quarterly values of PMLF by THL, you get an index I will call the Quarterly Profit per Capita (QPC). Because of the lack of historic PMLF values, QPC cannot go back before quarter 3 2006. While QPC is lower now, it is not dramatically lower. QPC was 0.26 during the Quarter 4 2006 boom and 0.20 for Quarter 4 2007.
So while total profit might be down, and showing recessionary signs, the strength of the economy based on the people who use it have only slightly slipped.