by wendell on 27/03/08 at 11:34 pm
"I came here to roleplay a rape, and all the guys just want to hold my hand! Do I have to beg?"
by Wendell Holmer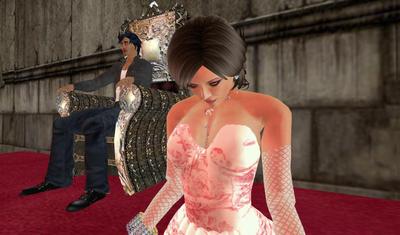 Through the hobnailed oak doors of an old monastery, I saw three women huddled around a bar. Their whispers echoed across the stone floor."Anyway, hun," Mary was saying, "the reason you can't just go home is that the mansion is full of girls from all over the world that have been kidnapped and brought here against their will."
"My boyfriend?" said the new girl, shaking her head as if to clear it. "He SOLD me?"
"Nice boyfriend," Jane said bitterly.
"So what goes on here is highly illegal," Mary went on. "If one girl gets out alive and brings back the authorities, the whole place crashes down on the cartel's head. That's why you can't leave."
"I would dump your boyfriend," Jane said.
"Yes," I said, walking over to join them. "Once they sell you into slavery, that's a sure sign the relationship is in trouble."
No reporter had ever made it this far. There were just rumors. All these movie actresses and prom queens were disappearing. I had seen some blurry footage on YouTube, but it could have been a hoax. Months in Singapore's seedy waterfront bars had finally led me the Human Trafficking Mansion (Oraenji 31,39,609). I was in.
I was trying to pose as a customer without actually raping anyone. That was harder than I thought.
The first thing they gave me was a notecard that said, "Have fun. This is a forced fantasy site, if you see a captive girl you like, don't be ashamed to grab, rape, abuse, or humiliate her." The card went on, "Women, if you are not wearing an observer, predator, or OOC title your avatar may be subject to rape, torture or humiliation at anytime."
Although I didn't want to rape anyone, they tagged me with the title, "Cartel Rapist." Note to self: remove the tag the next time you go to a fashion show.
As a man, I don't understand why women fantasize about rape, but there's no doubt that many do. "Rape does for a woman's sexual fantasy what the first martini does for her in reality: Both relieve her of responsibility and guilt," Nancy Friday wrote in My Secret Garden. "She gets him to do what she wants him to do, while seeming to be forced."
The victims approach that fantasy in two different ways. Some abjectly submit. "The more i'm used the more i want to be used," one admitted. "It's addictive for me. i'm into about anything, especially public use. i love to be stripped of my shame and self-respect."
The other sort are fighters. "I do like the idea of a little force being used," one said. "I don't want to surrender. I want to fight tooth and nail and sometimes lose.
"My RL boyfriend and I take turns," she went on. "He controls one day. I control the next. A little play slapping some gentle choking. Is it really being forceful if I ask for it?"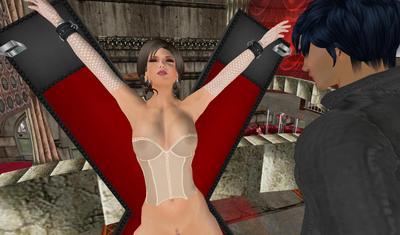 The fighters resent being captives. They are rude and contrary. Their goal is to get you so fed up that you want to bitch-slap them. But I couldn't bring myself to hit or rape anybody.
One night I sat with a girl who was bewildered and frightened. I comforted her, reassured her, talked about escape. Eventually, she broke character and sighed, "I came here to roleplay a rape, and all the guys just want to hold my hand! Do I have to beg?"
She patiently explained that the Human Trafficking Mansion is not primarily about sex. It's about improvising a scene. "Do you think I sit in my living room and masturbate?" she asked me. She works hard to make the scenes realistic, then prints out the chat logs and red-pencils them. The experiences turn her on, but she spends her personal, private moments with the transcript, not in front of the monitor.
Members receive tips on roleplaying. Don't decide everything that happens, but let the other players make choices consistent with their characters. Keep a complete thought in a discrete paragraph, but avoid posts that are too long. Stay in character. A notecard concludes, "Be realistic. You are human, in this sim.You cannot ejaculate 4 times in a row or shoot gallons of semen, you cannot see behind you unless you turn your head…."
It's a distracting environment. Someone is always getting raped or tortured nearby. Meanwhile, in the interest of verisimilitude, the trainers are giving advice. It sounds like this:
Victim: mmmm
Rapist: You can enjoy being a whore if you accept it.
Victim: oooohhhh
Victim: ooohhhhhhhhhhh
Victim: mmmmmmmmmmm
Victim: oooohhhh
Rapist bites her neck as he accelerates his pounding.
Enforcer–from a different floor of the mansion: ((please keep the oooh's and aaah's to a minimum, use words!

))
Victim: hmmmm
Victim: oooohhhhhhhhh
Victim: mmmmmmmmmmmm
Victim: aaaaaaaaiiiiiiiiiiiiiiiii
Enforcer: ((Victim, no more mmmhs and ooohs, try using sentences!))
Victim: ok……
Enforcer: ((thank you))
Edicts are always coming down from Father Bracken, who seems to be in charge. Recently, he wrote: "Let me remind you that escaping from the compound would be DAMN near impossible. There are 20 foot walls, armed guards, and a frozen wasteland beyond that stretches for miles and miles. You'd die. That's it. On top of that most of the prisoners and trainees are wearing very brief clothes and high-heeled stilettos. Not even Rambo could pull it off in an outfit like that. So knock it off."
Wait a minute. This is Singapore, right? But I reminded myself that life in the mansion is all about acting. If someone like me could be a convincing rapist, I should be able to envision a frozen wasteland in a tropical country that is largely rain forest.
I squared my shoulders, curled my lip into a cruel sneer, and walked into the mansion. I was going to mess somebody up good.