by wendell on 15/04/08 at 10:23 pm
Wendell left grinding his hips in the empire of the Dommes
by Wendell Holmer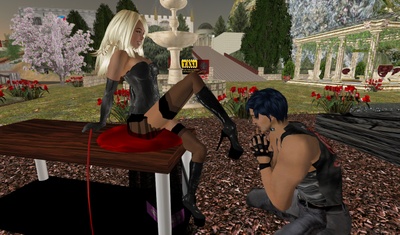 I stand in the town square wearing slave clothes and doing a belly dance. A woman clicks by in six-inch heels, dragging a man by a chain. My hips gyrate. My bare arms wave in the air. And I curse Jessica Holyoke for leaving me here.
Jessica is a colleague on the Herald. She reads my stories about the sexual mores of Second Life and wonders why it is always the women who are dominated, raped, or eaten. "Why are men never on the menu?" she asks.
Jessica invited me to write about a place where women rule and men are slaves. Most guys would read that description and say, "That's my apartment." It also fits the Other World Kingdom (OWK 178,233,23), which is a real-life resort in Czechoslovakia. The rules make it very clear that dominant men are not welcome, so if I wanted to see the place, it would have to be in a supporting role.
"It's a date," I said.
I showed up at Jessica's apartment and waited while she got dressed. After trying on about six outfits, she settled on a leather bustier, thigh-high boots, a gauzy skirt, black gloves, and, um… a whip?
"What about me?" I asked. "What do I wear?"
"First strip," she said. "Then tell me how you typically see men dressed as submissive."
"Leather harness? Ball gag? I am not doing that."
"I don't see you naked yet," Jessica said, drumming her long, sharp fingernails on the tabletop. "I gave you two sequential orders: one was to strip; the second was to give me an idea of what your previous expectations were. So far, you haven't obeyed either one."
It was a little early in the evening to be getting undressed, but we were reporters going undercover. I took off my shirt and pants and stood there in my boxers. Jessica passed me a pair of black pants and a leather vest with a dragon on the back. Then she gave me a collar, which, as you probably know, permits one avatar to manipulate the movements of another.
"Why is it necessary for me to wear a collar?"
Jessica raised an eyebrow. "I am tiny and I can't be using a sword all the time. And I think it will be cute."
I grumbled. She tapped her foot. "I can't believe I'm doing this," I said as I snapped the stupid thing around my neck and immediately fell to my knees. "I hope you're happy."
"Getting there," she said.
We teleported into a large stone room. Posters of men being chained and butt-whipped covered the walls. Jessica put on a tag that said, "Castrating Bitch." She fastened a chain around my neck and gave it a yank.
"Let's get outside and show you off, boy," she said.
"I'm glad you're proud of me, ma'am," I said, trying to get into character.
"Oooo… ma'am?" she said. "Do you know what ma'am really means? It's not very nice."
I asked her, but she didn't answer. So I asked her again. "What does ma'am mean, ma'am?
Jessica leaned down and looked me dead in the eye. "Stop calling me ma'am."
"But you didn't answer me, pet…"
"Princess!" she cut me off sharply. "Sometimes people say ma'am and mean bitch."
"OK, prin-cess," I said. "As long as we're respecting each other's preferences, I don't like being on a chain."
She took off the chain, which surprised me. But then she grabbed me by the hair, which didn't. She bent me at the waist and dragged me down the middle of the street.
We had joined a parade. Women pulled men behind them and stopped from time to time to admire something or walk into a shop. The men followed meekly and waited patiently. This was no great kink. This was Saturday at the mall.
The women looked hot, but sex was definitely not on the menu. One man exposed himself as he knelt and got a sharp reprimand. "Can't you read?" said a nearby mistress. "No nudity." The man quickly covered himself, just has he would have done if he'd been caught out at the food court.
Jessica stopped and pointed to a blue ball, humming a little tune. Suddenly, without wanting to, I was licking her foot. She patted my head.
"I'm glad you're enjoying this," I said, glaring up at her.
"If you're good, you might make me forget how bad you've been," she said. She clapped her hands. "Come on," she said. "Come on little boy, such a good boy!"
"I want to stand up," I said, stumbling along behind her as she yanked on my hair.
"But people might be confused," she demurred. "You wouldn't want that, would you? People not knowing what you are here?"
"What am I?"
"A true submissive male." She pointed to a post. "Hitch up here."
She fastened my wrists to the pole and raised her bullwhip.
"You hit me with that…" I began.
"And?" she asked.
I stood in sullen silence.
"And?" she repeated, smiling mischievously. "And???"
She whirled the whip around, just barely touching me.
"And nothing," I said, having survived many pointless fights with girlfriends. "This boy apologizes abjectly. Go ahead and hit me if you want–"
"Good boy."
"–ma'am."
The whip whistled overhead and cracked loudly across my back. I gritted my teeth and winced. "Is that all you got?" I said.
"Oooh, like pain is the worst I can do," she said. "It's only one tool in my arsenal."
She untied me and forced me to my knees. "What is the point of this?" I yelled. "Just let me the fuck up!"
"You don't like being on your knees?" she asked with a sympathetic look.
"Not crazy about it. No."
"OK then." She whispered a command, and I was standing. But I was also belly dancing in the middle of the square. You would think this would upset me, but it was so silly, so incongruous after everything she had put me through, I just started laughing out loud as she sat on the paving stones, taking in the show.
"I do like looking down at you," I said, admiring her slim legs in the diaphanous skirt. "Do you like my dancing? It's kind of a new thing for me."
"I'm sure you would like mine," she said, smiling back, "if I get fully kajira'ed up… which means not much on. Have you seen me like that?"
For just a second, as I laughed, I let my guard down, and she was responding. It was a nice, friendly moment. But then I had to go and yank Jessica's chain.
"Not yet," I said, "but you'd make a great slave. And besides, I owe you."
"Oh really?" she said stiffly, getting to her feet. "Is that how you see it?" And she whirled around and walked away.
"Hey!" I called after her, "where are you going?"
She and the moment were gone. And I stood there, as I had so many times before, wondering what I had done wrong. That's the reason I don't write about places where the women rule, I thought bitterly. Because there's nothing unusual about it. It's just life.
I watched Jessica's stiletto heels tap down the street, leaving me alone, absurd and pathetic, grinding my hips in the empire of the Dommes.