by Jessica Holyoke on 29/04/08 at 11:55 am
Lowest profit per capita growth ever in Q1 2008
by Jessica Holyoke
Zee Linden recently posted graphs reflecting the strength of the SL Economy here – and Zee is very happy to report that the SL Economy grew by 15%. However, the story is not that simple. By several other measures, the economy growing slowly if at all. For instance, the Quarterly Profit per Capita (QPC) shows an anemic growth rate of 0.18 for the first quarter of 2008, the lowest on record. This suggests that virtual economists may want to take a very careful look at Zee's numbers.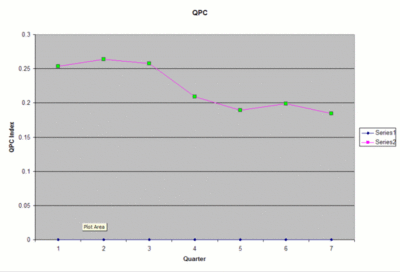 Quarterly Profit Per Capita posts lowest growth rate on record
Zee's first graph tracks User-to-User Transactions in SL It is an interesting graph because we've never seen user-to-user transactions before. The economic statistics page uses Resident transactions and counts. The raw data spreadsheet has L$ Supply and user-to-user transactions as a page, but only details the Money Supply on that page. The raw data used to create the first graph is not readily available. More importantly, the graph uses two specific terms, user and resident. In Second Life, a user is the typist, the person behind the screen. One user can control many residents' user-to-user transactions – which would eliminate the transfer of money between alt accounts from the reckoning.
More importantly, Zee Linden is using user-to-user transactions as an indication of Gross Domestic Product, in spite of the fact that it could be anything but. The outside currency exchanges would be a User to User transaction. HippiePay would be a User to User transaction. Paying rent would be a User to User transaction. Giving your friend money so she can buy new hair is a User to User transaction. All of these actions inflate GDP – in many cases without reflecting production. While the purchase of the hair does reflect production, the transfer of the money between friends for the purchase does not.
Another point Zee made was that the transaction rates were annualized. An annualized rate plots the change in an indicator over the whole year as if the latest monthly or quarterly figure is presumed to persist for the rest of the year. This is calculated by multiplying one month's change by 12 to produce the annualized rate, or one quarter's rate by four http://glossary.reuters.com/index.php/Annualized_Rate – so the real numbers were transformed a bit in order before Zee used them on on his graph.
Zee Linden used User hours – and again using an annualized rate, Zee stated that the hours also increased by 15% However, the one problem with those hours is that there is an unknown Bot effect. How many of those hours have no economic value to them?
One way to measure the Bot effect would be to compare the Total Users logged in with the Number of Residents who spent money. While this may also pick up Residents who log in and don't spend money, either way, it removes residents who don't participate in the economy For June 2007, the last month on the archive with both sets of numbers available, 305,551 residents spent money in world. As of June 30, 2007, the 30 day log in number was 1,091,017 residents. Dividing the number who spent money by the number logged on suggest that only 28% of the world's residents participate in the in-world economy. While many arguments can be made about how long a Bot is logged in for or if a Land Bot should not be excluded because it does spend money, at least 28% is a starting point. For now, Bot effect is not a good measure because we only have older statistics and it might not be helpful to see how the hours are being used now.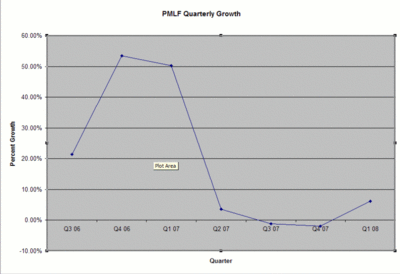 Positive Monthly Linden Flow bounces after falling off a cliff
Zee Linden also uses my favorite stat, Positive Monthly Linden Flow He states that PMLF grew by 11% from December 07 to March 08 – even though, 50,688 total PMLF residents in December to 57,888 total PMLF residents seem to be 14% growth. Even though PMLF has its limits, at its heart, it does measure the number of residents who earn more than they spend If you fill out $1000L of surveys and you spend $900L, you are counted in PMLF.
LindeX activity is skipped because no one has convinced me that purchasing Lindens translates into taking part in in-world production due to the other purposes for which those L$s might be used. For instance, the US dollar is a reserve currency. Other countries buy and sell goods and services in dollars even though those dollars are not used in the US.
So how does the economy track with the figures I used before? Using raw PMLF over Quarter 1 2008, the total number grew by 4.80% from January to March The average weighted monthly PMLF over the same time frame grew by 6.22%.
Quarterly Profit per Capita (QPC) shows Q1 08 shows a QPC of 0.18, the lowest that it has reached on record. Could this have something to do with falling virtual land prices?