by kris on 28/05/08 at 6:30 am
Who owns the rights to pictures of Tiny avatars?
by Kris Dibou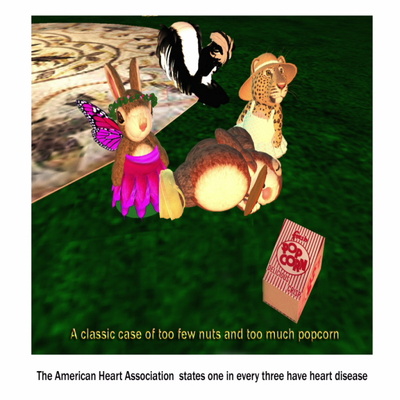 an example of the disputed illustrations
As I was working on a story for the Herald (regarding a fellow who was writing a children's book on heart health) including illustrations make from screenshots of Tiny avatars in Second Life, I received this note from Ms. Wynx Whiplash, one of the creators of the Tiny avatars:
In response to accusations by certain parties; I, Wynx Whiplash, am releasing this statement. All parties except myself will remain nameless as I do not wish to cause others the harm they seem to wish to cause me.

Thursday May 8th, 2008, I was contacted by a Second Life resident who claimed to be authoring a pamphlet to educate children on the risks of heart disease and I was informed that images of my work were going to be used. I was taken aback that I had not been consulted first for the use of the images of my avatars. The resident told me that he did not require my permission. I politely begged to differ and was concerned for the reactions of other residents whose work he was also photographing.
Feeling rather upset that someone felt they could use images of my characters whether I wanted them to or not, I unwisely continued the conversation, trying to be helpful, which is my usual demeanor when speaking to someone via instant message. This helpfulness was in answer to his request for free or rented avatars, which alone is a bit shocking since they only cost $1.63 USD. My mind still racing with the fact that this man just told me he could violate my rights as an artist and wanted a discount to do so, I suggested that if he needed models the Friends of Raglan group (a group I – nor any of my alts – have never been a part of) might help out. This was a mistake, I should have been more firm that I did not want him to use my images because I did not trust him. When contacted by my best friend about his message to the group, I told her I did not trust him and had not given full permission yet and that he merely assumed I had but had to log out to prepare to leave town for a funeral for a close relative.
What happened after that is anyone's guess since I was not around that afternoon. I started getting messages from friends and customers telling me that they were being harassed by this author. More advice flowed in – that I needed to be more clear that I did not want the images used. So I typed up a polite, clear notecard stating that I did not wish the images used, that there were better, cheaper and legal alternatives and that I would be contacting his publisher to make sure they knew not to use the images. SL being what it is, I could not get the author's profile to load Friday morning. I couldn't wait – I had to leave for the funeral. While away, I had no computer access and waited to send the note Sunday night when I returned home.
I felt that the note was a mere formality, a polite clarification of how I stood on the matter. Subsequently, I received a note from the author and although it wasn't pleasant, it was mostly incredulous that I would not still want an association with him after he harassed my friends and customers. This I could easily live with. However, a friend of his who claimed to be his editor at his publishing house sent me an instant message so filled with bile that I could hardly believe my eyes! I did not respond, I do not respond to bullies. Yet, here I find myself having to respond one more time to these bullies who have contacted The Second Life Herald to attempt to slander me. I have been told that this publication does not wish to be part of their harassing behavior and I trust that they will not.
Let this be a lesson to anyone who has worked hard to be original in Second Life and use it as their creative medium: you have rights. You MUST speak up when people try to push you to agree to something you do not want to or feel is not in your best interests. Do not think you have no recourse, you must protect your creative content and copyrights. If I had been more firm, perhaps at least my friends would have been spared this drama, even if I had to go to court to protect my intellectual property. Never be afraid to say No.

Sincerely,
Wynx Whiplash
Now this had me in a fix; here I was, ready to run a story about Riots in Raglan, Tiny attacks, and greed- armed with a folder full of half-truths supplied to me by the fellow in question. Half-truths? Actually half-conversations…you see, the fellow supplied me with only the 'other side' of the conversations, filling me in on what he had said and his list of witnesses. I put out enquiries to the Tiny creators, and was supplied with this (I have removed the names by Wynx's wishes):
[13:08] Writer: hello
[13:09] Writer: i was told u seem to have concerns with my use of tinies for educating kids about heart disease
[13:14] Tiny: You can't use someone's property in a RL publication without explicit permission. You were told no, that you do not have permission to use the tinies in a RL publication.
[13:16] Tiny: If you wanted some illustrations or something done of them, you could have asked, but you were definitely told 'no' on the using them like that thing.
[13:21] Writer: and who told me this thing
[13:21] Writer: do u own all small avatars in sl
[13:22] Writer: in fact a check on slexchnage with your name shows no association at al with small avatars
[13:23] Writer: Roland Francis, Etheria Parrott, Kyro Kilian, Lalinda Lovell, Beezle Warburton, all make them, in fact accrding to sl wiki: Many residents make and sell Tiny avatars under their own (or no) brand names.
[13:23] Writer: so why am i to stop taking photos of small vatars because u tell me too, i have the owners permission in each case
[13:23] Writer: and BTW
[13:24] Tiny: You want to use Wynx's creations in your RL publication. To do so without permission is a violation of intellectual property laws. I am Wynx's business partner and we created the Tinies and put them out in 2004.
[13:24] Tiny: You do not have Wynx's permission to publish anything using her avatars.
[13:25] Writer: i have many patents in the patent office, i am not infringing on your name, i do not need fords permission to take a pic car
[13:25] Writer: so
[13:25] Tiny: if you publish something for profit using someone else's products that is copyright infringement as much as it is intellectual property infringement and I am telling you that if you proceed and publish without express permission, we will be contacting our attorney and filing a lawsuit.
[13:27] Writer: well do u get the perm of every texture u use for your constructions, hmmmmm
[13:27] Writer: do not be absurd
[13:27] Tiny: You obviously do not understand. This conversation will cease right now. You've been told NO. and NO means NO. To continue to publish something using someone else's intellectual property is a violation and it will be pursued.
[13:28] Writer: u know i am trying to help teach about heart disease to kids, and using sl is a great way of helping those who volunteer to do this social work
[13:28] Writer: u r just upset because u think u arent getting enough money
[13:29] Tiny: That's great but you were told No on using them in a RL publication. this conversation is over. Anything said further will be considered harassment and reported.
[13:29] Writer: my, my u r testy
[13:29] Writer: do the small avatars know u prevent them from any profit if they where that av
[13:29] Writer: perhaps ill tell them
[13:29] Writer: in fact
[13:30] Tiny: I am filing an abuse report if you do not cease right now.
[13:31] Writer: ohh the tinie lawyer scares me
[13:32] Writer: i have rl patents dude
[13:32] Writer: i make no claims to your product
[13:32] Writer: il will now establish my basis for making pics
[13:32] Writer: and ill get an attrney to depose this conversation
[13:33] Writer: i do not nor wil i ever knowingly use your small avatars
[13:33] Writer: i wil go out of my way to be sure of that
[13:33] Writer: il remind every small avatar of your concerns
[13:34] Writer: and that u have no interest in helping kids, so i will politely ask others to do so
[13:34] Writer: so may have al your avatars
[13:34] Writer: ill check with the shots i have made now and ask the models if they used your product
[13:35] Writer: if so i wil ldelet that pic
[13:35] Tiny: I have now filed an abuse report for harassment. I asked you to stop. now Stop.
[13:35] Writer: but i wil make this open that u refuse to allow this
[13:35] Writer: find
[13:35] Writer: and what abuse have i committed
[13:35] Writer: helping children
[13:36] Writer: so how many kids have u tried to help lately
[13:36] Writer: mind if i post these comments on SLNN
[13:36] Writer: will make a great story
[13:36] Writer: just back off
[13:36] Writer: u canhave your money
[13:36] Writer: i am here to help ppl
[13:37] Writer: if they ban me
[13:37] Writer: the worlds loss
Hmmmm…No ego there!
So, attitude aside, was Mr. Writer correct in his assertion that he did not 'need their permission' to print photos of their creations for profit? Would he need Ford's permission to use a pic of their cars in his book? Will Lassie ever find Timmy in the bottom of the old well? Stay Tuned…