by kris on 28/06/08 at 3:36 pm
Mr. Winky makes a public appearance on PG-rated land
by Kris Dibou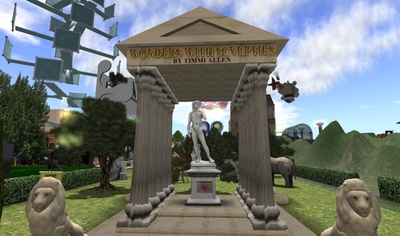 I went to the SL5B celebration the other day and witnessed Artfox Daviau's wooden sculpture of a lady, sans breasts in order to comply with the rules of the exhibition. Much to my surprise, only a few steps away was a sculpty rendering of the Statue of David, who was also missing his nipples; however, that was the only item missing!
David was nekked as a jaybird – letting it all hang out – getting his freak on – swinging in the wind – au natural – in the kiddy park with an open raincoat – wearing his birthday suit – showing off his pingpong set – the man was butt-naked! Worst of all – this statue was being openly displayed on PG-rated land!!
So I walked back over to Art's and looked at all the breast parts spread out on the table (btw, there is now a free nipple-hat vendor at the table) and decided to see what else was in the neighborhood.. Low and behold, I discovered a print of a famous sketch by Da Vinci and not only was this 4-legged man 5 legged — but he had nipples!!! You heard it here in the Herald first- nipples!

abuse report this NOW – before a child avatar walks by!
OK, maybe we can excuse penises hanging out all over the PG sim, but nipples?! How could they! And worse yet, they were male nipples!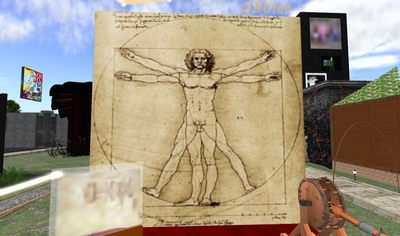 CAUTION: some dangerous nipples may still be present at Linden Lab's 5th birthday celebration
Now seriously, folks, what is with the double-standard? Does an artist have to be dead before he can show everyone his penis? You can't even argue 'established' art, as this is simply another artist's rendering of the first artist's work.
I say let's give back Artfox's wooden nipples and call it fair.