by Jessica Holyoke on 28/06/08 at 10:45 am
Scientology conflict results in copyright infringement claims, eviction
by Jessica Holyoke
In Sorens, a religious battle of words and accusations broke out between the Church of Enturbulation and a Scientology group.
The Church of Enturbulation on Second Life has a facility that educates people about the methods and problems with the Church of Scientology. Next door was the home of a Scientology group called "Scientology, Hey its not so bad!."
Charity Stohr, the founder of the Church of Enturbulation group is a long time activist against the Church of Scientology and wanted to bring her work with her. Lalinda Lovell is the founder of the "Scientology, hey its not so bad!" group.
The groups build included pictures of the Scientology logo with phrases such as "Learn while u learn ™" and "Science + Technology = Scientology ™".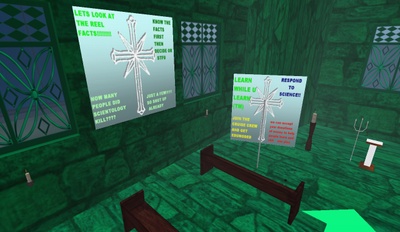 Sorens is a sim owned by BNT Holdings group. After consultation with IntLibber Brautigan and BNT Holdings President Kaddan Yue, it was determined that having the name "Church of Enturbulation" in the "Scientology, hey its not so bad!" group's land description, using the Scientology star cross symbol and using the phrases mentioned above was copyright infringement. As BNT representatives said, this is copyright infringement, against the sim covenant and the ToS. Therefore, BNT Holdings took back the land and deleted all the items there with no refunds.
Lalinda Lovell asked Charity Stohr after some heated discussion about the issues of what is or is not copyright infringement "Do you really want PartyVan, Enturbulation, goons, the insurgency, and /b/ to find out?"
At the time, Lalinda Lovell was referring to this as a "police matter" as she lost $25 USD over the reclaiming of the sim.
While there were claims of extortion from both sides and BNT, no one gave details of what the extortion entailed.
Voland Destiny stated that "this is second life, not rl, you follow sl rules" and that if Scientology enters into Second Life, they have to follow the same rules as everyone else.
A documentary covering the Scientology Belief System from noted South Park religious experts below.