by wendell on 04/06/08 at 4:34 pm
Answers to your questions about love and sex in the metaverse
by Wendell Holmer, virtual advice columnist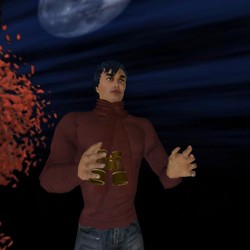 Q: My best friend in SL and I are in love. I'm going to the country he lives in this summer, and I'm going to stay with him for a few days. The thing is, he's engaged in SL to one of my other best friends. I've told him that him that, if he is with her in SL, it won't change our relationship in SL or in RL, but he's not in love with her anymore. What should I do?
–Tracy
A: I have to assume that your lover's fiancée doesn't know about his relationship with you, and you are both keeping her in the dark based on the misguided hope that you can avoid hurting her. If your goal is to keep her as a friend—forget it. When you stole her beau, you lost her friendship. She just doesn't know it yet.
Your lover is obviously not going to partner with your friend. If he's looking for a graceful way out, there isn't one. He needs to tell her plainly that the engagement is off and that he has been seeing you. Once he drops the bomb, you should contact her and tell her sincerely that you are sorry about what happened. Say that you understand if she needs a break from you. If she changes her mind later on and wants to resume the friendship, you will be waiting.
---
Q: My girlfriend and I are not exclusive, but we have a deal. We don't date each other's friends. I met a girl at a professional function a couple of weeks ago. I have been spending a lot of time with her, and I really like her, although we are not lovers. Yesterday, I found out by coincidence that she is a friend of my girlfriend. I suppose I'll have to give the other girl up. How should I explain it to each of them?
–Biff
A: Why say anything? Are you looking for credit for being noble and keeping your promise? You found out the facts before your friendship with the other girl blossomed into romance. You enjoy her company, so stay friends. If she wants to take things further, explain that you can't get with her, because of your current relationship. You don't have to mention the proto-affair to your girlfriend. The disclosure would just make her jealous and create awkwardness with her friend.
---
Troubled? Is your buff BF, Biff, boffing your BFF? Send your questions to wendellholmer@aol.com.