by caine on 10/07/08 at 10:39 pm
Merczateer operatives unmask and attack the EAF weaponssmugglers, but Vanguard comes in to back up their new allies – resulting in thelatest battle between two old foes.
By Caine Constantine, Herald War Correspondent
A sting operation conducted just a few days ago caught theleader of the Elite Armed Forces – a marvelously named group allied with the Merczateers up tothis point – personally selling leaked and copybotted weapons designed andbelonging to the Merczateers to an undercover agent from that same military.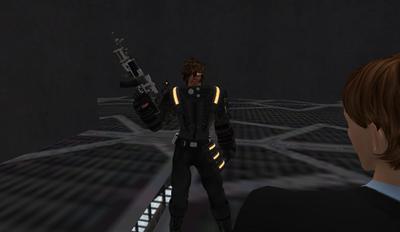 Shown here, Commander Br1an Razor, leader of the EAF, wascaught in the act of selling Merczateers equipment to a black market buyer byProteus Hand, the Merczateers Light Operative who first uncovered informationleading to the suspicion that the EAF was selling their ally's equipment.

During the sting, Proteus, dressed in a suit and sportingthe title of someone working as an "1337 Weapz. Employer," made contact withCommander Razor while posing as someone not affiliated with the Merczateers, andmanaged to purchase multiple weapons, like the Mac-10, the G36, and the Silhouette.357 – all illustrated below – for L$500.

Proteus gave me a chatlog of the event. Commander Razor does not dispute itsaccuracy, though he feels it was taken out of context. Here is the entirety of it, with minorchanges and omissions in order in the interests of clarity and conciseness.
Proteus Hand: but, they'd be nice to have concepts for.
Proteus Hand: like, if I were to get my own guns built
Proteus Hand: if I had something to work off of.
Br1an Razor: I see that simply that there built up alreadyand need scripts then thats half the battle and people in sl dont give 2 shitsabout armies go out to some getto and they buy them just to look cool
Proteus Hand: yeah.
Br1an Razor: so are we on the same page
Proteus Hand: mmhm.
Br1an Razor: after all mercz and vanguard both fuck eachother over and neither one is really acknologed by the mafia groups or gangs insl
Br1an Razor: so i dont see why you would not want to sellleaked stuff
Proteus Hand: good point.
Proteus Hand: so, how much you want for them?
Br1an Razor: after all i seen people sell freebee whare houseshit in shops
Br1an Razor: ill give you all of them for 500
Proteus Hand: okay
Br1an Razor: you will have to script them
Br1an Razor: unless you want the ones we did
Br1an Razor: let me get them
Proteus Hand: and these are leaked?
Br1an Razor: alot are
Br1an Razor: let me dig them up
Br1an Razor: i want to make sure there full perm
Br1an Razor: ill fix the settings
Proteus Hand: okay
Proteus Hand: that's good for business, actually.
Proteus Hand: now that I think about it.
Br1an Razor: check them out
Br1an Razor: make sure there full perm
Proteus Hand: congratulations.
Br1an Razor: np
Proteus Hand: Sting operation, complete.
Proteus Hand: check my tag.
Br1an Razor: i had a feeling
Br1an Razor: i see it
Br1an Razor: and i realised
Br1an Razor: that you know
Br1an Razor: that most of sl has these
Br1an Razor: leaked guns are all over
Proteus Hand: unfortunately, you SOLD them to me.
Proteus Hand: which is a violation of ToS, and is a bannableoffense
Proteus Hand: not to mention, you just broke the Mercz EAFalliance.
Proteus Hand: Kommissariat will be pleased.
Proteus Hand: one step closer to killing the leaking ring.
And with that, Proteus left. He told me that there was no violence and the Commander Razor was ratherambivalent about the whole thing. Beingcaught selling leaked weapons by his most powerful ally in a sting operationsure to engender military retaliation didn't phase the Commander – was theresomething else to the story?
I went to Appledore, the new Merczateers sim where the groupwas training and defending as their main sims,
Salamis
and Badnarik, underwent extensive remodeling, to talk to the Merczateers aboutthe EAF incident.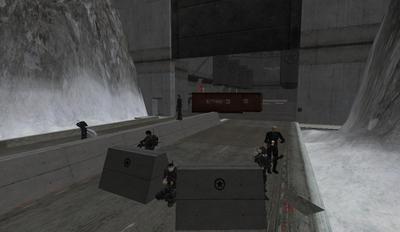 Merczateers Màrshal Anthony Lehane told me about how thealliance between the Merczateers and the EAF began – and how it ended.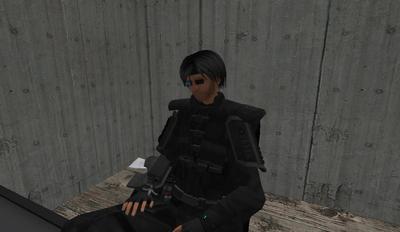 Caine Constantine: So what happened with the EAF incident, MàrshalLehane?
Anthony Lehane: Alright. So I believe around the time EAFwas formed their leadership requested an alliance with the Mercz, and a spot inthe Iron Symphony. So naturally, theyseemed a reasonable force at the time and we agreed.
Anthony Lehane: Now, along our alliance we helped the EAF -
ALOT
-.They would call us for backup when like, one guy was attacking their sim. Everytime, we'd send a small squad or some ADto clean it up.
Anthony Lehane: That's how things have been going for theentire alliance. But recently, one of mymen heard a rumour that their leader, Br1an Razor, was selling and distributingleaked/copybotted Mercz gear.
Anthony Lehane: Now, we don't usually just sit around and donothing when we hear about that, so I turned to the Merczateer Light Ops squad(Which is our combat, intel and foreign policy special forces) and set up asting operation on Br1an.
Màrshal Lehane reviewed the chatlog with me and explainedagain how the operation had worked, saying that Commander Razor had left thealliance after he was exposed, and that attacking forces from the Merczateerswere immediately inbound for retaliation.
Anthony Lehane: With that, and the log, Br1an silentlyresigned from the Iron Symphony, and our alliance.
Anthony Lehane: The very same day we issued a large scaleattack on EAF. It was to the point where Br1an was av-flying around trying totake out our swarm, but AD easily picked him off.
Anthony Lehane: Later that day, they attacked the MilitantCollective, which we provided support, and immediately tore them to pieces.When they left, we then joint-op'd them with MC and crushed them once again.
Anthony Lehane: At that attack, however, Christoph and VGwere backing them up.
And so as quickly as he left the side of the Merczateers,Commander Br1an Razor immediately found new and willing allies in the VanguardArmed Forces – who showed up to defend him in force. The Merczateers eventually claimed victorynonetheless.
Anthony Lehane: Nevertheless we still had a very successfulassault – the EAF alliance was one our officers urged us to end, anyways, as itwas causing problems.
In fact, for most of the duration of the ill-fated alliance,both officers and rank-and-file soldiers in the Merczateers were tiring of whatthey called their "noob ally." TheMerczateers seemed happy to be rid of the Elite Armed Forces – but was EAFfeeling the same way? I decided to go toSouthwest Seaport, their home, to find out.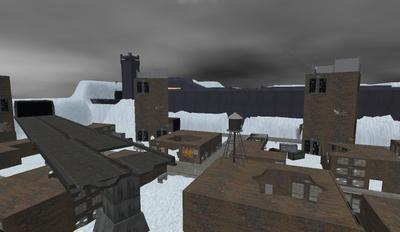 The base had a destroyed city fraught with a nexus of sewersand ruined buildings, which seemed doubly fitting considering it had sorecently been subject to a massive attack from their vengeful formerallies. It was still under attack byother forces when I arrived on the scene, but the battle had died down to thepoint where I made it into the base and received an audience with CommanderBr1an Razor.
I wanted to start by getting some information on the EAF forreaders who may not know much about the group, as it is fairly new to theSecond Life military community.
Caine Constantine: What is the EAF all about?
Br1an Razor: well we are allied with Vanguard and TFM welike to keep allies down to have plenty to fight we are a group of friends thatformed a army group so we are all good friends
Caine Constantine: So how old is your group?
Br1an Razor: we are about 3 months old
Caine Constantine: And how many members do you have?
Br1an Razor: last time I checked it was I believe 70
Caine Constantine: So what is the EAF working on currently -any projects or plans for the future?
Br1an Razor: yes aircraft and weapons we are looking to workon the divisions as well
Caine Constantine: How so?
Br1an Razor: I have unlike many other groups allowed mygroup to be more active in the decisions I dont want to be a person who says dothis and that I would rather have the team bring Ideas to the table
Caine Constantine: You are trying to create a moredemocratic group?
Br1an Razor: I want the people to feel its there army notmine I would rather provide and let them run with it and look back at what theybuilt not just me
Caine Constantine: So how successful have you been in combatso far?
Br1an Razor: well we have made a name for our selfs prettyquick for the short time we have been a group, mainly because we all enjoyhitting one location to the next but keeping a respectful out look tword ourfoes
While I was tempted to ask him if a respectful outlookincluded selling the other group's leaked weaponry, I chose not to in favor ofkeeping a peaceful air to the interview. He was quick to condemn the Merczateers as a social club, and deniedbeing at fault for any of the problems with the leaked weapons.
Caine Constantine: I heard you used to be allied with theMerczateers.
Br1an Razor: We were with the Iron Symphony but felt thatdoing that did not allow us to have many to attack so we broke alliances toonly have a few
Br1an Razor: there a good group but not that active theremore of a social group where we like to attack more
Caine Constantine: I see. I talked to Màrshal Lehane, whotold me you left the Iron Symphony because of your allegedly selling leakingMerczateers equipment.
Br1an Razor: This is not true, yes like many other groups onhere I was given open source Mercz gear which there own people with in theregroup had leaked and given to Christoph the leader of Vangaurd, bad bloodbetween those to groups caused the leak of all there weapons
It would do well to explain a clear a fact Br1an pointedout, one that every party to this incident – EAF, Merczateers, and Vanguard –freely acknowledges. These weapons havea bitter history behind them.
Tangent Eponym, a former Merczateer General, resigned fromthe group in frustration and gave a multitude of its latest weapons designs toVanguard Führer Christoph Naumova. FührerNaumova then gave the weapons out freely to anyone he felt like giving them to,dispensing them into groups and to individuals who would do well to havethem. He openly admits to it too as amatter of normal conduct in response to Merczateer provocation – a topic thatwill be discussed in more depth in the future.
Christoph Naumova: I seriously gave them to people I knewwould leak them all over.
Eventually, these weapons reached Commander Razor, who soldthem back to their creators and sparked a new war. But as he continued on with the interview, justthen, an invading visitor broke into the compound.
Aryte Vesperia: Hi Caine!
And just then, in a stream of lead and a puff of smoke,Commander Razor was dead. Seemingly onhis own, Ordo Imperator Aryte Vesperia had taken control of the base. He was quick to ask the EAF back into thebattle after gunning a few more down.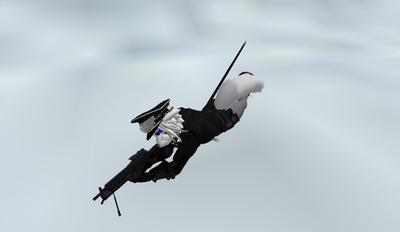 Aryte Vesperia shouts: That's fifteen.
Aryte Vesperia shouts: Who's next?
Eventually after another wave of EAF troops broke into theunderground area where I had been conducting an interview and was now watchinga lone gunman hold his own in hostile territory, Ordo Imperator Vesperia wasshot and out of the area. Or was he?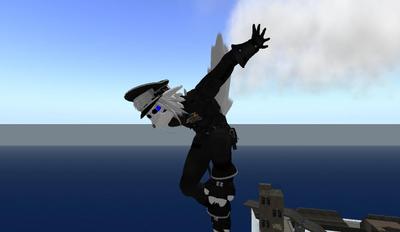 In fact, he had been ejected from the land and had neveractually been killed. This is a pictureof him stranded at the edge of the sim, at which time he sent me the copy ofthe phrase he received ejecting him from the land. It was a rather unorthodox way for EAF to winthe battle against the lone invader – using land powers to do so and all – butit was effective.
The interview now continued, with Br1an talking to me nowabout his new alliance with Vanguard, and his complaints about his old one withthe Merczateers.
Caine Consantine: So you're now allies with Vanguard – whoapproached who for the alliance?
Br1an Razor: Christoph – he tped the Task Force Marines andthe Elite Armed Forces for a meeting
Caine Constantine: So he came to you with the alliance idea?
Br1an Razor: yes, a few weeks back, but we took him up onhis offer 3 days ago
Caine Constantine: So he originally wanted you to split withthe Merczateers and the Iron Symphony?
Br1an Razor: yes he explained how they break STABLE
Br1an Razor: Im here to fight not talk
Br1an Razor: The mercz said to me that they were not in SLto fight, that they were a Social group. this made me leave them
Br1an Razor: we never got any back up from them while in theIS
Caine Constantine: Really? Never?
Br1an Razor: they treated us and meny other allies in adistant way
Br1an Razor: out of the whole time with us they helped us 2times
Commander Razor was quick to account for how fast he could "call on" Vanguard troops to save him from any trouble he might encounter.
Br1an Razor: I can call on Vanguard and they will help atthe drop of a dime
Br1an Razor: thats what I call Alliances
Caine Constantine: So then you think they're better allies?
Br1an Razor: I feel Mercz gives Vangaurd a bad name out ofjealousy
Caine Constantine: Really? How so?
Br1an Razor: well its all in numbers Caine
Br1an Razor: more of a fight for power
Br1an Razor: pluse Chris did leak there guns lol
These claims flew in the face of those made by CommanderRazor's former ally Màrshal Lehane, who – in addition to many other Merczateers- was emphatic about the amount of assistance the group had given to thefledgling EAF before the ending of the alliance.
The interview by this point had mostly been finished, butsomeone else was going to end it for me. Commander Razor had me under heavy guard to prevent future attacks fromtaking out either party of the interview.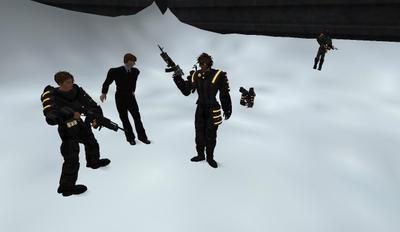 But Imperator Vesperia returned in a jet, landed aboveCommander Razor's compound, and killed all of his guards. He stood facing the entrance to theunderground bunker, again killing anyone who tried retaking the position.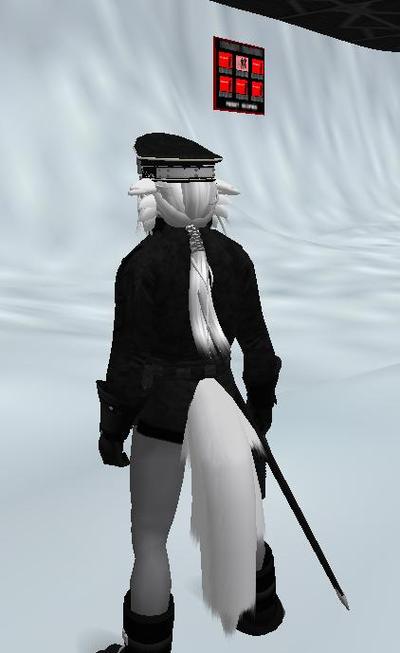 Meanwhile, EAF soldiers were busy guarding the interior ofthe base – still held by the Imperator – from other invaders.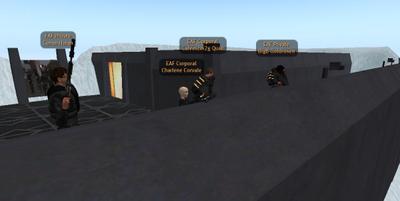 Eventually, Imperator Vesperia left, and with CommanderRazor finished, I went on to talk to the third party in this incident. In this later interview with Führer Naumova,he denied that there was any sort of orchestrated plan to lure the EAF out ofthe alliance with the Merczateers.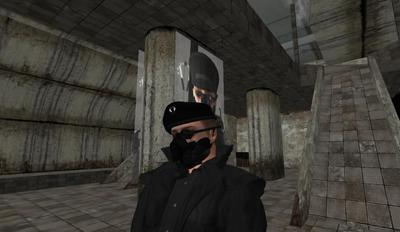 Caine Constantine: Br1an Razor told me that you had beentalking with him for a few weeks prior to the alliance, trying to get him toswitch sides. Was there any previous contact?
Christoph Naumova: Naw, more like three days
Christoph Naumova: Random IM like a week ago
Christoph Naumova: He just randomly IM'd me and asked aboutan alliance
Caine Constantine: To your knowledge, was this before theincident that ended the alliance?
Christoph Naumova: Pretty much, it came down to theMerczateers never helping them
Christoph Naumova: Or doing anything like allies should
Christoph Naumova: It's just sad Vanguard helped more in oneday then the Merczateers did in an entire month.
Caine Constantine: So what did you tell him at the time?
Christoph Naumova: Well, he and bennyboy (TFM leader) askedabout joining the Sovereign Regime
Christoph Naumova: And, honestly, there was no globalconspiracy or anything
Christoph Naumova: I was truly just like "Sure, whatthe hell, I'll give it a chance'
Caine Constantine: Yes, I wanted to ask because peopleclaimed that it was an attempt by you to pry them away from the Merczateers.
Christoph Naumova: I'd never even talked to the guy beforethat.
So then the question was simple – who was telling thetruth? Commander Razor's own statementswere directly against those of both of his benefactors, past and present. He presented a picture of Vanguardencouraging him to break the alliance with the Merczateers.
But why would Vanguard – unquestionably, a very capable andpowerful military force, once very proud of the fact that it had no allies –worry about a group like the EAF? MerczateersMàrshal Lehane had some ideas as to why this could be the case.
Anthony Lehane: First, I'm sure Christoph would love anoutlet to have his men shoot at Mercz, because right now we're in a combatblockade with them. We don't go to Supox, they don't come to our…3 sims.
Anthony Lehane: For Br1an, he needs another big group tomooch off of when things get tough for him. That's why he gave Christoph landrights to his sim.
Anthony Lehane: So he was doing all the banning while Br1anav-flew around screaming.
Caine Constantine: Wait – how extensive are these landrights?
Anthony Lehane: I'm not sure, but Christoph DID ban people,so. I'm guessing Christoph requested full control.
Caine Constantine: So he's looking for a fight, but you guysare still blockading him.
Anthony Lehane: Yeah. We're not gonna let VG presence duringour assaults stop us, however. We plowed through them.
Caine Constantine: Do you think there are any other motives?
Anthony Lehane: I think Christoph just needs to get histroops killing stuff. A lot are leaving right now due to either boredom,racism, or excess lulz and stupidity. Looking at his documents and charters Ican see he's starting to really try to crack down on those problems.
Führer Naumova saw things quite differently in a follow-upresponse to the Merczateer claims about the state of Vanguard.
Christoph Naumova: The whole reason I allied with EAF andTFM is because they came and asked me. Although now that I think about it, itdoes give me a chance to further limit the people they have to attack, causingboredom and drama on their part.
Christoph Naumova: As far as people leaving VG and mydocuments goes? Nope, we've still gotall the people I care about and we've gained 20 more in this week – So really,it's unfounded.
Christoph Naumova: Not to mention after handing Mercz' assesto them after having them caught on tape sithacking in Cheerful Rising duringan assault, I'm sure he's just annoyed over that.
Christoph Naumova: Haner needs to grow a pair and stopliving in ignorance, and see the full light of things.
The Elite Armed Forces are in fact a group that, in itsshort history, has already found itself wedged between two of the titans ofSecond Life's military scene. It is amilitary whose leader at this point has thrown his lot completely in with thatof Vanguard – and has no qualms about admitting that they are perhaps hisbiggest asset. I asked him about what hethought of the Merczateer invasions of the EAF sim, Southwest Seaport.
Caine Constantine: So you won each battle?
Br1an Razor: we did not I feel the credit should go toVanguard and TFM they were a big help
Caine Constantine: Oh okay, that's very fair of you.
Br1an Razor: well its the truth
Caine Constantine: So do you see yourself and the EAFsticking with Vanguard into the future?
Br1an Razor: yes we would have it no other way
Caine Constantine: And do you feel like they treat you asequal partners?
Br1an Razor: I feel they do unlike the Mercz did, the merczseemed condescending
Caine Constantine: Do you plan on any more allies then? Or are you sticking with the TFM and Vanguardforever?
Br1an Razor: I want to keep it with just them I feel we needno others we like to fight
Caine Constantine: So you stand with the Sovereign Regimeuntil the bitter end?
Br1an Razor: yes
Caine Constantine: Thank you for your time, Br1an.
Br1an Razor: thank you
This incident with a comparatively new military digs up anold and continuing story – that of the war between the Merczateers and Vanguard– of bitter foes, with a history, membership and even leadership that are tiedinextricably to one another.

The story behind the war between these two groups – on andoff the battlefield – and the personal vendettas among many in the groups isthe next part in this series about two of Second Life's most powerful militaryforces, and those caught in the crossfire between them.