by caine on 04/08/08 at 10:54 pm
One of Second Life's largest military forces — from the perspectives of its members, its allies, and its enemies.
by Caine Constantine
When it comes to armed combat in Second Life, there may beno more recognized military force than the Merczateers.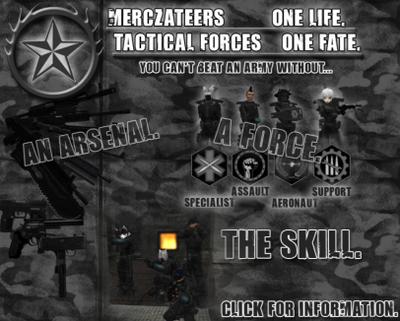 They are massive, clocking in at 254 members as of thewriting of this article. With fourregions under their direct control – Badnarik, Salamis, Appledore and Amtor – they are the largest military force, in termsof both manpower and land ownership, on the grid today.
With those resources behind them, the Merczateers havecreated a military force that is, at least among the broad and ever-growingSecond Life military community, envied, despised, feared, praised, or admired, dependingon who you talk to.
The group has become one of the centers of the community,and almost everyone in the community has an opinion about the Merczateers. Even when its members leave the group, or areejected from it, they often use their time and experience it to form their ownmilitary forces.
When I first started writing articles for Herald and coveredthe Task Force Marines, they told me they were no different. Flamethrower Rives, a former Admiral in theMarines, explained.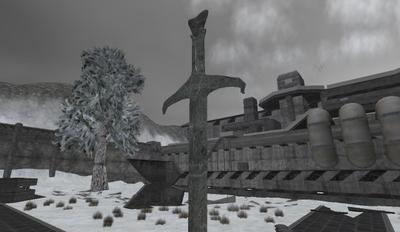 Flamethrower Rives: i was a mercz
Caine Constantine: What happened with the Merczateers thatmade you leave?
Flamethrower Rives: u don't wanna know
Flamethrower Rives: wait
Flamethrower Rives: soo boring
Flamethrower Rives: all you do is sit in there base defend
Flamethrower Rives: i base my training offof mercz
A quick searchthrough Second Life's groups reveals that in addition to the countless officialand unofficial Merczateer groups, there are also a number of spin-off groupswhose main enemy, or even sole purpose, is to fight and kill Merczateers.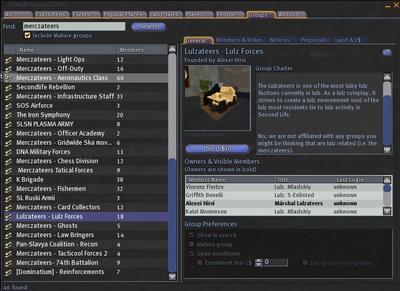 The Merczateershave many allies, some of whom are powerful grid-wide militaries in and ofthemselves. Imperator Aryte Vesperia,leader of the Ordo Imperialis and the strongest ally the Merczateers have, putit simply.
Caine Constantine: I wanted to ask you about how the alliance with theMerczateers is working out for you?
Aryte Vesperia: There's nothing to really complain about. Ouralliance is long lasting and just fine. The Merczateers are a solid group. Theyhave their issues, but so do we.
So with this sortof reach and impact on the community, what is it that makes the group function,and what is it that makes it unique?
The natural peopleto talk to on this subject were the Merczateers themselves, who I visited firstin Appledore, where they were recently holding up as their main battlegrounds, Salamis and Badnarik, were under redesign.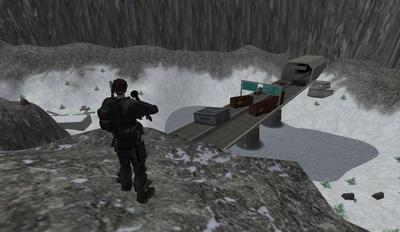 I first spoke withMàrshal Anthony Lehane about the group, and he told me that there is oneoverriding goal when it comes to the actions of the Merczateers.
Anthony Lehane: There are two types of combat groups.
Anthony Lehane: People who want to have fun.
Anthony Lehane: And people who just want to win.
Anthony Lehane: We celebrate our victories and recognize ourdefeats. But we have fun doing what we do.
Anthony Lehane: And that's all that matters.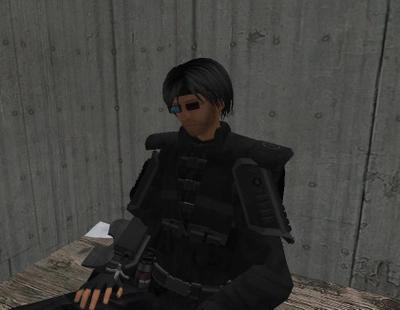 The first questionI had was one that I almost overlooked, but seemed fair to ask. What is a Merczateer anyway – and where didthat name come from? According toMàrshal Lehane, the original founder of the group, William Cruyff, pitched itout of left field.
Anthony Lehane: He just made it up, off the top of his head.
Anthony Lehane: It's always nice to have an original name, ratherthan one like TACTICAL AWESOME MARINES or SUPER SOLDIER SQUAD.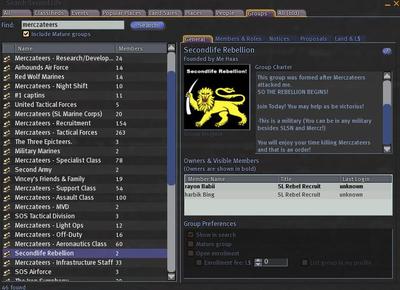 Word to thewise, Mr. Lehane – watch your back. They may not have an original name, but they plan on ending up "victorius," no matter the cost.
And for a group that provides its soldiers with so much inthe way of uniforms, weapons and training, and for a group that pays for foursims, how do the Merczateers afford their wars? In the true spirit of the military-industrial complex, it comes throughweapons sales by Màrshal Lehane's company, Operations.
Anthony Lehane: The thing that's great aboutOperations is that many of the engineers of the Merczateers provide for it. Soessentially we work to sustain ourselves, and it's great to see people sodedicated.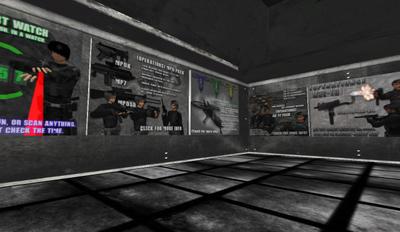 Anthony Lehane: The Kommissariat all puts in theirfair share, Poon scripts everything up, I do concepts, some building and allthe marketing, etc. It's really a great thing. I don't sell anything I don'tuse myself.
Caine Constantine: And so you really finance thisthrough work, and not just through donations?
Anthony Lehane: Operations covers EVERYTHING. I laughwhen people accuse us of being communist. Some people donate, but 95% is Operations.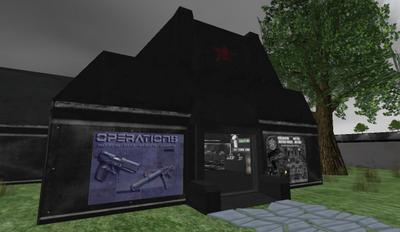 The accusations of communism probably relate to the group'sSoviet look, with its red star, themed rankings, and its Cyrillic text. But do the Merczateers really have a settheme?
Caine Constantine: What would you sayƒ your theme isthen? At least Soviet-esque?
Anthony Lehane: Most people would just say"post-modern Ukranian." I really don't care, I just wanna get out andshoot some shit under the Merczateer name.
The newly built base fits the idea of a Soviet theme. In what looks like an eternal winter, amassive grey fortress dominates the picture, contrasting a large, commandingstatue reminiscent of Soviet imagery.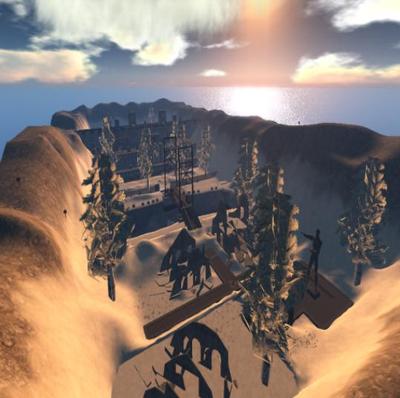 The bulk of the base though is located underground in amassive bunker complex that drives deep enough into the earth to raise a lavaflow into the base.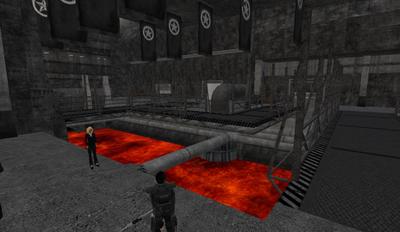 Only a dank black gate reveals the existence of an above anda below – and falls through this steaming gate often lead to a quick death inthe lava flow.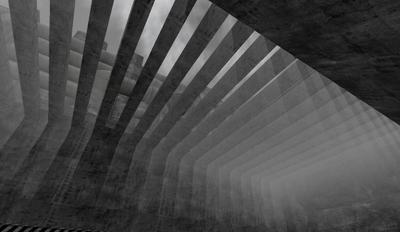 The weapons and devices the group employs are unique aswell. According to Màrshal Lehane, theyare rooted in a goal of making combat fun, and explained it by comparing thegroup to the Alliance Navy.
Anthony Lehane: Lurdan likes to say "They'readaptive, we're interactive"
Anthony Lehane: I can explain that, if you'd like.
Caine Constantine: Definitely, please do.
Anthony Lehane: Alright, Merczateers have a moreinteractive approach, for example: Our support troops can build things withtheir wrenches, they choose what to build, then have to click to whack theirwrench until the structure is built.
Anthony Lehane: Then our extensive melee system, inwhich our men can attack with rifle butts, or knives (support guys use theirwrench) then, our combat dive/roll we issued the other day. C4, that can bedisarmed by cutting the correct wire.
Anthony Lehane: All of these things make combat veryfun.
Anthony Lehane: Now, the AN, don't usually think toomuch for fun. They create new tech to adapt to other's tech. For example, tocounter fast planes, they invented the seeking missile.
Anthony Lehane: Their gear is linear, ours isdynamic.
Caine Constantine: I have read in fact on one SecondLife wiki that the "Merczateers have an irrational attachment to theirmelee weapons, and will often use them instead of guns when possible."
Anthony Lehane: Well, our troops, if placed in asituation where they may not be able to get a shot off due to rez offset, willsimply hit < + > at the same time to hit with their rifle butt.
Anthony Lehane: Yeah, and our soldiers have a lot offun using it too. Also a good way to show the enemy "Dude, you suck."
Caine Constantine: And how do they get these weapons,like that gun with the saw on it?
Anthony Lehane: We have a merit, the melee merit. Whenthey get it, they're awarded the Lancer.
Anthony Lehane: That's the rifle with the chainsaw onit.
Anthony Lehane: A lot of fun kills with that.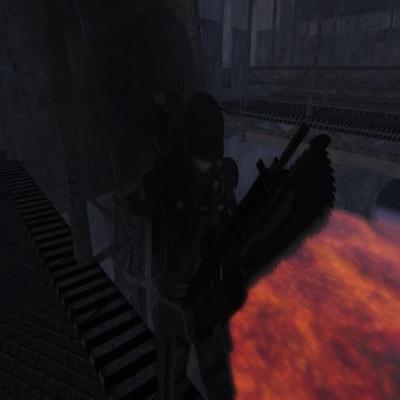 Indeed, the Lancer is a fearsome gun – an assault rifle witha chainsaw on the barrel. From adistance it functions like other weapons, but up close, it cuts melee fightersto pieces in a gruesome display.
Caine Constantine: I know a lot of groups – like Sparta,I believe, for example – have a backstory to give the group a roleplaytheme. Is there anything along thoselines here?
Anthony Lehane: We don't need a silly backstory.We've been in SL so long that our actual history is our backstory.
It is definitely an interesting history. The Merczateers were founded back in 2005 andhave died and been reborn a few times since then. The picture below is from about three yearsago, in their lands in Isere.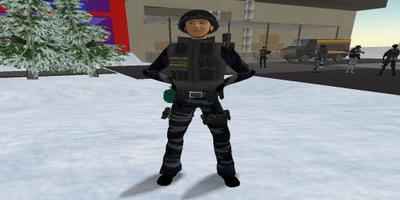 Perhaps the greatest crisis the Merczateers ever faced wasthe resignation of one of their leading generals, Christoph Naumova, who todayis the Vorhut Fuhrer of the Vanguard Armed Forces and one of the chief enemiesof the Merczateers.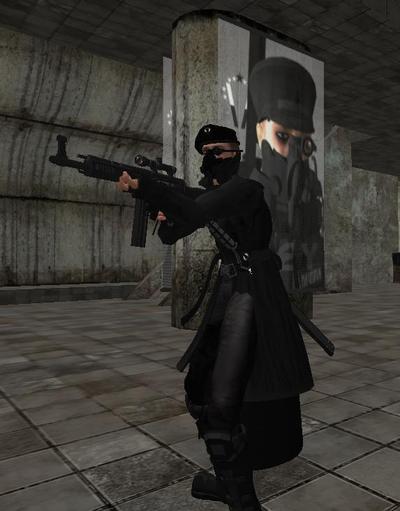 After many in the Merczateers, wishing for better relationswith the Alliance Navy, grew tired of Naumova's policy of antagonizing thegroup, Spartann Plunkett, another general in the Merczateers, confronted him overit and the argument heated up until Plunkett told Naumova to "do your worst."
He did. Naumova, whoat that time was a general with full power over most of the group, includingthe capability to abandon group land and eject members from the group, didso. He himself had contributed a lot ofland to the group, though much of it had also been financed and purchased bycurrent Merczateer Màrshal Lurdan Huszar.
All of it was lost as former General Naumova, wanting quickretribution, abandoned all of the land to Governor Linden immediately, not eventrying to sell it.
As members were ejected one by one, Màrshal Huszar, then aGeneral as well, sent a last transmission to what was left of the group that itwould be reborn, before it was finally disbanded completely.
Vorhut Fuhrer Naumova eagerly admits to doing all of this,and believes it was simply his right considering he was leaving the group.
Caine Constantine: As one of the Merczateers put it,you "left them for dead."
Christoph Naumova: Roger.
Christoph Naumova: Yes, I did.
Caine Constantine: Was that the intention?
Christoph Naumova: Not for dead
Christoph Naumova: But they were on their own
Christoph Naumova: I took what I gave to the group.
Christoph Naumova: Which was, basically everything.
Caine Constantine: So you are saying you only tookeverything you brought to the table?
Christoph Naumova: Yeah.
But Màrshal Huszar disagrees with the idea that he took onlywhat he brought in.
Lurdan Huszar: He was paying for a large portion ofthe land tier, but I bought most, if not all of the parcels.
Lurdan Huszar: I spent 30K buying a plot for ourairfield the day before it happened.
Lurdan Huszar: So no, he didn't take back what washis.
Lurdan Huszar: He wasted a very large portion of mymoney.
Landless and with most of its members ejected, theMerczateers were basically dead – but eventually they grew back to prominenceas new members and new lands were found for the group. By the time the Merczateers had moved intotheir current home in Badnarik, the group had not just cheated death but hadbecome more powerful than ever before.
The Alliance Navy, long one Second Life's premier military forces,was even allied with the Merczateers during this time period. But conflict broke out between them over thesim Dorien, the current home of the Alliance Navy. It was previously known as "The Woofer" andgiven to the Merczateers to build on. The landowner mysteriously switched sides – supposedly under the adviceof nearby Alliance Navy personnel according to some – and then gave it to theAlliance Navy.
Though war was not declared over the particular issue, thealliance was off and neutrality was only fleeting. What started the war and the battle is up fordebate, though perhaps the last spark was Merczateer General Jonathan Arnashooting Alliance Navy Admiral Nanao Mahfouz.
But regardless, now the reborn Merczateers faced theirgreatest challenge in the form of a massive assault by the Alliance Navy ontheir new home, which they entitled "Operation: Crucifix."
Màrshal Anthony Lehane recalled some of the conditions thatthe Merczateers fought the battle under.
Caine Constantine: This battle with the Alliance Navyseems like it was a major turning point in the development of your group.
Anthony Lehane: Crucifix was probably the largest SLbattle in history.
Anthony Lehane: They attacked for I think 5 daysstraight.
Anthony Lehane: I remember coming home, getting on mycomputer, logging on, and saying "THEY'RE STILL ATTACKING?!"
Anthony Lehane: We had no AD at the time, justinfantry superiority. So their fleet and AD completely crushed us.
Anthony Lehane: We had to teach our guys to shootdown planes with their rifles.
Anthony Lehane: What I used to do was parachute downfrom 700m shooting at the fleetships with my AK, that was the best we could do.
Caine Constantine: Any kills?
Anthony Lehane: Yeah, hahaha
Caine Constantine: So if they kept attacking for fivedays, you must have been defending that long also.
Anthony Lehane: Yeah, near the final days many of thegrunts had given up, and it was just the Merczateer Elite, and High Commandbasically shooting at their AD from the roof of the Kremlin.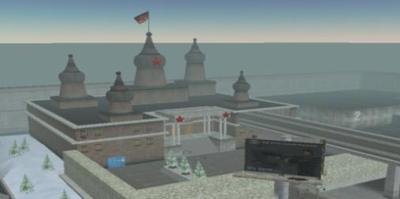 Anthony Lehane: Until it blew up.
Anthony Lehane: One of our Generals, Jonathan Arna,had turned on us and sold the Kremlin to one of the AN marines.
Anthony Lehane: The same Jonathan Arna wasresponsible for the war with the AN to begin with.
Caine Constantine: It blew up? How did that happen?
Anthony Lehane: Yes. Phys-delinked.
Anthony Lehane: Lurdan and some Elites were fightingon top of it at the time if I remember correctly.
And so as their Kremlin collapsed, the battle was clearlyover, but the Merczateers set upon learning lessons from their defeat and rebuildinganew. It became the biggest militarydefeat the Merczateers have ever had, and the Kremlin was scrapped, but thegroup gained many new recruits and worked on improving its air forces – perhapsthe most vital tool for staving off a future assault like Crucifix.
In fact, in May of 2008, the rejuvenated Merczateersunleashed their own assault on the Alliance Navy, calling it "Operation:Crucify This" and using a completely different strategy. While the Alliance Navy attack had usedoverwhelming air power to crush the Merczateers, the invading Merczateers usedwhat has been called the "grunt flood" to control the ground and win the day.
Anthony Lehane: Yeah, nobody can beat the Mercz gruntflood.
Anthony Lehane: Nobody.
Anthony Lehane: We have by far the most activemembers at any given time.
Anthony Lehane: Our men are well-equipped andtrained.
Caine Constantine: So you would take pride in thegrunt flood because they aren't just grunts – they're trained at what they do?
Anthony Lehane: It's a long-term inside joke with thewhole group. We're all grunts at heart.
Caine Constantine: I heard "Operation: Crucify This"was a definitive victory for the Merczateers.
Anthony Lehane: As have pretty much all the assaultswe've conducted on the AN since we re-opened interactions with them.
Anthony Lehane: Not to sound like I'm bragging oranything, but they've lost the manpower they used to have.
Anthony Lehane: I respect the AN however, they have alot of good people, and the ways they conduct combat are very fair. It's justtheir strict treaty makes things complicated.
A ten-minute video made by the Merczateers, detailing theconditions as they saw them during the battle, can be found at http://www.youtube.com/watch?v=GQTl2GuHpps.
And so now, at the strongest they have ever been, what is thegoal of the Merczateers for the future?
Caine Constantine: Where do you see the Merczateers ayear from now?
Anthony Lehane: I see us being the hub of wherecombat should be in SL, free from drama, bullshit, strict treaties and unfairgear. I see everyone slowly realizing that the way we do things is the rightway, and more militaries forming around our system.
The Iron Symphony alliance is one tool by which they plan tobring this vision to life. I talked toMàrshal Lurdan Huszar who could be considered the de-facto head man at thealliance to find out more about what it was all about.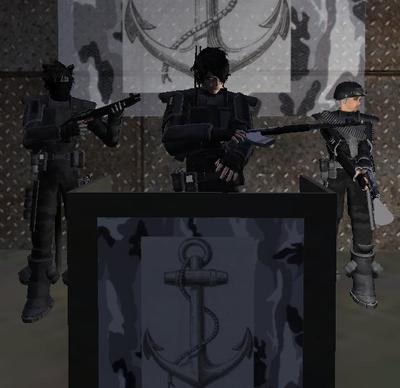 Caine Constantine: What is the Iron Symphony? I have heard it described as an alliance andas a group of like minded people following similar rules.
Lurdan Huszar: That's a good portion of it. We'reformally an alliance, and we do also share similar views as to how combatshould be conducted.
Lurdan Huszar: One of our defining features is thatwe don't restrict ourselves with a treaty.
Lurdan Huszar: Rather, if one group feels thatanother is using technology or performing conduct which is unbalanced, unfair,or unacceptable, we discuss it.
Lurdan Huszar: Before a group can enter the IronSymphony, I have a brief interview with them to make sure they're reasonableand understand that combat needs balance.
Lurdan Huszar: Another defining feature is that wemay formally, be an alliance, however we soon are going to begin organizingregular battles with each other.
Lurdan Huszar: This is important, because the IronSymphony is really about facilitating good combat.
Caine Constantine: Who are the current members? It seems like people join – or at least claimthey will be joining – fairly often.
Lurdan Huszar: Currently we have Ordo Imperalis,Merczateers, Militant Collective, U.N.I.T., Iron Eagle Navy, [Dominatium], andTarsus Autocratoria
Caine Constantine: And how is it governed, if atall? Is it run by the Merczateers?
Lurdan Huszar: That really hasn't been clearlyestablished yet, if anything, we're all equals.
Lurdan Huszar: I manage recruitment though.
Lurdan Huszar: Ordo, MC and the Merczateers kind ofset the standard for regulation and policy however, just passively.
Caine Constantine: But it is also a formal alliancetoo, in which members defend one another against enemy groups?
Lurdan Huszar: If they request assistance, yes.
Lurdan Huszar: If a threat pops up in an IS sim, wecan't all just pile in, or it'd become an uneven battle, so we only come toeach other if requested.
Caine Constantine: And do all members make similarpolicies, like boycotting Vanguard, for example?
Lurdan Huszar: I've being considering whether or notI should suggest that be mandatory.
Lurdan Huszar: But it's not at this time.
Lurdan Huszar: Most of our members have decided to doso, however.
Màrshal Huszar also said he believes that the mindset heldby many – that the object of combat in Second Life should be about destroyingthe enemy group completely – should be ended. Though he previously said Vanguard was guilty of this, he also saidothers held it as well.
Lurdan Huszar: We also need to drop the idea that theenemy group needs to be actually damaged.
Caine Constantine: Do any groups seem to be stickingto that philosophy other than, as you've previously said, Vanguard?
Lurdan Huszar: It's part of the Ascendant Initiativemindset.
Caine Constantine: Including the

Alliance

Navy?
Lurdan Huszar: Yes.
Lurdan Huszar: Well, you know what?
Lurdan Huszar: Not really, now that I think of it.
Lurdan Huszar: Nevermind.
Lurdan Huszar: It's not the groups.
Lurdan Huszar: It's just some of their leaders.
Lurdan Huszar: People like Harlequin Salome (AllianceNavy admiral) likely take pleasure in watching an enemy group suffer.
And so where does Màrshal Huszar believe this will lead theMerczateers?
Caine Constantine: And then my last question is,where do you see the Merczateers, and the Iron Symphony, going in the future?
Lurdan Huszar: I think soon we'll be setting thestandard for how Second Life combat should be. I believe our mindset is thehealthiest and most productive one, and I'm seeing more and more people hoppingon every day.
Caine Constantine: From what I've gathered, the mindsetcomes down to fair and fun, drama-free combat?
Lurdan Huszar: Yes.

When it is all said and done, nobody can seriously doubt thestrength the Merczateers currently have on hand. There is also a definite drive among thegroup to succeed, with new weapons, new sim designs and new creations of allkinds coming down the pipe regularly.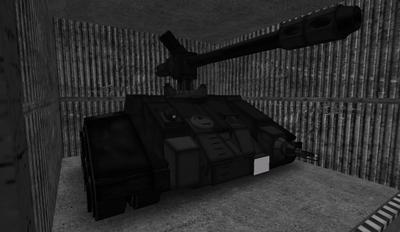 Politically, the Merczateers are certainly helping buildingan alliance that represents perhaps the strongest collection of militariestoday, though as the Merczateers themselves have shown, even small groups canrise to – or recover – great prominence relatively quickly on the militaryscene. Perhaps these Guerilla Warlords,who frequently attack the Merczateers, will someday rival their strength?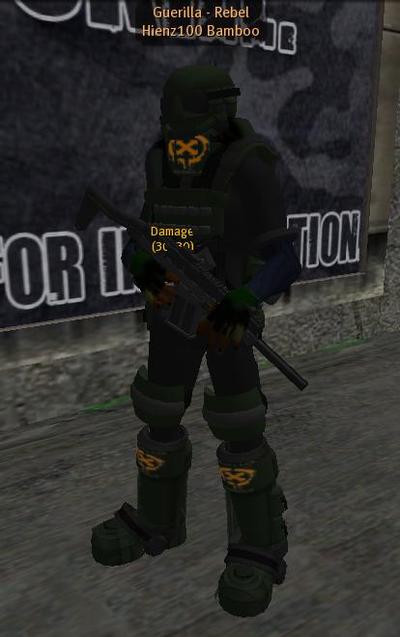 Nevertheless, as things stand today, they are a true forceto be reckoned with. It would seem thattheir openness about the group, and about the idea of fighting for fun first,rather than for just simple victory, makes them part of a unique idea of how tofight war in an often cutthroat military scene.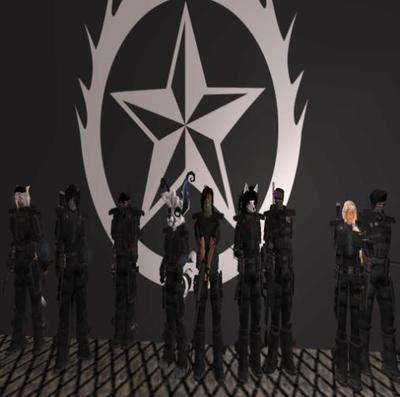 Yet, though they are clearly very successful in many ways,there are many people – former Merczateers, staunch enemies, and even some currentallies of the Merczateers – who claim that the picture the Merczateers put onthe surface veils a host of problems with the group that are only becoming moreapparent as time goes on.
In the next part of this series, we will hear from those whosay that the Merczateers are anything but the fair, fun-loving militaryheavyweight they are often described as – and get comment from the Merczateers themselveson their own views of the subject.