by lavinia on 07/09/08 at 2:48 pm
by Lavinia Carver
Just randomly browsing round the metaverse can actually prove useful. I found that out a little while ago, when I stumbled upon Gotham. I had first seen Gotham when it was mid-construction, so it didn't look too good. It also took forever to build, so I personally thought it would take FOREVER to open.
I am not in any way fascinated by the whole superhero or super-villain thing. I've never read a single comic, DC or otherwise. Really the whole appeal was that this was as close to a modern day, realistic RP that I could get without having the mafia, magic, etc. involved.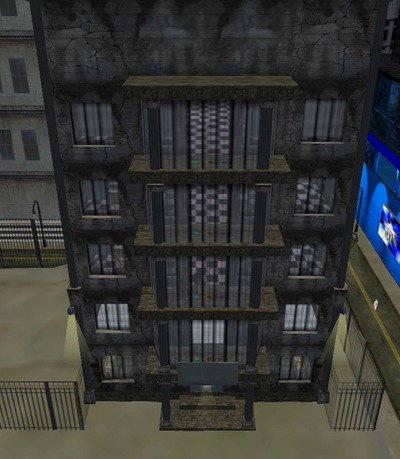 Arkham Asylum, where many a villain has resided at some point of time
For those of you who have never heard of Gotham, (who hasn't? Even I knew Batman!) it is the city of residence for one of the world's most famed superheroes: Batman. Of course, the sim is not restricted to Batman only, it involves the whole DC universe and anything else you can make up! (if it doesn't suck)


The Iceberg lounge, Gotham's largest lounge and club
If you're interested in rping, just search Gothamand it should pop up. Now, DON'T FORGET TO READ THE RULES. The owners and managers of the sim expect you to read them, and give almost no leeway on violations of those rules. If you're just looking to go and pretend to be Batman for a while, forget it, two people already ARE Batman.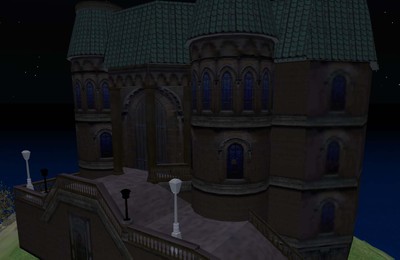 Wayne Manor, residence of Bruce Wayne, billionaire
I was unable to get an interview with any of the managers or owners due to a communication issue that cannot be fixed at the moment, but I can give new players a couple hints. First of all, this sim uses DCS2, so I suggest you find $75L and buy a DCS HUD and the free fist fighter at least. You can't just go in and pretend to be a superhero or villain, you need to contact one of the managers to start talking about an audition. I have no idea how it works, because I'm happy with my civilian role. You'll have to start as a civilian, but don't let that discourage you. You can still go rob the bank or help stop a robbery in progress, just don't do it until you join the group and have made yourself known to the city rp-wise. I actually would suggest starting as a freelance reporter at the Gotham Gazette or an officer at the Gotham City Police Department. You can just go to those and apply, but there is no audition for those, just fill out the form and follow the directions. That way you can learn the ropes of Gotham and really get in the swing before you shoot for the big stuff.
Overall, Gotham is a great sim, and the people on it are great too. Every one of them will be willing to help you out if you're in a fix, or at least all of the ones I've come across. Lavinia, over and out.