by Jessica Holyoke on 28/10/08 at 7:47 pm
Nautilus sim hit by tidal wave of angry avatar protesters
by Jessica Holyoke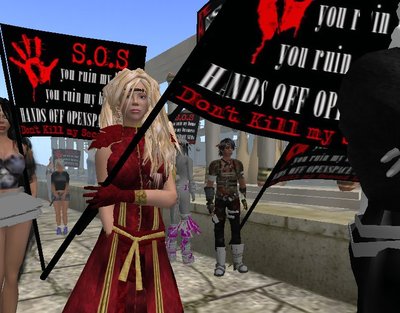 In the wake of "Price" Jack Linden's announcement of a 66% monthly tier increase – Openspace Pricing and Policy Changes – angry residents flooded the newly opened Nautilus sim. The protests were sparked by both a 50% increase in the upfront "purchase" price for OpenSpace sims – from USD$250 to USD$375 and the news that all OpenSpace "land owners" will face a monthly tier increase from USD$75 to USD$125.
In an economy where many are barely able to tread water, avatars were protesting they are now awash in new fees and higher prices. According to my translator, as many of the residents during today's protests were German or French, and were asking what justified the Linden's demands for more clams for tier fees, why the new policy won't allow for a change of captains from the owner to a renter, [does Jack assume the captains will stay tied to the mast while he empties their wallets? - the Editrix] or why even the schools, the poor schools, would now have to pay the same price as everyone else.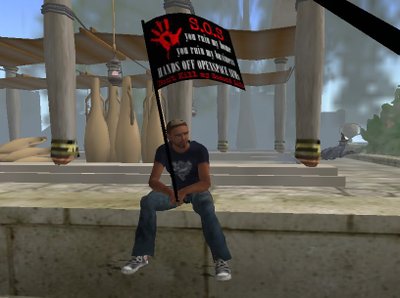 Jack Linden claims that mo mo money is needed because the OpenSpace sims were only really intended for open water due to the simulators being sardined in groups of four on a server. The Linden line is that heavy prim use, where more prims were being used per Open Space sim than envisioned, tested the buoyancy of the servers and threatened to sink the whole metaverse – unless residents open their treasure chests. Some residents wondered why the Lindens couldn't simply limit the resources consumed on the servers to cut the weight of the added cling-on prims. But Linden Lab refuses to have their resources sponged up while looking for a way to fish themselves out of the situation they created with the release of Open Space sims and followed by raising the prim allowance on those sims.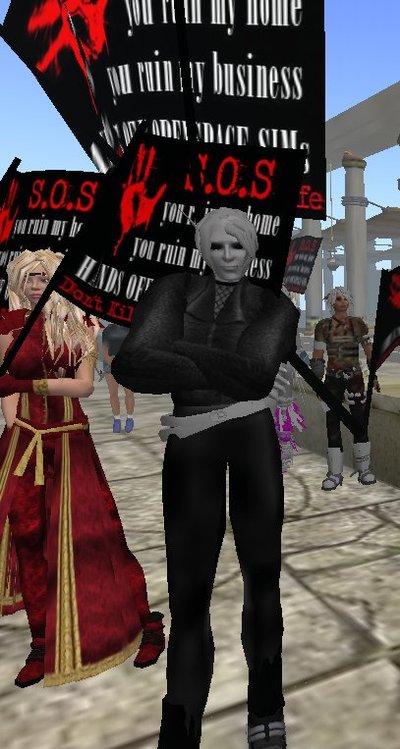 While there were reports of a great Blue Linden whale sighting, when this reporter sailed onto the scene, in the sea of avatars, there were no traces of the Lindens.
It seems that after ad policies, VAT and other mis-steps by Linden Lab, M Linden finds himself in another fine kettle of fish.