by lavinia on 20/02/09 at 5:28 pm
by Lavinia Carver
I'm back with the last of the shows from SL fashion week day 3. This time, we're showing Bolero, a wonderful fashion designer that's all about the elegance.
Models: Gamp Lane, Aealla Illyar, Summer Deadlight

This dress is absolutely divine! I loved every moment that I got to look at it. It's called Baby and it's the perfect outfit for the racetrack or an outdoor tea party. It's short enough to be modern, yet elegant enough to give that proper English feel.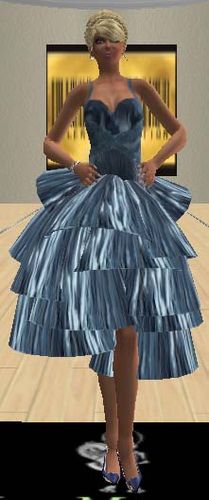 This lovely dress, Roberta, is perfect for a formal dance of sorts. The height of the skirt allows for your avatar to move their legs freely without stretching any skirts in odd fashions. The blues are slightly contrasted by the white stripes down the whole dress, and the layers give it a more formal touch.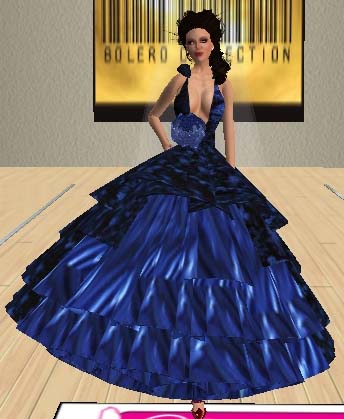 This beautiful ballgown, Moonlight, is perfect for formal occasions of the highest degree. The deep blues can just completely stand out from the rest of the crowd and easily single you out as the best dressed. The large rose on the hip, at first, may seem as though it is too large, but the size is just big enough. Add a pair of gloves, and this outfit is perfect.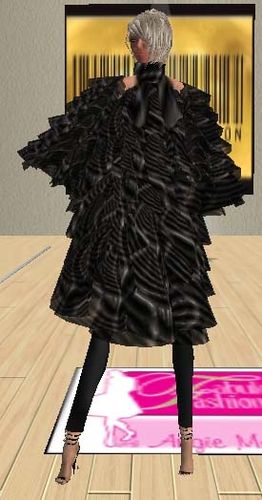 This creation, Plastique, is not the brightest bulb of the box, but it certainly isn't too bad. I wouldn't go around wearing this to formal parties or down the street, certainly, but maybe at a fashion show or modern dance party for the wealthy. Other than that, it's just a behemoth thing on your body. It's not the most flattering of the bunch, that's for certain.
That's all that I have from day 3 of fashion week. Look out for more coming soon!