by lavinia on 19/02/09 at 9:35 pm
by Lavinia Carver
Many people have heard of Fashion Week. It is a week of nothing but fashion shows, with different tents sponsored by fashion magazines, each one competing for the better shows. Well, it's not just in New York, London, Tokyo, and Paris any more. Now, fashion week has come to Second Life. I have been trying desperately to cover as much of it that I can, but real life gets in the way. So, I have no choice but to start with day 3!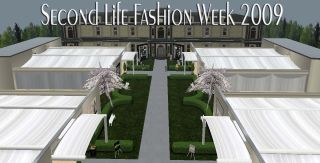 The first show I was able to attend was the ::eLDee:: show. They had some beautiful designs, mostly casual/business wear. They had thrown some interesting other pieces in there, like swimsuits and a cocktail dress. Here is a quick overview of the show.
Models: Kate Stockholm, Emmz Tzara, Wenadrenia Soderstrom
This cute ensemble, Pomme, comes with the skirt and the flared shirt and is perfect for those times where you want to look fabulous, but just don't want to look like you're going to a formal party. The skirt's color nicely compliments the darker hues in the shirt, giving the outfit a flowing feel.

This dress, Line, is by far one of the best that I saw. It's perfect by itself if you just want to go for a casual outing or you could add elegant jewelry and make it the perfect cocktail dress. The texture of the fabric gives it a satin look and the colors obviously compliment each other and bring the red out.

This dress, Fling, I considered to be the best by this designer. The dress just pops without question. Wear this anywhere, and you're sure to be noticed. It just screams flirtatious at you. The single strap dress is made from a bright green fabric with hints of floral print and elegant bordering on the waist and bottom.

With all designers, however, there can never be a show without a worst in show. I have to give the designer credit for trying, but swimsuits are definitely not her strong suit. This one is called Eva. The one piece idea seemed to have transformed into a bikini top and bottom that are connected by a small piece of fabric. The collar, however, is slightly over the top and would, perhaps, do better on a different type of outfit.
 Altogether, the designs of ::eLDee:: are fabulous, and you can be sure that I will be buying some of them! All the designers' clothes are featured at the main house at the fashion week tents and can be purchased at any time. Here's a link: http://slurl.com/secondlife/Bryant%20Park/147/51/651