by lavinia on 19/02/09 at 7:04 am
by Lavinia Carver
I've been covering as much of SL fashion week as I can – and what kind of fashion week would it be without free stuff?! Here are some of the latest freebies from fashion week, all designer, top quality, and there's something to be had for everyone! I'll get right to the chase: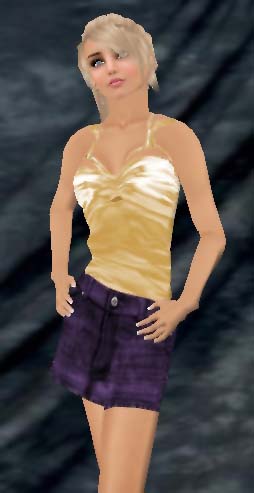 This is a double strapped gold top from Second Wave Apparel. The top comes with 3 options; you can wear it as a jacket layer, a shirt layer, or an undershirt layer.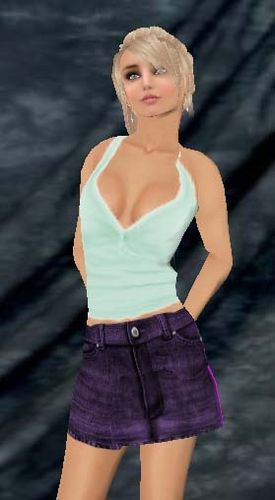 This is a sporty ensemble, with Second Wave Apparel's Henly Tank in mint and their PerfectFit MiniSkirt. The skirt is not, "perfect fit" however. It is one of those attachments that only works for certain shapes and animations.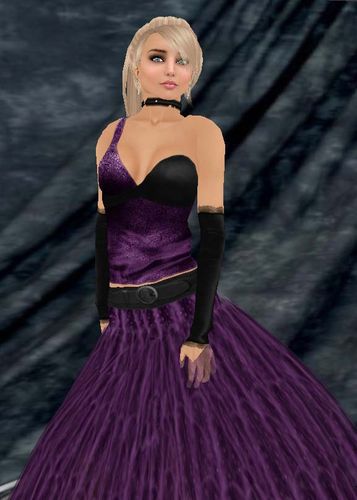 This is a dress, Flight, from Spork with their Cosmo gloves and black diamon choker. The dress also comes in many different styles, from mini to long and the top is changeable.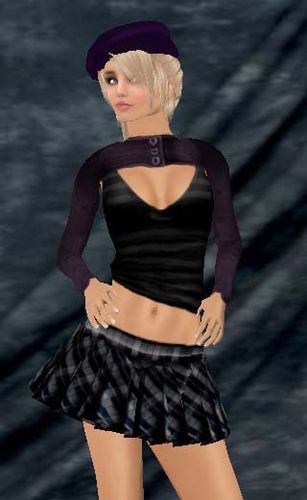 This is a neat little ensemble, not quite the type to wear around to business meetings, but good for casual wear. This outfit is, literally, straight off the runway, as I saw it on Sunday making its debut. The whole thing is called Lara, and can come in different colors, but this is the color that you get with the freebie. It is also paired with SWA's beret in purple (I just darkened the color a little).
That's all I have time to show, but there is more, including a dress that looks like it is full of holes and some Gorean wear, so if you feel like shopping, but are a little down in the pocketbook, take a look here!