by lavinia on 20/02/09 at 5:13 pm
by Lavinia Carver
I'm back with the second show of day 3 of fashion week. This time, we'll be showcasing Second Wave Apparel's line of freshly sewn designs. I also was able to snag an interview with one of the models, Gamp Lane. She wasn't in this show, but was in others during the day. She gives her insight into modeling and how one achieves it.
Lavinia Carver: Alright. How does it feel to be in one of the greatest fashion events of the season?
Gamp Lane: Well, I am so thrilled to be invited to participate in these shows.  It is always wonderful when SL mimics Rl events like a fashion week.  Maggie Mahoney and ocean Bates have done such a wonderful job of organizing this event
Gamp Lane: Yu can only imagine how hard it is to get so many models and so many outfits together for this
Lavinia Carver: Definately. It has to be quite a chore.
Lavinia Carver: Do you have any tips for people who want to be a model or are up and coming models?
Gamp Lane: Well I have been modeling for more than a year now.  It is really a matter of wanting to do this..learning techniques and being consistent.   Most of us just love modeling as an art form and love fashion.  It is about showcasing our wonderful SL designers more than about the model.  So I would say that my best tip is just to get involved in everything..be around..meet people and love it all.  Meeting new friends is really the best part
Lavinia Carver: Ok, thank you. Are there any more comments you'd like published?
Gamp Lane: Well just that I am always amazed at all Sl has to offer.  Fashion is just one area.  I love to see all the good things we do in SL..it's not about sex and violence as it is sometimes portrayed in RL news.  We all really live here and have a full second life.  It's amazine!
Gamp Lane: thanks you so much for asking me;)
Lavinia Carver: No problem. Thank you for the interview, I'm sure the readers will appreciate greatly.

Now, without further delay, I present SWA!
Models: Anessa Stine, Kate Stockholm, nemi McCoy

This ensemble, at first glance, looks as though it is another, cheap reproduction of a matching bikini and shorts. But, upon close inspection, one will find it to be one of a kind. This outfit easily takes the boring, and makes it not so boring. I'm not sure exactly what it is about this outfit, but it just pops!

This cute little top matches the shorts almost perfectly, not just in their color coordination, but also in their style. The top is one of those particular tops that can be both semi-formal and casual, if you let it, but doesn't lie in the middle of the two types. It seems to be able to switch between them and allow for the wearer to exhibit different looks.

This nice ensemble is perfect for the 'lounging in the backyard' or the 'next door neighbor' looks. The top is nicely complimented by simple lilac capris which help to bring out the yellows in the plaid. This is perfect for the casual night out.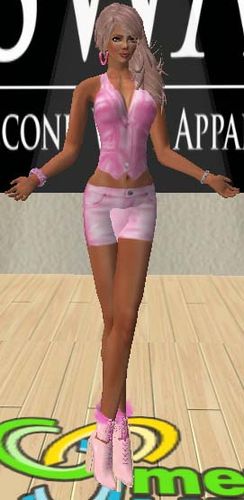 Alright, this designer's line was near perfect, but this outfit is not the best I've ever seen. It certainly wasn't the worst, but it wasn't really up there with the best or even the ok's. First off, pink leather. The last time I saw pink leather, was on the Pink Ladies from Grease. I think the idea of the leather vest was fine, but not pink. Then there's the shorts and the boots. Again, pink leather, but this time the boots had a pink feather frill. Simply, it's just too much pink.
Well, there you have it. SWA overall did a great job, and I'm seriously thinking of adding them as my next store to hit, because, frankly, I have no casual clothes. Here's the link: http://slurl.com/secondlife/Bryant%20Park/147/51/651