by Jessica Holyoke on 17/06/09 at 7:46 pm
Empty adult storefronts just as boring as PG/mature mainland
by Jessica Holyoke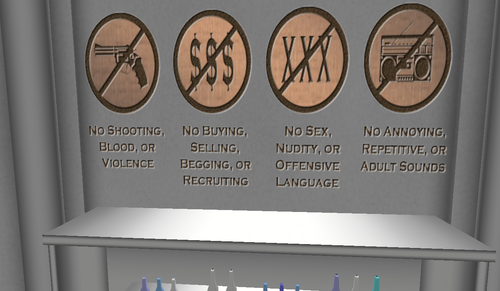 Mixed messages from LL: a safe hub on the new Adults-only continent
Today I had a chance to travel to Zindra, the new adults-only continent, and plumbed new depths of dullness for what was supposed to be a continent of sex and violence. Granted, this was the preview period where residents who have adult content plots on the older PG and Mature mainland continents are able to scout out where they would like to be placed when they have to be get to be moved in the upcoming weeks.
Wandering around, I got to see long beaches and unfilled plots, except for those with buildings that would look perfect as stores near the Mosh infohub – I am certain other adult content landlords are happy that the Lindens are providing that service.  For some reason, there are at least 5 sims of ocean.  Really, if I am going to do a Red Light District, do I want 5 sims of ocean? [Lindens expect strong demand for adult watersports? - the Editrx]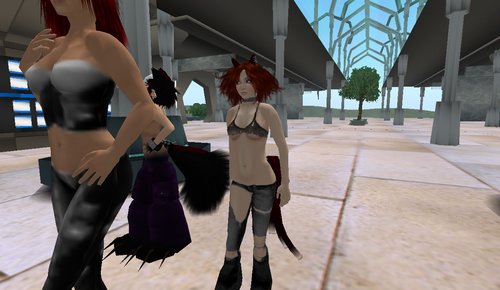 residents inspect LL moles' work
Everyone at the infohub was concerned about the coming strip clubs and the lag they will bring. I predict that the competition between the clubs will show up in new and different ways.  Prices will probably become more uniform and possibly lower, unless all the nearby clubs essentially form a trust and collude to keep their prices the same. It was interesting to find something called a safe hub with a few people in it. I suppose people need to take a break from all the evil content sometimes, so it is good to have a safe hub there.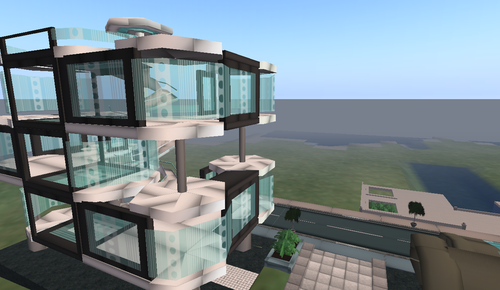 no sex yet – but plenty of empty storefronts

I can't wait to see the Adult Mainland to fill with Gorean shops.  After all, one of the adult content banned search words is Gor.  So even if you provide clothes for Free Men and Women, manufacture weapons, or even make those lovely chores, you're still adult content and must be hidden behind age verification unless you don't advertise that you are Gorean in nature.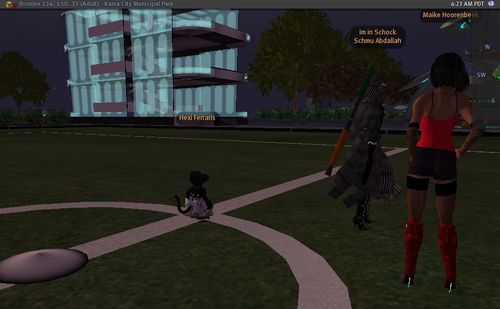 A young fur resident accompanied by adults inspect the soccer field
But no real commercial activity has started yet, and residents sightseeing on the continent just seem to fly around to see plots of lands and buildsby the Linden Lab's moles and the DPW.  According to at least oneexcitable vanity blogger, child avatars shouldn't even be able to view the emptystorefronts of the not yet open for business Zindra Adult Mainland because:
1. Even though there are places without sexualized content – which achild avatar cannot be near nor can sexualized content be near thingsassociated with childhood, like a swingset – and even though there areplaces where adult content is not allowed on the Adult Mainland, achild avatar would only go to the Adult Mainland to take part in sexualconduct and be a child rapist.
2.  Even though this is a preview period and there is no adultcontent on the no build areas, a child avatar should not be on theAdult Mainland because it would mean she's a child rapist
3.  Even if a child avatar is present somewhere, anywhere, andsomeone else puts out mature or adult content, that child mustimmediately teleport away or else she's a child rapist.

[Could the Lindens set a minimum height requirement for visits Zindra to avoid this vexing moral dilemma? Should tiny furs be exempt? - the Editrix]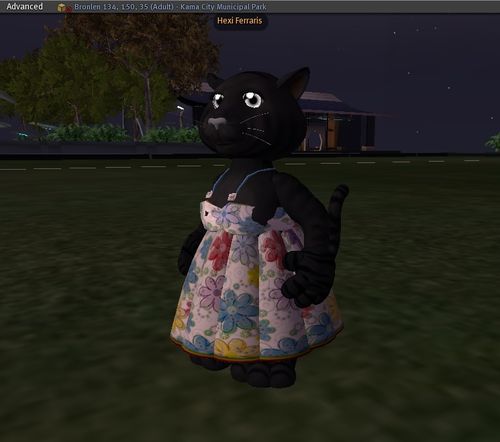 WIll this sort of avatar be allowed in Zindra?