by Jessica Holyoke on 30/11/09 at 11:23 pm
by Jessica Holyoke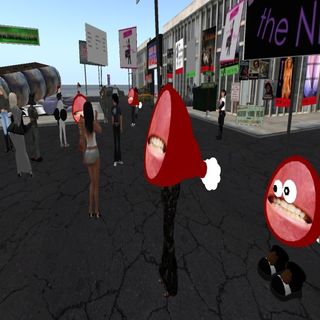 As previously reported, as part of the 16 Days against Gender Violence, a variety of groups, SL Left Unity, Feminists, and Stop Violence Against Women, (disclosure: I am a member of the latter two) descended on Second Life perennial popular area Hard Alley in order to protest the rape role play on display there. 
Counts of the number of protesters vary, but after witnessing a variety of protests on the Second Life(r) grid, this one was, at least in the beginning, about average in attendance.  Half an hour into the protest, 37 people were counted as part of the protest. 
While the protesters, some in cooked ham avatars, marched the streets of Hard Alley, with signs listing the roles women have in life, mother, daughter, granddaughter, either suggesting that those women aren't sexual or for the male participants to think of their mothers and daughters when taking part or Reclaim the Night.  
But the protesters went on, basically following the script of the press release said Scylla Rhiadra, "Rape play desensitize users to the violence that they represent; they 'normalize' the rape and sexual abuse of women by asserting that these things are not merely 'fun,' but also sexually arousing"… "Any activity that trivializes or seems to validate real life violence of women is intolerable."… "This protest is being staged to make it clear that our society should not, indeed must not, tolerate it."
Those gathered around but not part of the protest had different ideas. 
When asked about the protest, Tommy Classito stated that "it's a fair point but you're not going to achieve much to be honest, both male and females come here for one purpose and I doubt anyone would belittle the idea of real life rape. I understand the concerns but it's a two way street when it comes to role play and if two consenting adults make that choice then it's of no business to anyone else."
A few on-lookers entered the protest as soon as they determined what the purpose of the protesters were.
One onlooker, Dream Scientist, approached the protesters, asking why if both parties are coming in to play at violence and sex, then how is it contributing to conducting real life violence?  He also mentioned how many women come in consensually to the sim and use the retrained life viewer to enhance the experience.  UndoneChaos Enoch countered with the fact that many women came at the last minute to protest the sim, showing that sims like Hard Alley are wrong. 
As the protesters made their way around the sim, one protester gave voice to her anger over the roleplay taking place there.  Said Lisabeth Nikolaidis, "Stop making women into toys for violence and degradation," "No one has to do this to be loved or to be satisfied," "Are you satisfied?"