by Pixeleen Mistral on 23/08/10 at 4:35 am
Second Life Emerald Viewer + DDOS Platform Ownership Changes Hands
The scandal-plagued Emerald viewer development team has undergone radical change with the resignation of Fractured Crystal Sunday morning. Although Mr. Crystal had previously controlled the web site distributing the Emerald viewer, he was forced out in what appears to have been a mutiny by other Emerald team members during the last 24 hours.

Fractured Crystal now swims with the sharks
Trouble stared with revelations that the viewer was being used for a distributed denial of service attack on a rival web site – an attack that accounted for approximately 800 gigabytes of traffic on the iheartanime.com site, accord to Hazim Gazov. Denial of service attacks are a violation of the Linden Lab third party viewer policy – and illegal in the United States, where Mr. Crystal resides.
Attempts to spin the attack as childish shenanigans by Arabella Steadham – who reminds us she does not lie – fell flat, and as word spread and alarmed players uninstalled the Emerald software. With the Emerald's initial PR efforts failing to quiet the public outcry, there was a clear need for more radical action than opaque assurances that a team member had been "disciplined".
What followed was apparently a game of chicken within the development team. Arabella Steadham told the Herald she and other members quit and began plans to start an independent effort. Shortly afterward, Fractured Crystal posted his resignation, saying, "I am not attempting to justify my mistakes, merely to explain them. As you might guess, if anyone else had done this, it would be unforgivable, and the same applies to me… I am voluntarily removing myself from the project. I will be transferring control of the primary webserver to Arabella Steadham as soon as is possible".

As of this writing, the Emerald viewer is no longer listed on the Linden Lab third party viewer page – but why? I contacted Emerald developer Skills Hak for comment:
Pixeleen Mistral: I understand you asked to have Emerald removed from the third party viewer directory – can you explain why?
Skills Hak: because it was registered to fractured
Skills Hak: and we asked fractured to step down
Pixeleen Mistral: so this has nothing to do with being out of compliance with the TPV policy?
Pixeleen Mistral: its just a name transfer?
Skills Hak: probably a bit of both, LL isn't happy at all of course
Skills Hak: well we kind of booted fractured
Skills Hak: bought a new server, domain
Skills Hak: restructuring everything atm
Skills Hak: i bought the sim and he oficially resigned
Pixeleen Mistral: what will the new domain be?
Skills Hak: not sure if i can say that yet :p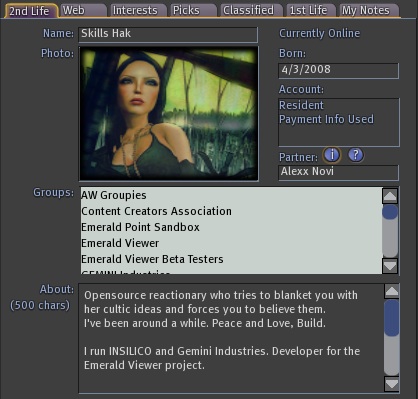 Pixeleen Mistral: so you now own Emerald Point?
Skills Hak: tomorrow probably
Pixeleen Mistral: oh yeah – the transfer would take some time
Skills Hak: why waste a good sandbox
Pixeleen Mistral: any idea when Emerald might get back on the TPV list?
Skills Hak: no idea, that's up to Joe [Linden] and the rest, if at all
Pixeleen Mistral: right – Soft Linden sounded concerned on the mailing list entry I saw – the DDOS is an open and shut case for a violation
Skills Hak: yeah understandably
Skills Hak: >.>
I asked Arabella Steadham how she ended up with the modularsystems web site, and a picture of hardball negotiations within the team emerges.
Pixeleen Mistral: so I am under the impression that you *did* quit or threaten to quit at some point, but then Fractured gave in
Arabella Steadham: no, let me tell you the events in order
Arabella Steadham: I left the EMDEV team last night
Arabella Steadham: I advised Treet tv I could not do the interview on this basis
Arabella Steadham: paisley [Paisley Beebe - Tweet TV personality] twitted that, which is probably where Tateru heard
Arabella Steadham: Apparently following my departure, most of the remainder of the team also left
Arabella Steadham: shortly after this, a very small group of us met to see what we could do
Arabella Steadham: about 2 hours after that, jay [Fractured Crystal] made his post
Arabella Steadham: I am now doing the treet thing again
Pixeleen Mistral: so effectively nearly everyone left and marrooned Fractured, then he gave in
Pixeleen Mistral: now the contradictory posts are making sense
Arabella Steadham: the thing is, there are only so many hours in the day, waking hours. We are scattered across the globe too, so not all is always coordinated. what seems like a smooth trail of events to me can easily look disjointed to others

Arabella Steadham won't lie, but will remain pseudonymous – now do you trust her viewer?
Ms. Steadham was interviewed on Treet TV this evening, but was unwilling to provide real life contact information for herself or other members of the Emerald team, claiming that Linden Lab knows who she is and that is good enough. But will this restore player trust in Emerald?
The most interesting dialog is over the next few days is likely to be inside Linden Lab as the game gods consider whether the Emerald viewer will make it back onto the third party viewer page – or if the viewer should be blocked from access to Second Life.
Restoring the Lab's trust in the shamed development group may be difficult, particularly when Emerald developer Lonely Bluebird refuses to acknowledge that the attack on the iheartanime.com site was a DDOS attempt – as was the case in group chat after the Treet TV event. A lack of action on the part of the Lab would render the Third Party Viewer policy toothless, but forcing users to change viewers could result in more departures from the Philip Linden's walled garden of cyber delights – a serious issue for player retention. Caught on the horns of this dilemma, will Lab decide that the Emerald viewer is simply "too popular to fail"?