by Alphaville Herald on 27/04/04 at 8:49 pm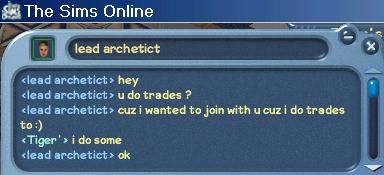 by Montserrat Tovar, The Phantom, and Los
Clones are avatars with names that are very similar to the name of a known well-established avatar. For example a sim with a name like Johnson might be cloned by a sim named Johnson'. Clones are established for two basic purposes on tso. First, sims use them as tools to harass and debase the reputations of good sims. Second, traders are often cloned in an effort to scam users out of money or objects by duping them into thinking they have acquired the services of a trusted trader. While cloning has been very common on TSO for some time, it is becoming more of a problem in recent days. In this story, we discuss three cases. First, there is the cloning of the widely respected trader Lead Architect by Lead Archetict, and the equally respected rares trader SharpST by numerous clones. Finally, we will examine the cloning of x tweety x by xtweetyx.

Lead Architect is a respected trader in objects and money, specializing in eBay sales and between-city trades, but also is well known for his sim architecture skills, as his recent projects demonstrate. Recently, however, he has been cloned by a sim named Lead Archetict, who has used the deception to dupe numerous criticism out of their property including the theft of a tiger, a blue simmy, simoleans and other objects. According to leg work conducted by Lead Architect (yes, the real one) it appears that the person cloning him was also cj johnson. The operation went like this. cj johnson asked Lead Architect to move a tiger to another city. At a later point, noticing that the clone was online, Lead Architect IMed the clone directly and addressed him as though he were cj, asking if he was ready to hand over the tiger. Foolishly, not paying attention to the guise he was in, cj responded to Lead in his clone persona, and Lead Architect took the following screen shot.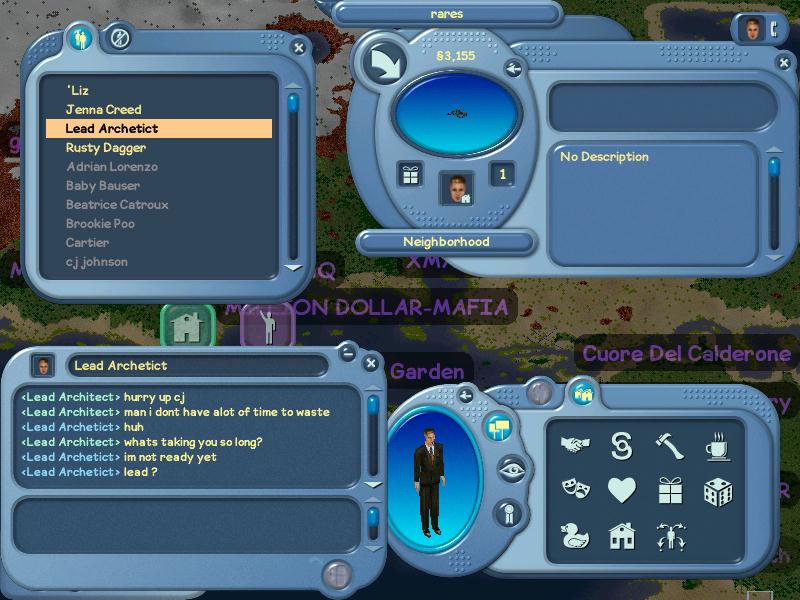 Another recent cloning which has been connected with cj johnson is the cloning of the respected collector, trader and seller or rares, SharpST. SharpST in Alphaville has been cloned by 'SharpST, Sharp and SHARPEST, and there has been a further cloning of his AIM screen name SharpTSO by SharpTS0 (notice the clone uses a zero instead of an oh). According to SharpST, the clone has often been seen in the company of cj johnson in alphaville as well as other circumstantial evidence.
If all this wasn't distressing enough, the clone Lead Architict has reputedly been attempting to probe sims for account information and password information, so the allegations may eventually be broader than mere cloning.
For those of you keeping score at home, the following are cj johnson's sims in Alphaville
cj johnson
cj johnson II
Cj Johnson II
In BF he is
cj johnson
The clones of SharpST are as follows:
'SharpST
Sharp
SHARPEST
and on AIM SharpTS0 (with a zero)
Exercise caution with all of the above avatars.
In a case not involving high finance but rather pure harassment, x tweety x, the proprietor of tweety's charisma cage was recently harassed by a clone, xtweetyx. The clone was offering to buy houses in a scam that would rely upon the trust established by tweety's name. The clone also sent out spam to house visitors at the charisma cage in a move that is a common tactic used, for example, by mafias to drive houses out of the top ten and replace them in the rankings with mafia houses. As Tweety's roommate Kezia said: "i have seen this tactic employed on at least 5 other lots. In one case the house was tagged as soon as it reached #4. now that house is out of the top 10 and it is sad." Although firm statistics are not available, there is some belief that the incident of these clone attacks has increased in the days since tagging has been eliminated, since clone-generated spam is one of the few remaining tactics of aggression.
x tweety x has reported the disruption, which we have witnessed, to maxis. maxis has addressed the complaint by dismissing it because … you guessed it… there is "not enough evidence" to warrant an investigation. No doubt maxis is too busy designing monkey heads and other entertainments to have time to address user concerns.
In the meantime, x tweety x received many ims from other sims complaining about the clone's behavior. tweety expressed determined not to be swayed by the continued harassment, and intends to remain. "I will not delete." she said.
Moral: please pay CLOSE attention to who you are working with. And make sure the spelling is EXACTLY right. Pay close attention to the age of the avatars!
For those of you wishing to work with Respected Architect, please pay close attention to spellings of his various avatars:
"My Transfer service operates independently, do not be fooled by someone else claiming to be myself or to work for me. To be sure, here are the exact spelling of my sim's names, they are the only sim's I own: * All my sims except my newest one who is located in EJ, are over 135 days old. Alphaville: Lead Architect Blazing Falls: Lead Architect (this sim doesnt show up in search, you will have to use the Inbox to call this sim) Calvin's Creek: Lead Architect Dan's Grove: Lead Architect East Jerome: Delivery Man Fancey Fields: Lead Architect Interhogan: StorageGuy Jolly Pines: Lead Architect Mount Fuji: Lead Architect Test Center: Lead Architect"