by Alphaville Herald on 20/05/04 at 4:22 pm
by Hyper
Some people may argue that there is not enough content in TSO, they may say that that is the reason they quit there was nothing interesting or fun in game. It was all about making money reaching the top in a category and quitting. Some people may say they are griefers and like to take risk and get excitement out of figuring out ways to not be caught by MAXIS. Well, there are still other good ways to have lots of fun in game and perhaps it would be a good idea for me to share my ways of fun with others.

One thing that is necessary for fun is your friends. This one aspect is what keep people logging in! I've known people who the only reason they logged in or kept their account was because of one person they enjoyed being around very much. Take time out, take one or two months to make a stable sim in a city hang out meet people hang around somebody you feel that special connection with, I cannot describe how you will know somebody is the right friend for you, it just happens, you just know. Friends are great that's the very first thing you need in game your more apt to be a successful sim with loyal friends because friends will help you reach your goals and you will help them reach their goals. Not to mention your friends become very special to you and everybody should have that kind of special friendship.
Now if you have friends the fun can start! There are multiple things you could do with a large group of friends! Organize a group photo get everybody to turn inside out or put on a funny costume or get everybody to sit together and shout a phrase at the count of three! Then take a snapshot! Make an album snap funny pictures when things occur and make sure you get all those special occasions and holiday group pictures! Here are some I have taken in the past: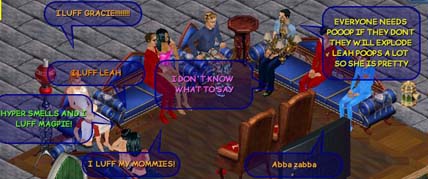 Another cool thing to do is make up a bored game get your friends together or a group of people together use the colored squares, dice, cards and game pieces to come up with your own game! Be creative you can do stuff like make a bored game and say every time a player rolls the dice and lands on a green square they have to draw a card and the cards could be fun stuff like "Kiss anybody on the lot, if they accept move up 1 if they reject you move back 1" OR "Sudden death MUAHAHHA go back to the start" there are a lot of funny and entertaining stuff you can think up doing this. Trust me it is a lot of fun once you get a game going.
Three words "HIDE AND SEEK" This game ROCKS so, far it is my favorite! It requires two players or more and what happens is somebody goes and hides at any property anywhere and the other players all split up to try to find the hider. First person to find the person hiding gets to hide next. A really cool thing about this game is you wait for everybody to find the hider (who by the way has their stalker button on so nobody can find them) so while your waiting for everyone to show up at the property your are helping a fellow sim gain visitor bonus! Also make fun at the lot while you wait dress up in costumes or run around shouting a silly phrase.
Simball, I do not think I need to say much more, I have personally never played Simball but I hear it is mega fun! I believe it is played like baseball only with wacket balls. Get a referee to enforce rules and make sure everyone trust the ref, get a score keeper too build a wacket ball lot with stands, and a field invite people over and get a game going!
Cram sims into a property. Get a lot size one and then try to get ALL 8 roomies and 18 guest on the lot all at once! Now this is LOADS AND LOADS of fun there is the challenge of getting enough people to do it first of all and then when you do, do it its like a huge party sims chattering laughing and do not forget to place out cake for when you reach your goal and then also make another goal "lets see if we can get everybody to stay for 10minutes" !
Now, not everybody has a large group of friends or they are tied down to keeping their lot open so some fun things to do when your trapped at one lot are:
1) Read every sim's bio for example somebody says "My name is Michelle and I like Pop music" then greet that sim with "Hello Michelle who likes pop music!" say they have one of those bio that say "no disc" a good way to greet them is "Hiya such and such welcome to your __ day in such and such city" not only do guest feel really welcome, this might also spark conversations and you get to learn different stuff about your guest too!
2) Set out wacket balls all of them in the front of the house and greet new guest with "Look at my balls! I have # of them!" trust me one in five guest will find this funny. Also you can set out one ball outside your lot and invite people to come and "Hit your ball"
3) Earn tips the hard way! Build a one square size box then put in a door make your sim go inside by selecting the ground inside and doing "run here". Once inside the box delete the door and then offer to guest "Put a tip in the jar and I'll do a dance or movement for ya!"
4) Start up funny conversations with your guest topics such as "What is your favorite joke" or "Does anybody know any strange facts" or "what's the weirdest thing you've ever done" topics like these are enjoyable and if somebody states their idea play the "why game" So say you ask "What text color do you like the best?" Guest replies "Orange" then go "Why" if find that little word "why" gets people thinking and it makes others feel like you appreciate their opinion or idea's.
Now that is quite a bit go have fun think up your own fun trust me these little things can keep people entertained for hours on end sometimes! If your really dedicated and thinking up new idea's and fun and if you got those great friends then TSO can feel like one of the best games ever.