by Alphaville Herald on 31/07/04 at 4:35 pm
By Miravoir Psaltry
(reprinted from Players, volume 4)
In this article, Miravoir Psaltry takes us on a tour of some of the escort services in Second Life. For tso readers, I note that the owner of Club Elite, Big John Jade, is a tso refugee. We hope to talk to him in a future issue.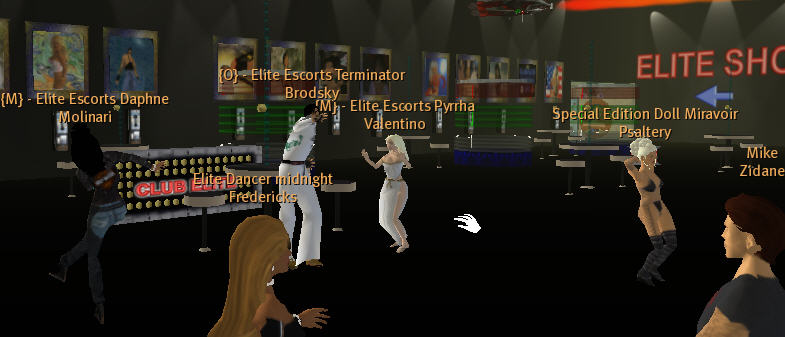 Club Elite: escorts, dancers, and reporters frolic
"It's Saturday night and I ain't got nobody," laments the song.
What to do when you're lonely and unattached? There's always the nightclubs of course. But, sometimes those lead to a dead end. Sometimes by chance you may attend an event and meet the person of your dreams – but, then again, sometimes not. It's a gamble indeed. And so you sit, watching the other happy couples stroll by with their digitally enhanced grins upon their faces and wonder, "Where can I get a little love and tenderness of my own?"
Of course, maybe it's getting tiresome to come into a relationship, and every time you've decided that you want a little digital billing and cooing, your significant other has had a headache (which seems to have lasted for an entire month – perhaps they should have a neurologist check it out?) In any case, perhaps you don't want all the drama and ritual associated with dating and building a relationship before you can hop into the sack, you just want to hop into the sack – NOW!
So what to do? Well, two enterprises here in SL are enthusiastically trying to answer that question. They've both gone to a lot of thought and preparation to bring you a little love and tenderness all your own. Their escorts whisper promises of passion and illicit joy into your ears as they whisk you away to your own private fantasy. Their company comes at a price, but they assure a smile of contentment that will be worth it. Here is a look at these escort services just for you.
Eros
Eros is a newly opened pleasure complex with a breathtaking Greek theme. It took them months to build, and is a masterpiece of artful detail, right down to the stone lions and realistic pottery. I had a chance to sit with Stroker Serpentine for a few moments to ask him about his Pornes.
Pornes are the black-toga-clad sexual companions that grace the cool marble halls of Eros. Each Porne has adopted that word as their first name. According to Porne Blanc's profile, Porne is Greek for prostitute and Stroker does not like to call his Pornes "escorts". He says, "Calling them 'escorts' is not being truthful to their true nature, rather like calling someone a 'dancer'." So please, ladies and gentlemen, call them Pornes!
When I asked about the nature of the service, Stroker informed me, "Our main purpose is Sexual instruction…we want to teach others proper vr sexual technique… and how to enjoy themselves doing it."
Of note, the Pornes keep all their earnings. Eros only receives dwell income, which is minimal. He said that generally the Pornes charge around 800 dollars for an hour of their time, but each Porne sets their own prices and may vary them according to what is asked of them. I met a few of the Pornes earlier in the week, and I was impressed at their persuasive skills, and their charm. Eros says their whole goal is to make you happy, and with their attention to detail, I'm sure they shall.
Club Elite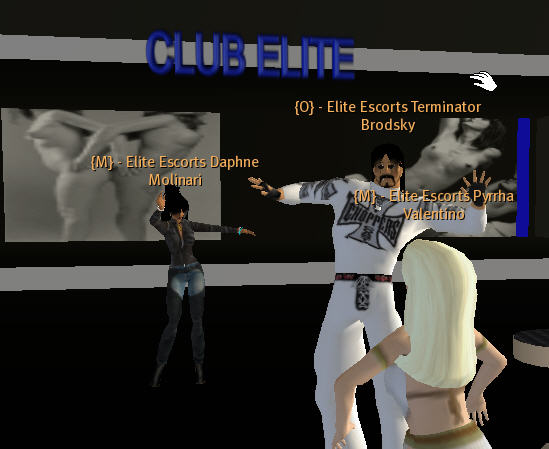 Club Elite escorts show off their dance floor moves.
Club Elite has been around forever, but its Escort service is new. It's a popular spot with all the events they hold in their sleek, high-tech nightclub. I had a chance to spend a little time with Ana Lily and ask her about the service and what they thought its future might be.
Club Elite defines their escorts as "companions for hire." Each escort fills out a card that explains what he or she will or won't do. Some are there to give you pleasure, some, to give you a little intellectual companionship. Sensual Casanova is the escort manager, and she expertly matches the right lady or gentleman with the client. I was impressed with their professional matching service; they had a nice note card explaining their services and costs, and the proper ordering procedures.
Ana Lily informed me, "Our escorts charge 1000 [linden] dollars and hour, or 3000 dollars for the day. The club gets a percentage of the cut, and the rest goes to the escort. Since the service is so new, it's too early to determine how profitable it is, but time will tell."
I had a chance to speak to Topher Grace, one of Club Elite's escorts, and find out her thoughts on being an escort. She is a delightfully charming lady who patiently answered all my questions. She told me, "I love to be an escort because I love to weave sexual tales, and share them with another…or at least half of the tale…" Oh la la! I wonder what tale she would have for you, dear Reader?
The Cartel also had an escort service in the past, but I was informed that they were no longer offering that service. Too bad for us! But, here are two interesting options to help you out when you're lonely and in the mood for love. Hmm… now where did I put that calling card to Porne Perkins…
Miravoir Psaltry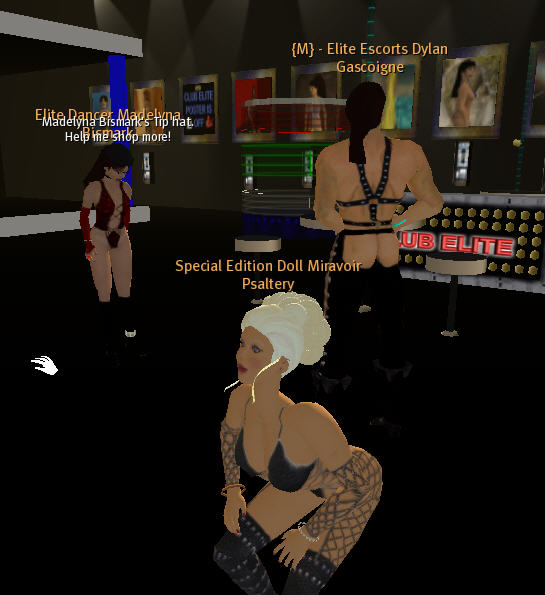 Reporter Miravoir Psaltry shows that that even the intelligencia can throw down with escorts and exotic dancers at Club Elite