by Alphaville Herald on 23/08/04 at 9:14 pm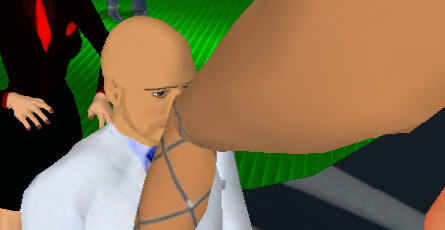 Part 1: One Song?s side. Well, no sooner do we post father Callahan?s interview with Tank Levy, than Tank gets booted from The Associates (and because of the interview!). Tank will have to proceed on his own with the big mall development now. I first got the news when One Song summoned me to his club, and gave me his side of their story while the Club Diamonds girls danced and commiserated with One. Transcript and pics follow.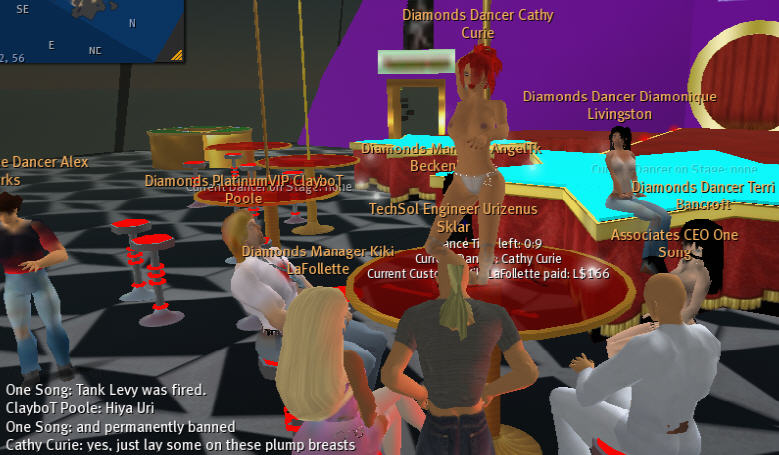 One Song: ok Uri
One Song: breaking news
You: break it, one
One Song: Tank Levy was fired.
ClayboT Poole: Hiya Uri
One Song: and permanently banned
One Song: from all our future pemises
Diamonds Table Stage4 whispers: I hope you have enjoyed this Dance by our sexy Cathy Curie.
Would you like another? If so please Right Click the Dance Stage and Pay the relevant amount.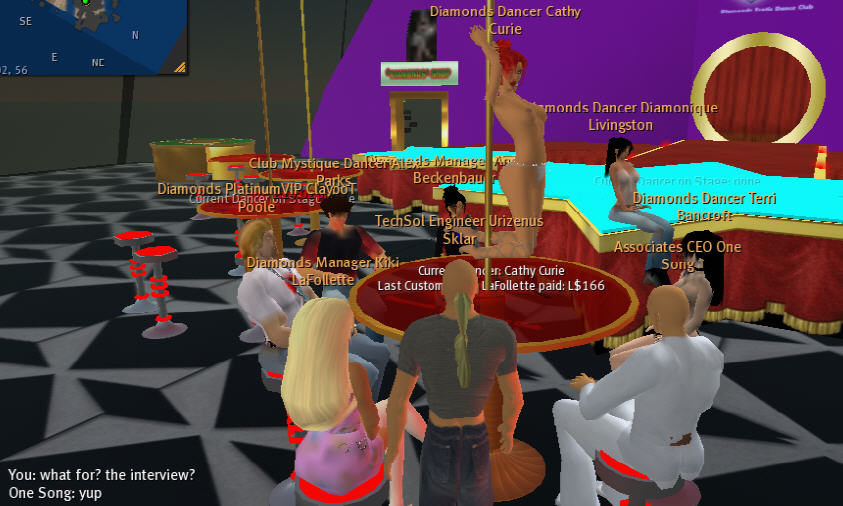 You: what for? the interview?
One Song: yup
One Song: that and his malicious plans
One Song: we took him for a ride to the skys
One Song: and conversed
Main Bar Section Stage whispers: Current Dancer on Stage: Kiki LaFollette
One Song: he just wanted to use us to build the mall
One Song: and once done
One Song: dumping us..
One Song: he wasnt gonna keep his end of the bargain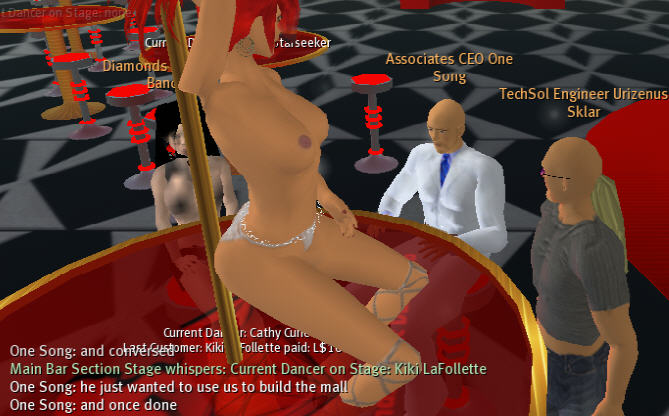 You: wow
You: so what next
One Song: i did all that land baron work for nothing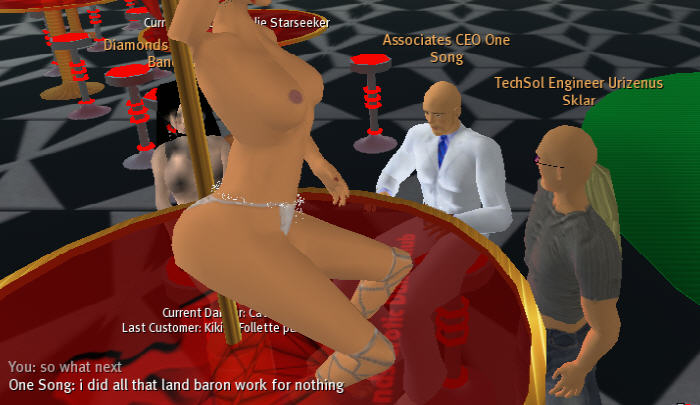 One Song: well the plan will have to proceed
One Song: just gonna have to aquire some other land
One Song: that land suffered from that lag problem and I doubt Tank will be able to fix that
You: wow
One Song: so he pretty much screwed him self too
Cathy Curie: i am just so shocked by it all

Dancer Cathy Curie is shocked by it all. Shocked I tell you!
Diamonds Table Stage4 whispers: Minimum Payment to stage is $10
Diamonds Table Stage4 whispers: Maximum Payment to stage is $50000
You: nice club
One Song: afkish for a sec
Cathy Curie: isnt it, Uri?
One Song: thx Uri
One Song: cant beleive u never been ehre b4
ClayboT Poole: Yeah I love it here
One Song: ehhe
ClayboT Poole: found it my 1st day playing SL and haven't left
Cathy Curie: lol
Alex Parks: lol
ClayboT Poole: Beautiful friendly half naked ladies why would I ever leave that
ClayboT Poole: giggles
[uri leaves to go talk with tank.]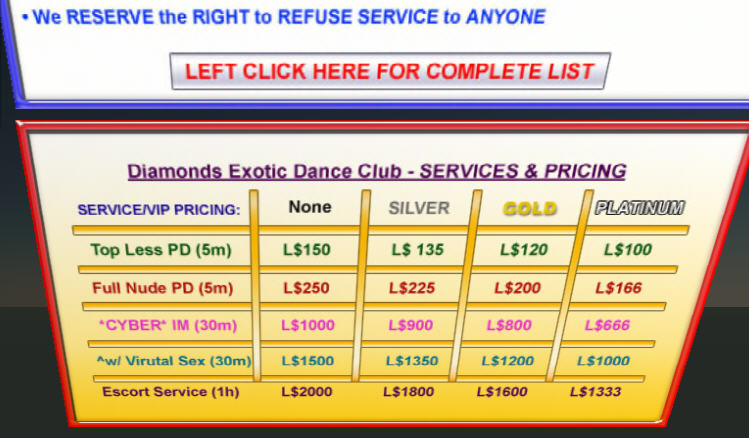 What's on the menu at One Song's club? Aha! Another one of those nonexistent cyberescort things. (I think they only play Spades or something)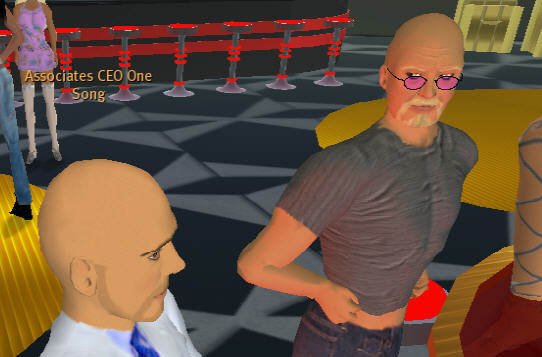 Uri looks at One Song with profound admiration and compassion. All that Land Baron work for nothing…