by Alphaville Herald on 23/08/04 at 10:52 am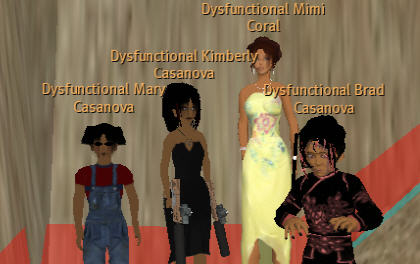 There I was, walking along the New Jessie Wall, which separates Jessie from the site of One Song?s future mega-mall, when I ran into ex-TSO uber-scammers and Free Money for Newbie aums, Mimi, Kim, Brad and Mary — now members of ?The Dysfunctional Family? in SL. ?What you guys doing here?? I asked. Turns out they own a tiny patch of Jessie land right on the border with the mall. Will they raise havoc and return to their newbie-scamming ways when the mall opens? Will they take sides in the war? Will they just chill and make a fashion statement? If I was One Song, these are the guys I would be worried about. Fancy scripts ain?t gonna help with this bunch (at least one Dysfunct came back from 10+ bannings on TSO).
It just keeps getting better. ('nother pic follows)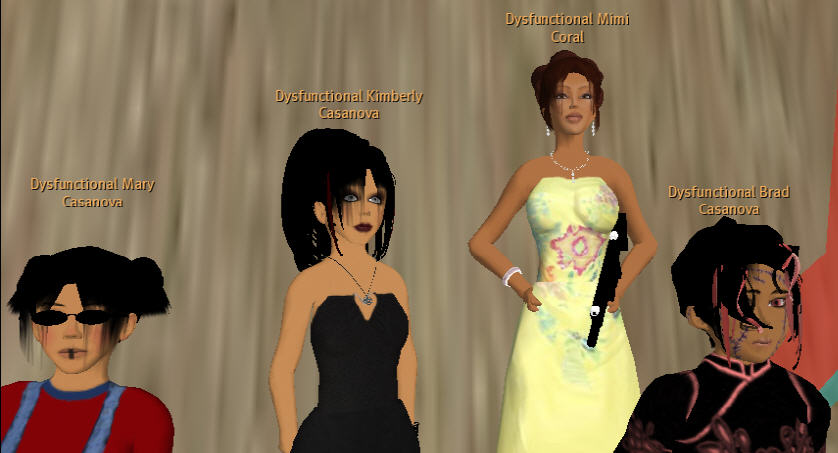 Surrogate Dysfunctional Mom Mimi is elegant, yet armed and ready for battle as The Disfunctional Family members pose for a picture on their property in the No Man's Land that separates Jessie and the site of One Song's future mega-mall.