by Alphaville Herald on 12/09/04 at 8:49 pm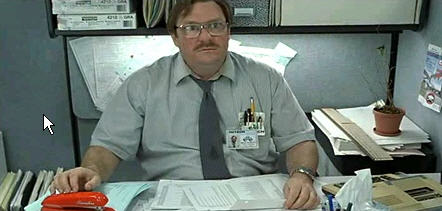 Still master of his domain: A Stratics mod fondles his sensual red Swingline stapler while contemplating the next SLH writer to ban from his domain.
Well, in the 5 days that have passed since the Second Life Herald published The Story on how links to links to the Second Life Herald have been prohibited on Stratics, the Stratics mods have turned their vengence machine against contributors to the Herald. In particular, Ian has been permanently banned (lol, like that will keep *him* away) and RB has been banned for 72 hours. Some details are in the comment section to the prohibited linking story, but I am gathering documentation for a more thorough report in the near future. Stay tuned… Meanwhile we encourage our readers to supply us with further reports on abusive and corrupt behavior by the Stratics mods (both sim stratics and other stratics boards).