by Alphaville Herald on 01/12/04 at 10:39 am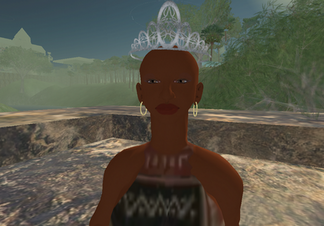 DB turns in the goateed male avi in an LL Bean barn mucking outfit for the Nubian Princess Look. Things that make you go hmmmmm.
When the history of the Alphaville shard of TSO is finally written, Dyerbrook will figure prominently. In the early days s/he nearly hounded Will Wright out of the game — incensed by Will's friendship link to Mia Wallace (rumor has it that Will got frustrated enough to out Dyerbrook). Dyerbrook led a one person crusade againt the Sim Shadow Government, delivering lamps to illuminate the darkness that had descended over territory controlled by what Dyerbrook saw as a corrupt totalitarian virtual government. And then of course there was the long and animated crusade against the BDSMers (as in the exchange between DB and the Gorean slave Toy and her mistress Maria). Well, now that Toy, and Maria (now Angelique) and Lady Julianna have moved to Second Life could Dyerbrook be far behind? As in TSO DB is sporting several avi's, but the principle avi is named Prokofy Neva, and s/he is blogging his Second Life life. This should be interesting.