by Alphaville Herald on 14/08/05 at 10:42 am
One year ago, tired of the usual diet of naked bingo, scripting classes and fetishware malls, I was flying aimlessly in SL when I happened upon a castle on a large island in Quat, with what looked like a gigantic spoon out front — no it was half spoon and half spatula and was resting on a fulcrum. Above the spatula end were gigantic blocks of wood. I flew in closer. Sitting in the spoon end was a twisted little d00d holding a scythe and a severed bleeding garden gnome head. He shouted "fire", the blocks dropped and he went sailing into the stratosphere. Turns out this was just a coffee break for the employees of Simcast who were busy building a Dungeons and Dragons style, PvP Quest Game. For the next year I followed he project, as a fan, reporter, and eventually as an investor. The project officially folded last month. Following is a brief description of my personal history with the project, along with some reflections on what went wrong and what it means for other such projects in SL.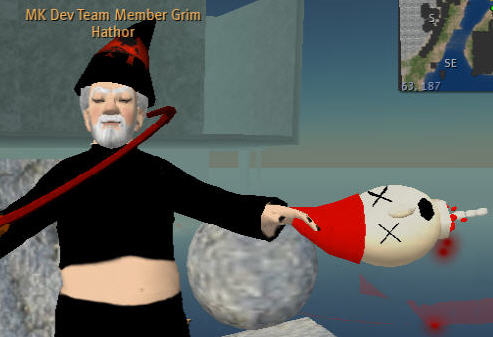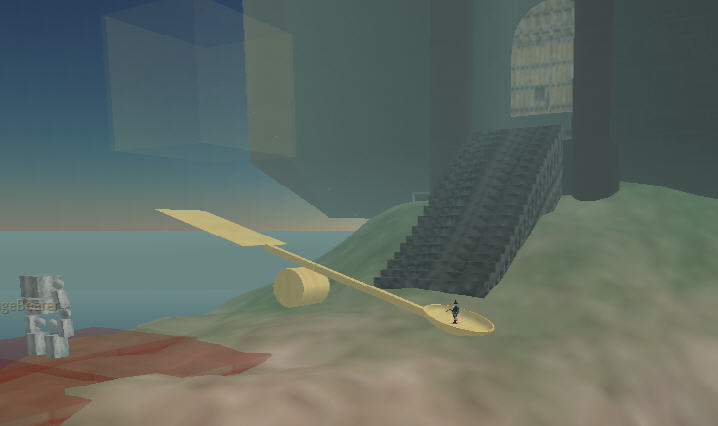 SimCast Dev Team member Grim get's lauched by the spoon catapult
Aug. 6, 2004: I meet the SimCast Crue.
Since I had a thing for severed garden gnome heads and catapults made of giant spoons, I stopped and talked to the characters out front of the strange castle in Quat: there was Grim Hathor, PlaugeBearer Xevious, and the CEO of Simcast, Prong Thetan. (Prong I learned, was a refugee from There, who made a name for himself by harvesting countless souls.) The guys explained what they were up to: inside the castle was a quest game that they were developing where one must collect clues and objects and solve riddles to navigate one's way through the castle. They offered a tour and let me take some snaps, and let me see the many twisted delights inside (rivers of blood, more severed heads, etc).
Prong invited me into his Ventrilo chat server, and explained that before long they would have a full on combat — one that included familiar D&D fare like magic books and healing powers and a system for scoring damage and recovery.
Hamlet Linden had recently reported on two other PvP games in development in SL, although these were somewhat different in both the aesthetic and technology on offer (the Simcast game seemed more medieval in character). My thought was that the development of these three games and the possibility that would come online at about the same time would be great news for SL. Potentially, I thought they could inject a lot of excitement into the game. Not that I had have anything against naked bingo.
Prong took me on a tour of their puzzle castle, which included the blood room…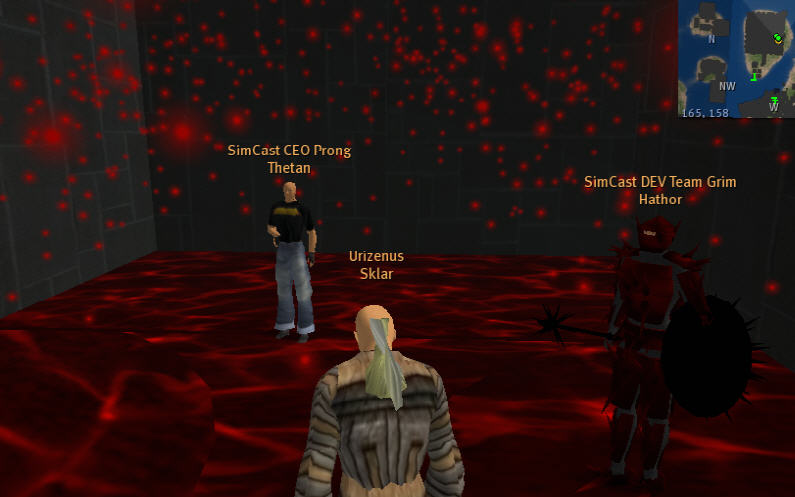 the usual nasty blood-spurting decapitated corpses…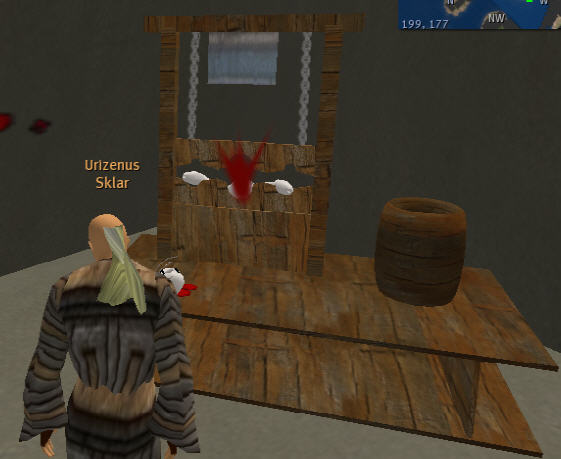 …and blood puking skeletal creatures..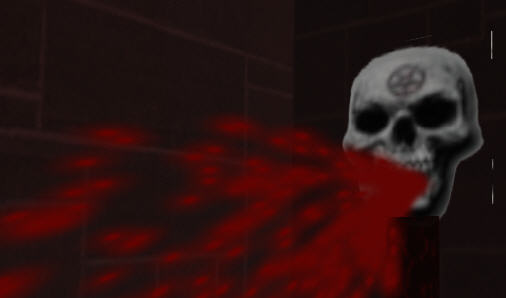 …down narrow paths…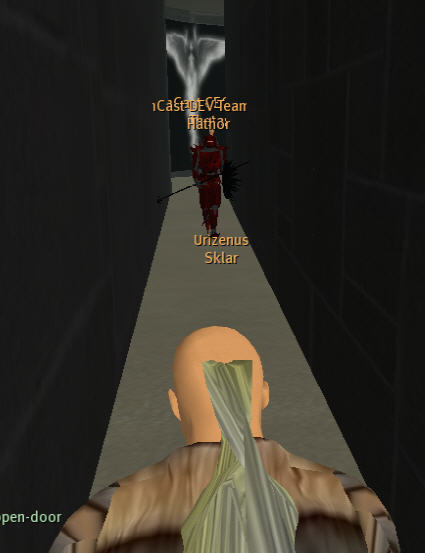 …and showed me a number of puzzle clues that were written in Runes.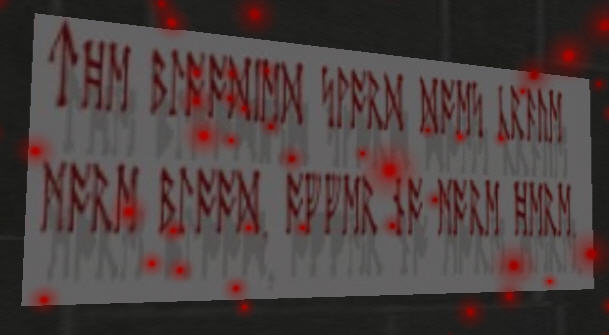 When we left the castle, we found PlaugeBearer and Grim building monsters with another dev team member named Luciifer Luchador. They informed me that the monsters which were to receive AI scripts which had already beed developed — more or less.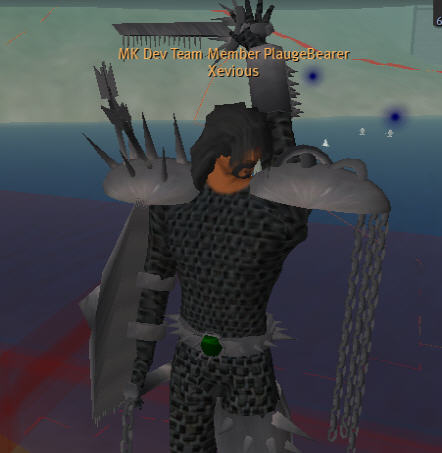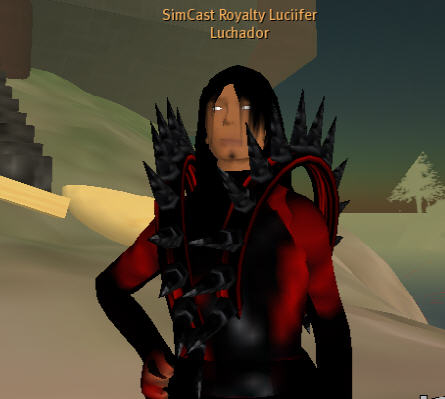 Over the following weeks I talked to Prong about the project and followed the move of the project to Prong's private sim, which he cleverly named SimCast.
The whole project seemed like so much fun that I bought my own sim and had it installed next to Prong's. At the time the chief scriptor on the project was Azelda Garcia, who had a reputation for being a good scriptor, but also pushing hard for scriptors to receive real world payment for their work in SL. As we would all learn, this probably wasn't feasible, but we arranged for me to obtain a license to Azelda's PvP game software kit for second life, which was basically bought me an extension of his/her Open Source Metaverse project software (modified for Simcast) plus help when needed.
Early Sept.2004: Bedford comes online
When my server was lit up the land was as flat as a billiard table. For me this was the funnest part of the project. I built a little fjord and stocked it with some Viking ships.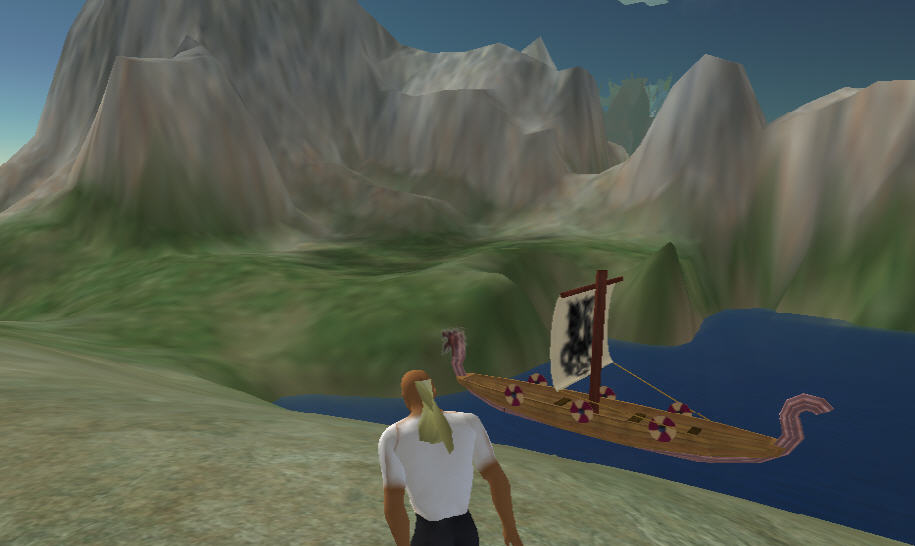 Our initial plan was to have the individual simulators in the Simcast project be campaign specific.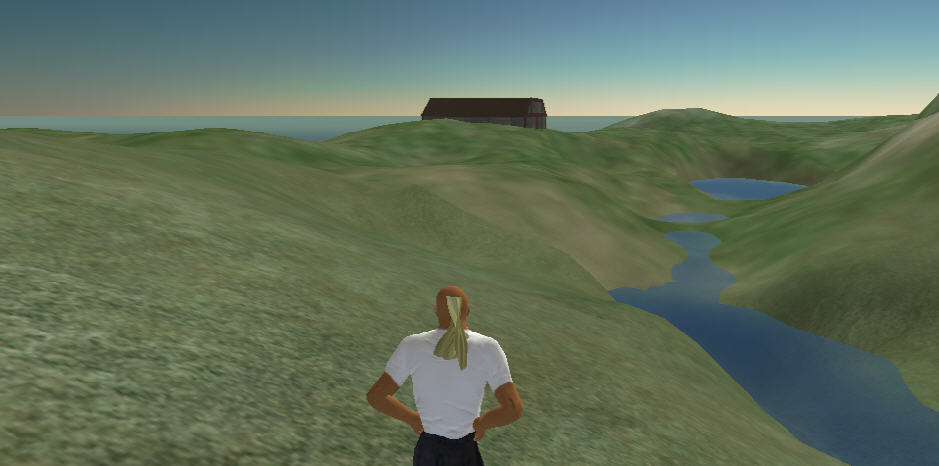 My simulator — Bedford — was roughly based on the plot and time period of the Old English epic Beowulf (yes, complete with Grendel and his mom and the Mead Hall where numerous thanes bite the dust).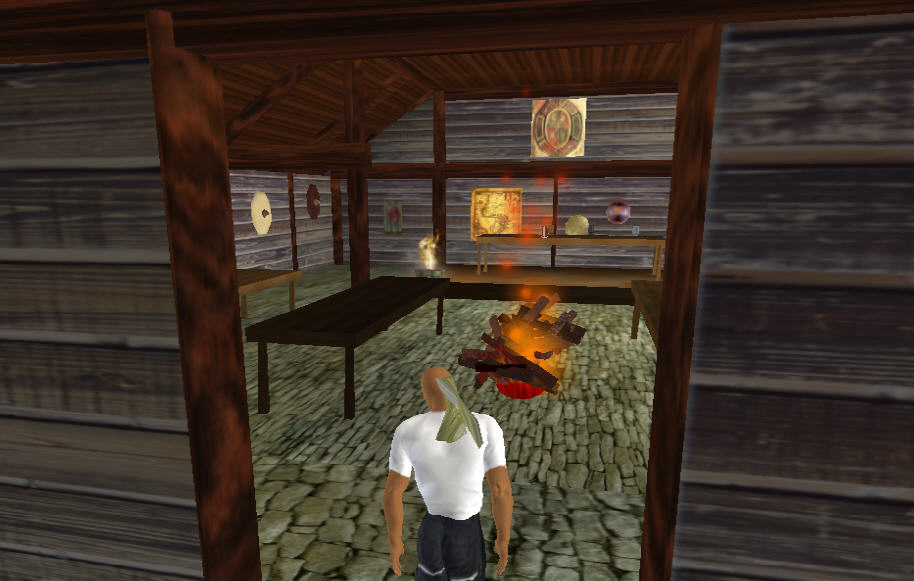 I terraformed a mountain range, with the idea that passage into other simcast territory could have strategic fortifications. Meanwhile, back in Simcast, they had erected a giant volcano which would be a point into which players could teleport, buy weapons and game tags, equip themselves, etc.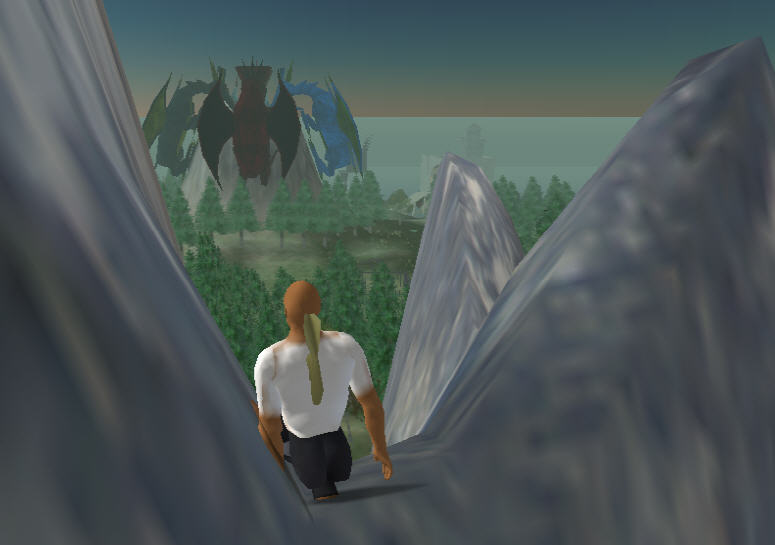 Knowing that Prokofy Neva would be snooping around, I added a pagan altar on a mountain top in my territory. For sacrificing "goats", I told him.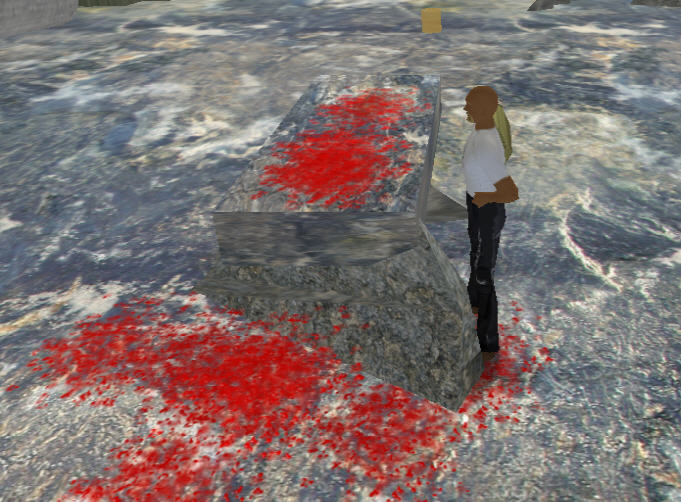 And of course apart from all the game building stuff, I used the mead hall to entertain my ever so numerous female friends.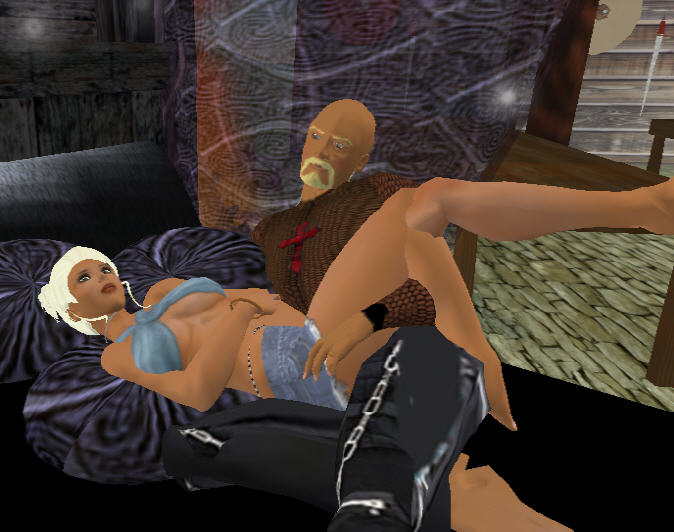 Mid September, 2004: virtual barn raising
One of the really great things about the early SimCast experience was all the people pitching in to help – it was a kind of MMORPG barn raising.
Grim Hathor installed a farm with crop growing which was to to be integrated into the craft system. Flax plants, for example would be utilized for making cloth that in turn will be used in crucial game materials.
We took the old puzzle castle out of mothballs and put it in the sky over Bedford.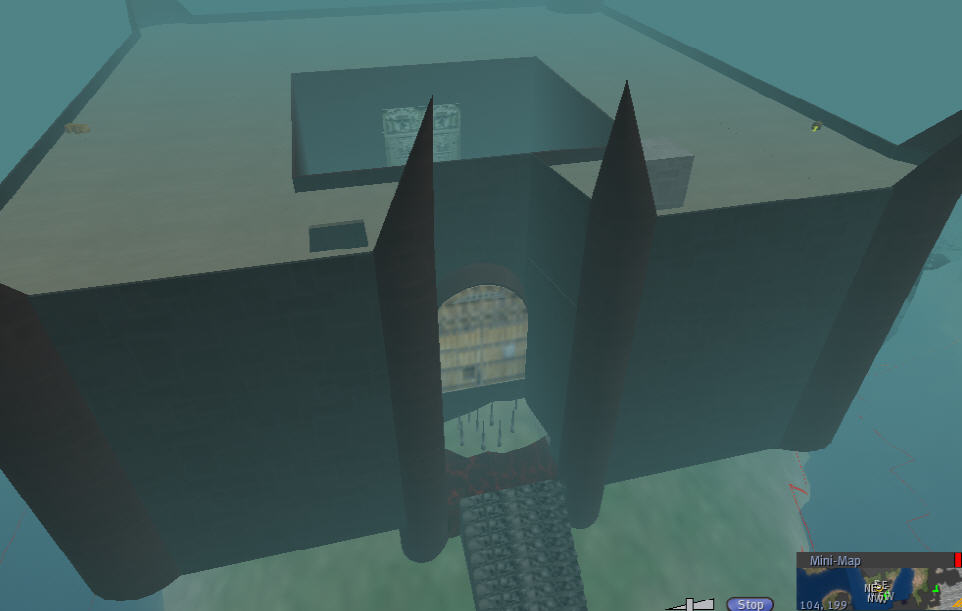 Meanwhile Prong Thetan was busting his butt knitting the security grids of the two sims together, among other hard core CEO-type things, like explaining stuff to me. Likewise our scriptor, Azelda Garcia was around to help out a lot.
Dev Team member Luciifer was working on an elven tree lodge in the sky (which ultimately let to some controversy).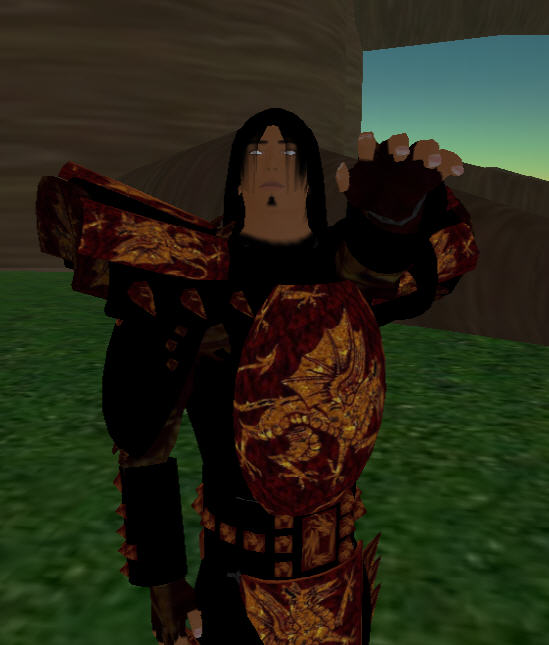 Plauge-Bearer was working up in the Bedford Mountains constructing a series of walkways and caves.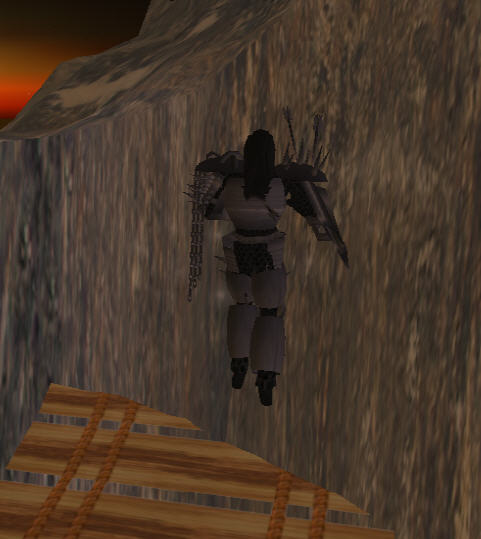 Since the Quat days we had also added Dreamer Curie as a team member, and she was very much into my idea of making Bedford faithful to Anglo Saxon England, and helped track down designs of Anglo Saxon shields and mugs and whatnot.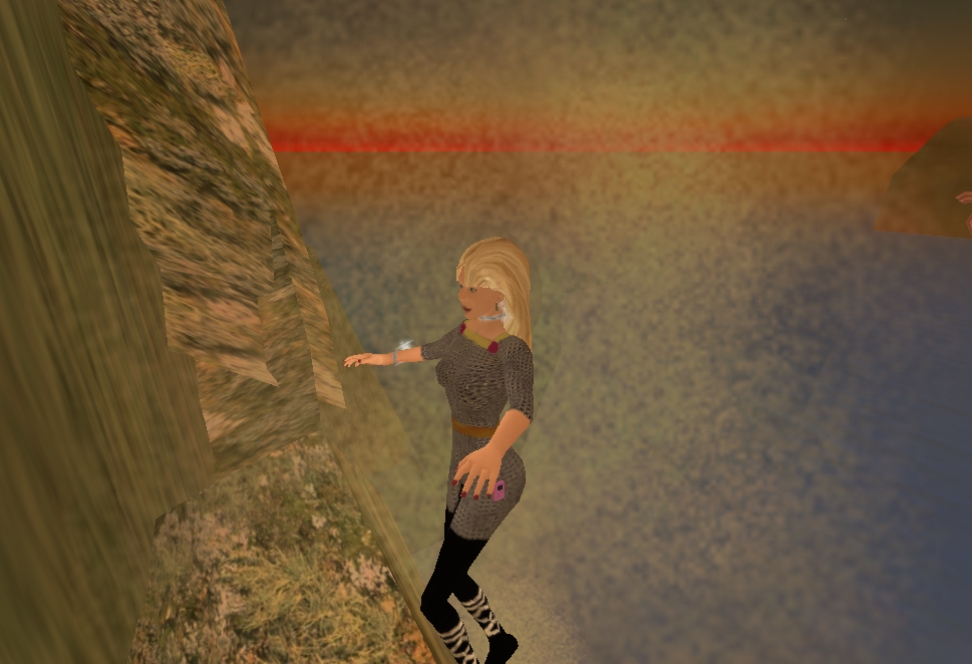 For all the progress we were making we would soon learn that every two steps forward would be followed by one step back – at least whenever there was a software update from Linden Lab
Sept. 22, 2004. Broken Scripts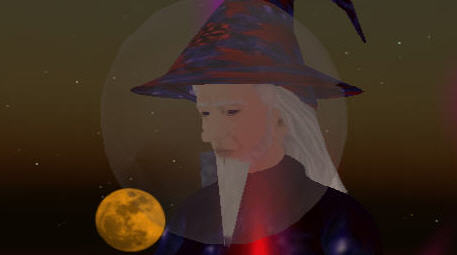 On September 22, while I was busy reporting two club grand openings (One Song's new Club Erotic, and the new Club Elite on Elite Island) I was summoned back to the SimCast dev tower. It seemed the latest SL update induced yet another round of fubarness. So, exhausted from a night of rapping about theology with gangsters, dancers, and cyber-escorts, I stuck around on the tower to provide moral support to DevTeam members Grim Hathor and Azelda Garcia.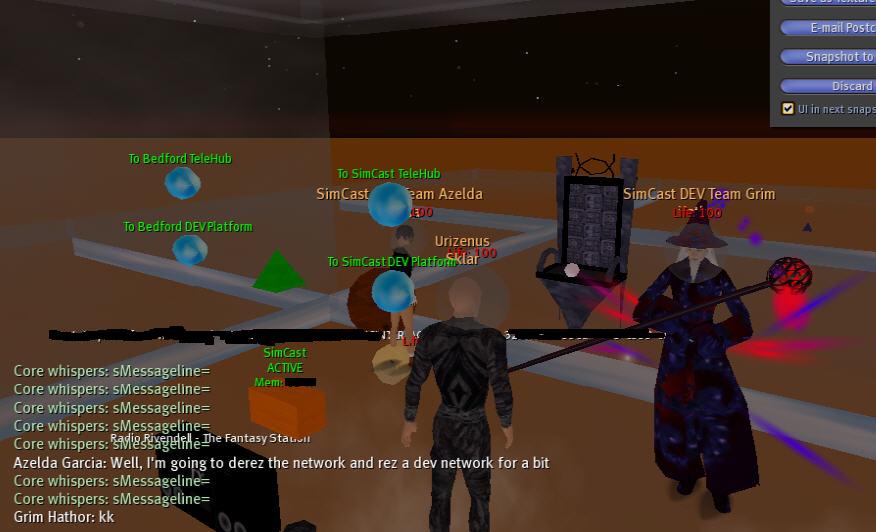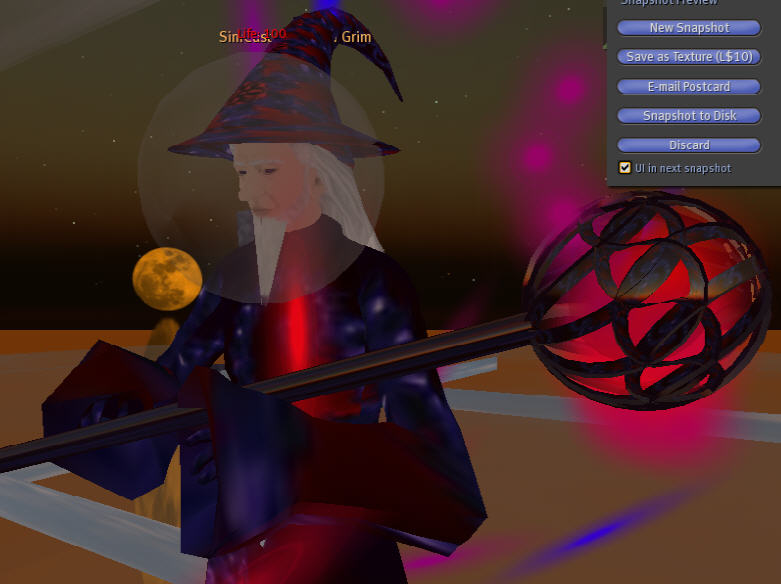 By 3 AM I was beat. While Grim and Azelda kept working I slipped into godmode and chilled.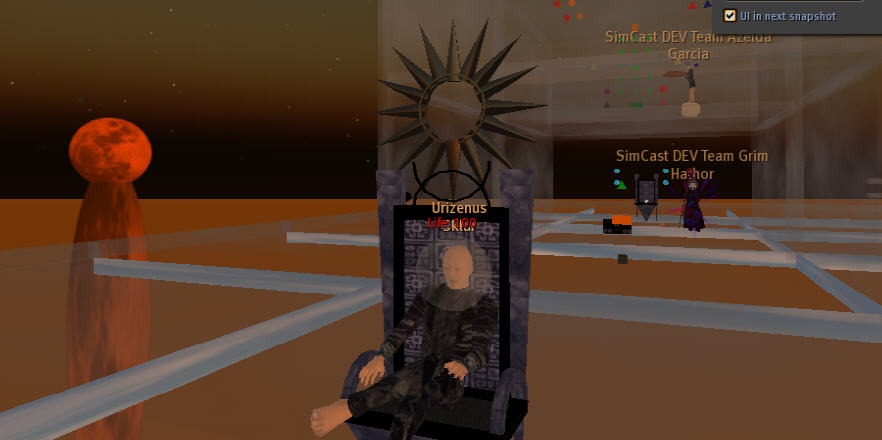 The real problem with these fixes was that Azelda was charging the project for his/her time, which is reasonable enough. But Prong was unemployed in RL at this point and the financial strain began to tell, and the tension was beginning to mount.
Still, the scripting continued, and Grim continued developing his crafting system which was becoming quite robust.
Mid October, 2004: the crafting system
While I never got into the combat side of SimCast, the crafting system was strangely addictive. It included the mining and smelting of ore for weapons, growing flax and cotton for special materials, and raising sheep, silkworms, and spiders for additional materials. Grim Hathor, who developed the craft system was currently running a Beta test/contest of the crafting system in the two sims.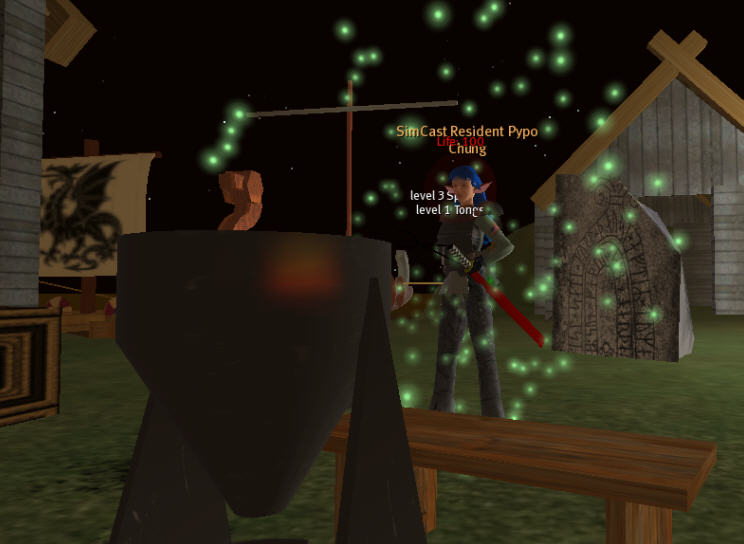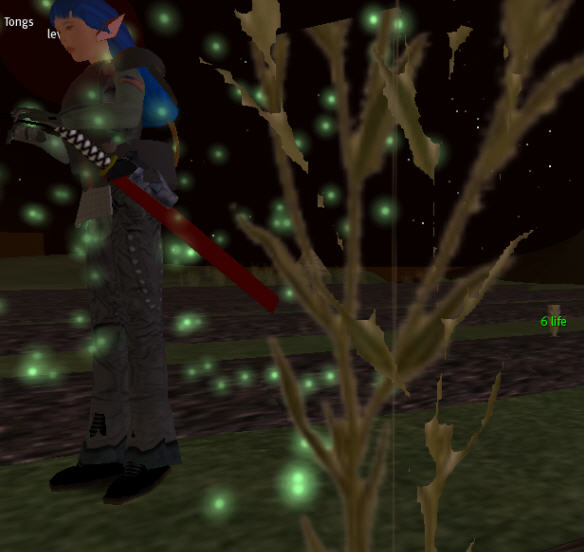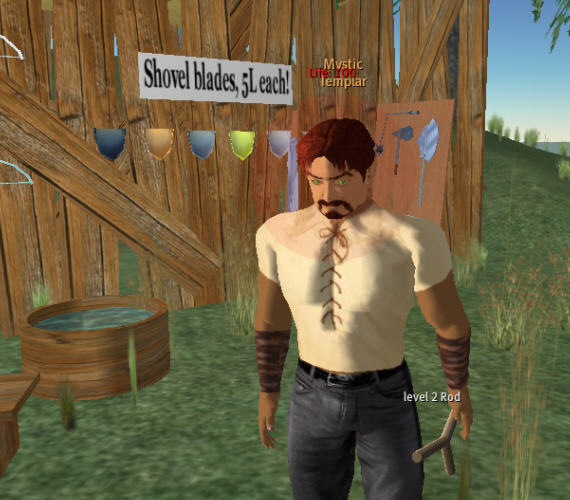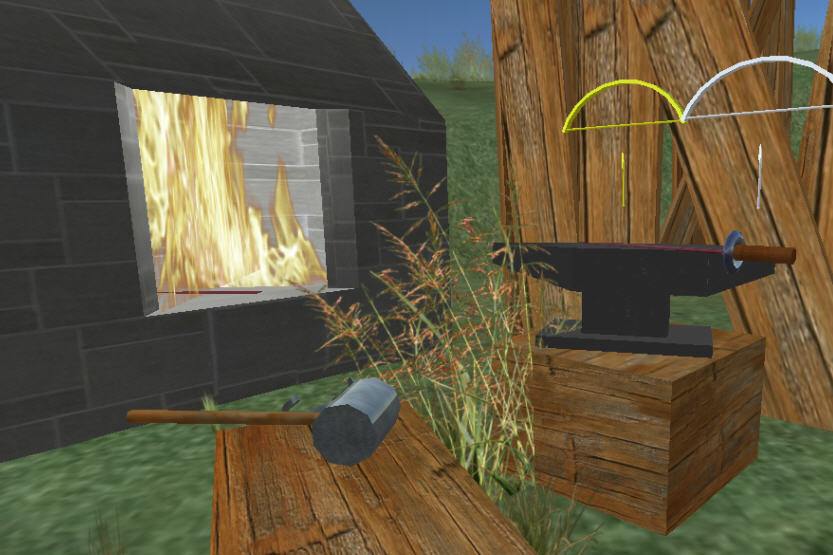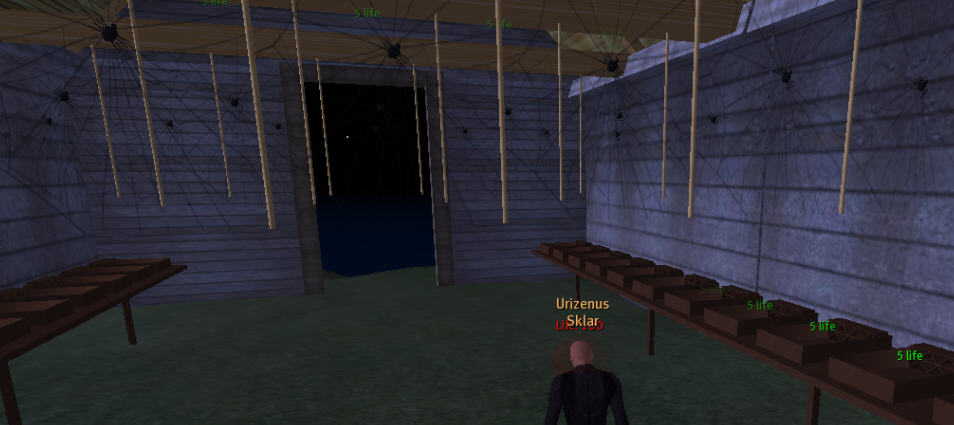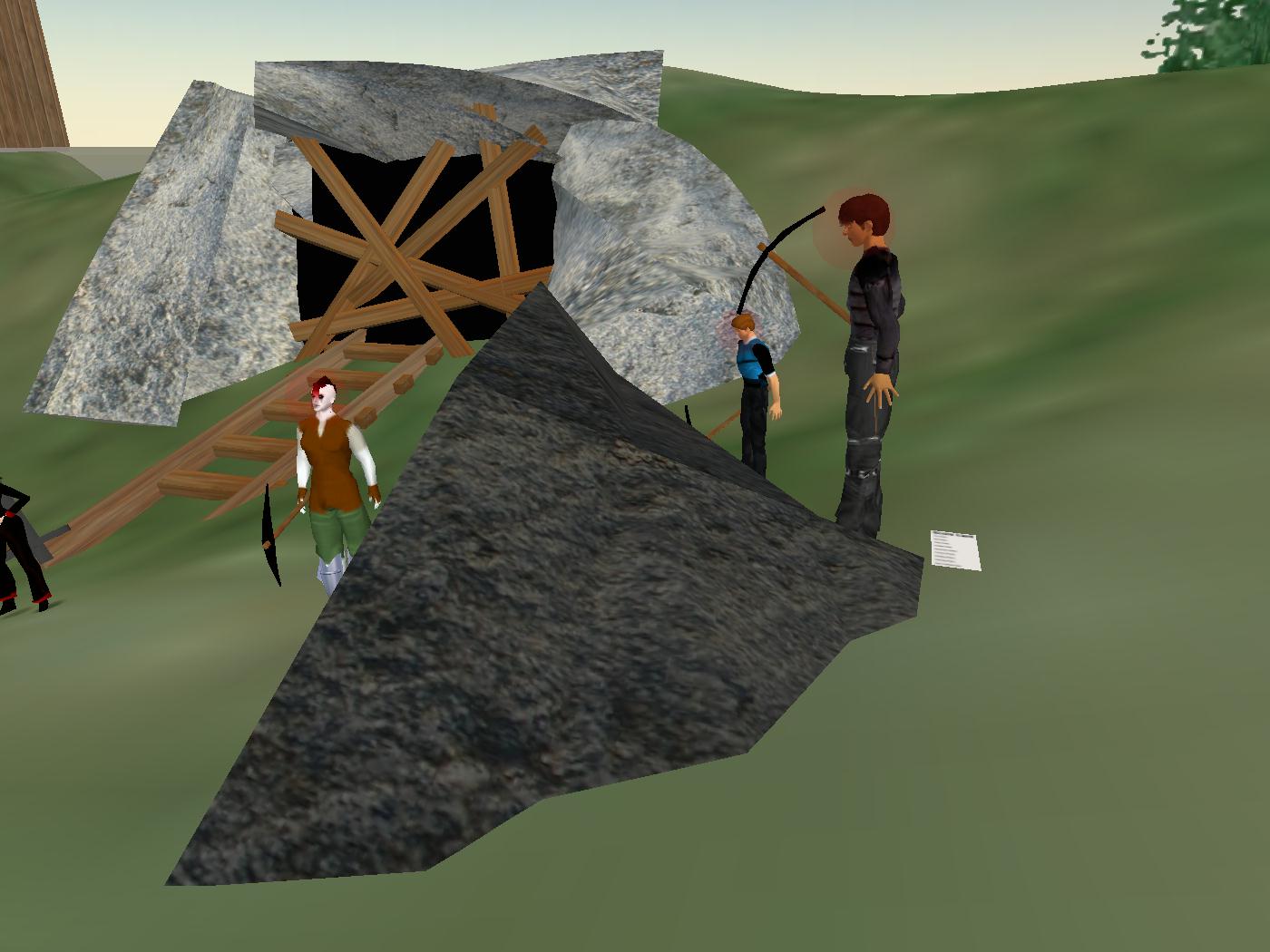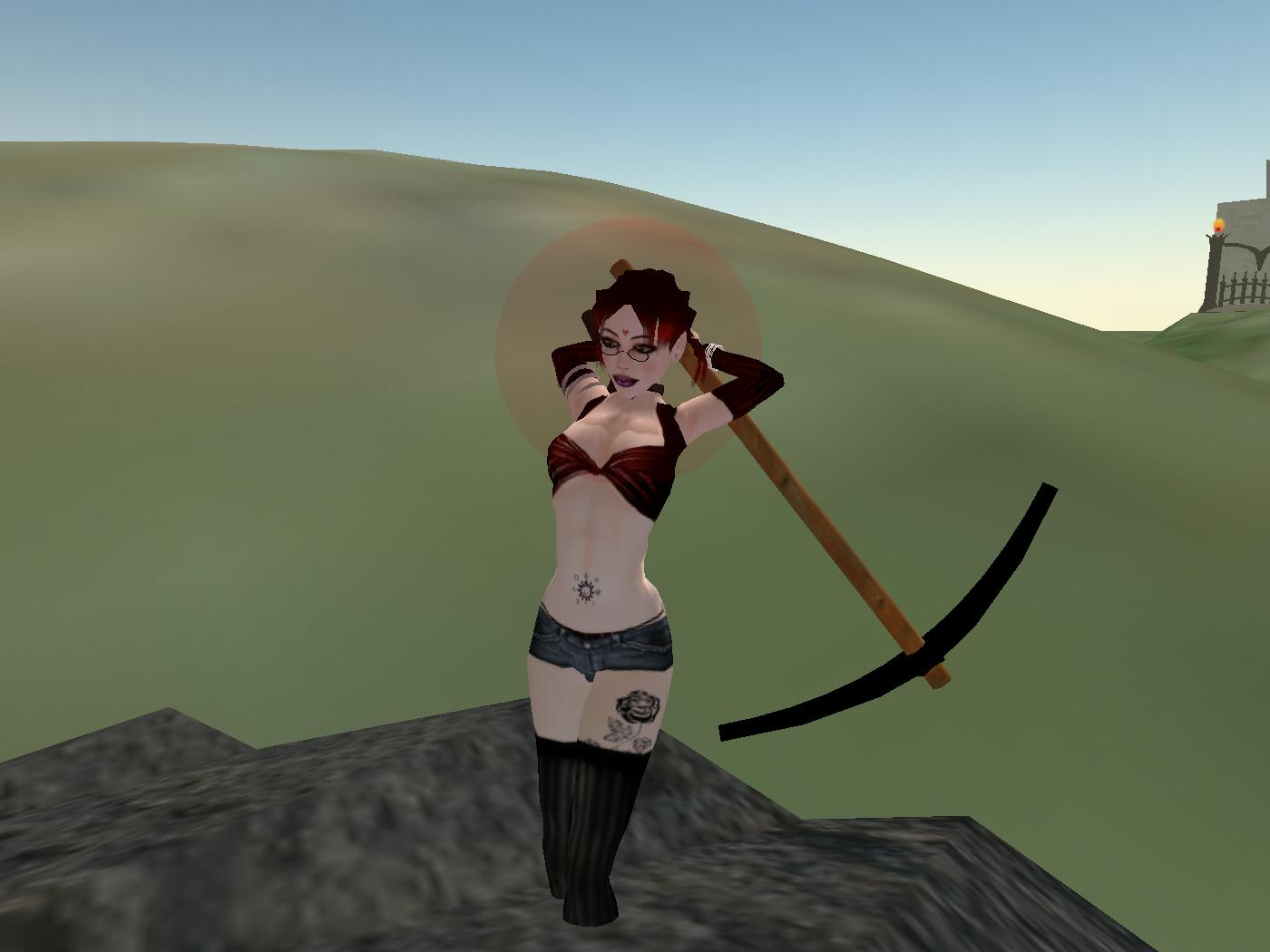 It was at this point that I met Mystic Templar, who spent a lot of time in SimCast mining and smelting. He would soon play an important role in the Simcast project, coming on board and advising on scripting.
Meanwhile, Simcast began to get publicity outside of the game. Not only did I report on the project in my talk at the State of Play, but the NY Times reported on the project in the Circuits section.
At the time, Grim and Prong had put together some impressive builds. Grim built me a scale model of the Acropolis which floated in the sky, and which I had envisioned as a location for dispute resolution.
Prong and Grim also fashioned an impressive entry point into simcast. At the feet of a giant skeleton inside of an active volcano.
Prong and Grim had also put together an impressive array of armor and weapons, and there were also third party suppliers. The idea was to have the usual array of D&D armor, spells and weapons. The business model would involve charging little for entry level weapons, but much more for the higher level weapons and spells.
Unfortunately the project would soon implode.
Nov. 23: Azelda Departs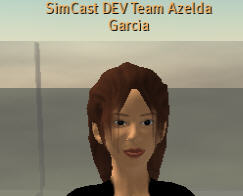 With Prong out of work and the bills from Azelda coming in, things had to come to a head sooner rather than later, and by Nov. 23 Azelda agreed to leave the project, although the departure was not handled entirely smoothly by Prong, who vented on the forums, which were then locked when Azelda's friend Eggy showed up and he and Prong got into a pissing match
My own take was that Azelda was doing a great job, but anything short of open source code for these games is absolutely untenable. Every update by the Linden's broke something, and the Simcast team members ended up being crack addicts to their scriptor — who was the only one who could fix the scripts, and who, no surprise, wanted to be paid.
Simcast recovered quickly, however, as Mystic Templar stepped in as a co-investor and new head scriptor (along with Grim Hathor, who was rapidly learning scripting himself).
That Fall the Simcast Dev team underwent radical changes. Luciifer and PlagueBearer were out (having had a personality clash with Grim Hathor), and an artistic clash with the other team members. Prong was also distressed that they were frequently inaccessible and fired them from the project. This led to some adolescent retaliation against Grim and Prong in the form of neg ratings and abusive profiles. I found the whole thing avoidable an annoying, but it did point to a deeper and more general problem with the project: lack of clearly specified responsibilities. This would be less of a problem when the new team coalesced, but never entirely resolved.
Dec. 16: Midgard comes online.
In Mid-December Mystic purchased his own sim and positioned it between the Bedford and Simcast Sims. With the addition of the new sim, the team scrapped much of the content thus far developed and rebuilt everthing with a medieval town vs. town theme, with Midgard being a kind of no man's land combat zone. At the time we projected that we were two months away from beta testing.
By mid-January there was now a robust Dev Team at work on three Sims, and a presence of regular beta-players, including the Kao'an guild which almost seemed to be there 24/7.

Kao'ans
Jan. 23: the Wedding
In late January, Simcast Island Lord Mystic Templar married dev team member Simone Templar (no relation) in a ceremony Midgard. It was probably the high water point for the project, as the pictures show:
Feb. 1: Philip visits
Philip Linden showed up on February 1st with a number of other Lindens and spent at least an hour touring the place and talking to people. He's good at projecting enthusiasm, so one never knows, but he certain appeared to be highly enthusiastic about the project.
Feb.5: The Phoenix Rises?
On Feb. 5, 2005, the Herald ran an article about the resurrection of the Simcast project and how it had recovered from the disintegration of the earlier dev team and the loss of its head scripter, the article by Matthias Zander introduced the new dev team:
"Under the direction of Prong Thetan, the programming skills of Grim Hathor and Mystic Templar, the weapon and armor creation skills of Gurgon Grumby and Evad Yaffle, the animating of Ferran Brodsky, the designing of Osprey Therian, the building of YadNi Monde, the communication abilities of Simone Templar, the sound manipulations of Claire Engel, the enforcing muscle of Mystique Suavage, and the backing of the Herald's own Urizenus Sklar, the project has been reborn and is back with a vengence. This crack team of 12 people continues to work to improve the systems of combat, grouping, and typical game play. Beta testing is expected to begin on Saturday with an event at approximately 7 p.m. SL time, with a full release expected on or around March 1st."

From left to right: YadNi Monde, Gurgon Grumby, Evad Yaffle, Simone Templar, Claire Engel (in the fire), Prong Thetan
Not pictured: Grim Hathor, Mystic Templar, Ferran Brodsky, Osprey Therian, Mystique Suavage, Urizenus Sklar
The article also reported on the arrival of the the Kao'an Exiles. Their leader, Sorshia Wishbringer, explained how their group originated in the ActiveWorlds chat universe and included both people who moved to SecondLife from ActiveWorlds and friends they had gained since moving there. The Kao'ans, had been actively involved in DarkLife and then in the alpha testing of SimCast.
Sorshia Wishbringer in front of the SimCast Castle
Bedford's floating castle
Matthias noted that while in the alpha testing stage, SimCast got enough traffic to be awarded a "Dwelloper Award" for the month of January. It would receive another one in February.
Meanwhile Grim and Prong were busy developing an impressive array of armor which would be sold through vendors on the SimCast Islands.
Mid-February a "photographer" for the Lindens came by and took a picture of the dev team. Somehow, Yadni didn't get the message when we were being rousted and wasn't there for the shoot — not that a picture of the group ever appeared that I know. Still, Yadni flew off the handle, feeling expoited and underappreciated (certainly not paid). For sure he had the temperament of a French chef, and it made criticism of his builds difficult, leading to more and more tension over time.
The Dev team turned over all terraforming and building to Yadni, however, and while this may have been a good idea, it certainly made me feel less engaged in the project. Not only was I not involved in developing my own property, but there appeared to be constraints on how the property could be used. The Anglo-Saxon Beowulfian motif was long gone in favor of Yadni's visually more impressive, but thematically unconnected landscaping and builds.
The Bedford Simulator in the Yadni Era
March 7: It falls apart again
No sooner did the SimCast project rise from the ashes but the drama returned with the *very* dramatic departure by investor/scriptor/island lord Mystic Templar and his virtual bride/dev team member Simone Templar.
Numerous factors contributed to his departure, but probably the main one was that Mystic wanted to pursue game development with some friends, and he had seen enough to be convinced that he didn't want to do it in Second Life. On top of this, however, there was some drama that probably expedited his decision. Other factors included an apology by Prong Thetan to the leader of Elf Clan, hus unhappiness with a build by Yadni Monde, and the griefers and nere-do-wells that seem to follow me everywhere. According to Prong Thetan, tensions had arisen because Mystic was unhappy with demands being made by leadership of the Elf Clan – a groups of some 100 or so SL elves that were considering habitating in the Bedford Sim. When relations between Mr. Templar and the Elf Clan leader Wayfinder Wishbringer became testy, Prong Thetan apologized on behalf of the SimCast group. Templar took offense to this apology, which baffled me. The Elf Clan represented potential customers, and the customer is always right. Mystic had a great background in systems engineering but he clearly has little experience in customer service and marketing. In my view at the time, Prong was just doing his job.
Not only did Templar withdraw from the project, but he used his centrally located sim as an obstacle to block traffic between the other two sims in the project. The three sims (SimCast, Midgard, and Bedford) were set in a row, from South to North, with Midgard in the middle. When Templar left the group he set his sim to ban all traffic between the other two sims in the project. Urizenus Sklar contacted Templar and asked him to remove his sim, which he refused to do. Direct appeal to the Lindens was necessary to remove Mr. Templar's Island.
Other reasons for Mystic's dissatisfaction were reported by Dev Team members, including his dissatisfaction with part of the build by Yadni Monde – in this case a giant rendition of the Colossus on the Midgard sim, and concerns about textures that were used on tents. It is unclear why Mr. Templar did not take up these considerations with Mr. Monde, or for that matter ask him to change matters.
In addition, Mystic was reportedly upset with me because I permitted "griefers" on my island, althoug this concern was never raised with me by Mystic.
People have a tendency to think that relationships in Second Life are discardable, whether personal or professional – they just put you on ignore and never have to face the consequence of looking someone in the eye and explaining their behavior. Perhaps that is what is missing, or perhaps it is simply that people just don't take online relations of any kind seriously.
Whether part of a general pattern or just a one time event involving SimCast and Mystic, some Dev Team members were taken aback by the suddenness and lack of any discussion beforehand. Again, I worry that this is just a feature of online relationships, whether social or professional – people think they can walk away without consequences.
The project limped on for some months after Mystic's departure, but the group was never able to coalesce properly, and the scripting problems ended up being insurmountable. The project gradually withered away
July 14: SimCast dies
When the project officially folded in July, Prong initially attempted to sell the remants of the project, but met a blizzard of criticism from Yadni and some of the other developers who seemed to think that Pron was going to profit from the sale. On the forums I pointed out that they were squabbling over crums, because there was not much of value to the project. Still, Yadni insisted that if the land was going to be sold it should be sold flat. Prong accordingly wiped his land and began a new project. I was ready to sell my sim and focus more on the Herald, and, wishing to avoid ridiculous entanglements with Yadni and others, I wiped the sim before I sold it. I also flushed all the simcast related objects from my inventory.
It's too bad it came to that, but this was due in part to very poorly articulated ownership relations, something that bothered me throughout the project, but which I figured would not be a factor unless the project somehow made money (not something that I saw in the cards). This is not to say there weren't efforts to get people to sign off on contracts that would clearly state the business relationships and ownership of SimCast materials, but Dev Team members balked at signing off using their real life names. They would only agree to something qua avatars. I don't know if I was right or wrong, but I was disgusted by this and effectively withdrew from any serious participation in the project at that point — I had no desire to be in business with people who would not identify themselves or enter into serious contractual relations. Again, maybe that's just me.
It's difficult to extrapolate strong conclusions from the case of one project in SimCast, but it is noteworthy that no other PvP project has broken out, and only Dark Life has managed to survive in and be somewhat functional for any period of time. The problems are certainly imposing. Lag is a horrific problem in general, but in a sim with weapons that must communicate with a central server via chat and IM and objects that must listen the problem is daunting. Maintaining serious business relationships in SL is also nearly impossible, given the propensity of everyone to hide behind their avatars and not take RL responsibility for actions undertaken and choices made in the game. The problem of constant script-breaking updates also put extreme pressures on any development team. Can a PvP game survive in Second Life? Perhaps, but the environment is not conducive to such efforts, even if there is a team of people willing to give hundreds and thousands and hours of their time to make it happen.
More recent efforts are attempting to deal with the PvP problem by doing most of the processing out of game — establishing a third party server that will record the hit points, tabulate damage etc. I'm not sure how well this will work, given that all the scripted objects in the game must still listen, and, I assume commmunicate with each other somehow.
In sum, I think there were a lot of mistakes made on the SimCast project and lots of things that would be done differently the next time. For all that, however, I cannot forsee a series of actions or strategies that could make such projects successful, given the SL environment at this time. Maybe conditions will change as Linden Lab upgrades their servers or when they move from Linden Scripting Language to Mono. But this is pure speculation. It seems much more likely that the kinds of projects that will be successful are the ones that are "smaller" and fit well within the computational constraints of the SL universe — projects like Tringo, for example.
Still, the value of projects like this have to be measured in terms of what one learns and how much fun one has, and on this score the SimCast was well worth it for me. I learned a lot about the mechanics of SL (and its limitations), got to meet some great creative people and scripters, and made some fantastic friends. It's hard to put a price on that.