by walkerspaight on 20/02/06 at 1:17 pm
Perhaps because I feel for the most part that "Web 2.0" is just a fancy term for the march of Web-related progress, I don't use the phrase all that much. But its particular rhythm has stuck in my brain, and now that we've begun talking about places like Second Life as part of a possible three-dimensional version of the Web that may come along, I find it popping up at inappropriate moments. Specifically, I find myself referring to "Web 3-point-D" when I should be referring to the "3D Web." All well and good, except that the cool, energetic and exceedingly inventive Philip Torrone (see the Herald's previous report from The Happening) has started to step on my coinage. Outrage!
Let it be known here and now that I invented "Web 3-point-D" and that its intellectual property now resides with Herald Enterprises. Torrone is hip and all, but he'll just have to get his own wonky phrase to refer to the 3D online world that seems to be taking shape. We wish him the best of luck, especially since a lot of the gadgets he's dreaming up could be exceedingly useful in such a place. And if he wants to talk about licensing opportunities, we're open to that conversation.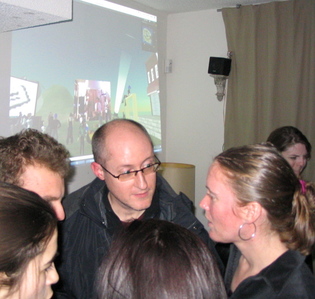 More to the point, Web 3.D made a good showing over the weekend at The Happening, in Washington DC. One of the most interesting parts of the party was the projection of Second Life that streamed onto a white wall of R&B Coffee all night — interesting not for what was on the screen, but for the fact that there was a constant gaggle of virtual world virgins standing in front of the image throughout the event, alternately staring in wonder and chatting amongst themselves about what this weird world could be and what they themselves could possibly get up to in there. Second Life put on a good showing. Almost no one glanced at the screen, saw a video game there, and simply walked away.
I was also pleased to chat with Sibley Hathor, CEO of the Electric Sheep Company, one of the first companies providing Web 3.D services. On the podcast I recently took part in, I noted that it was an interesting time for companies like the Sheep. While we've all been happily chatting away and building things in Second Life for the last two or three years, the time has finally come when we need to bring those skills out into the world. Virtual-world interactions are different from real-world interactions; some are better at one than the other. It was nice to see that the guy at the helm of this new-ish kind of company had real-world chatline skills to match the in-world talent the company boasts. It bodes well for the Sheep, and for Web 3.D in general.
The night was nicely topped off by the fact that organizers and fellow Sheep Jerry Paffendorf and Jonah Gold (aka SNOOPYBrown Zamboni and Hank Hoodoo in SL) had rented a ZipCar to bring equipment to the event, and that they'd parked it out back of R&B Coffee on none other than a street called Linden Lane.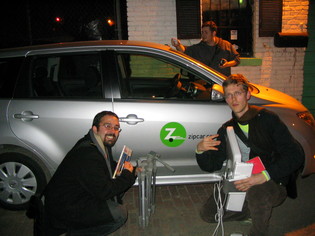 Fellow Electric Sheep Chris Carella (aka Satchmo Prototype), Jerry Paffendorf and Jonah Gold (rear), show off their ride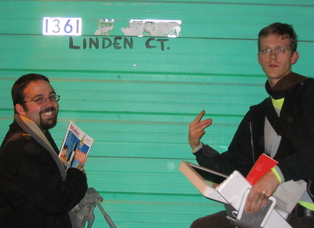 The Lindens can't keep their meddling hands off anything, can they?