by Alphaville Herald on 15/03/06 at 11:37 am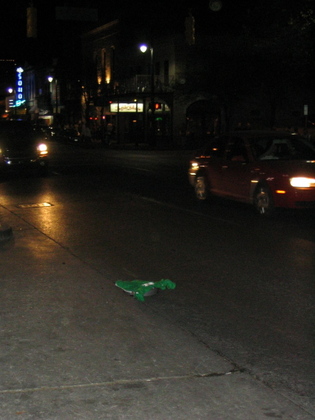 Among the innovative new technologies revealed at South by Southwest this week, there was no doubt that the most future-forward of them all was the RealFrogger street-crossing device that made its debut on the final night of South by Southwest Interactive. (Disclaimer: Development of the RealFrogger technology was sponsored by iHerald, the rarely-heard-from technology arm of Herald Enterprises Worldwide.)
Developed and implemented by Make Magazine's Phillip Torrone and Limor Fried of Eyebeam OpenLab, RealFrogger enables users to navigate traffic on a busy artery such as Austin's 6th Street without recourse to dodging speeding vehicles oneself. Instead, the traffic is avoided by a Bluetooth-enabled Roomba, controlled via a PC cradled safely in the arms of a user on the sidewalk. [More photos after the jump.]
Final Assembly of the RealFrogger device: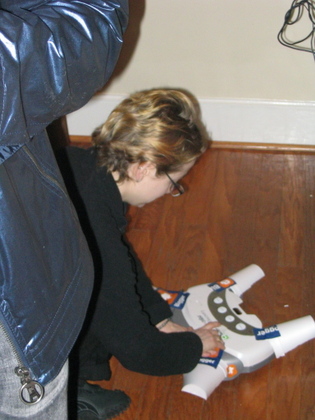 Pre-launch inspection: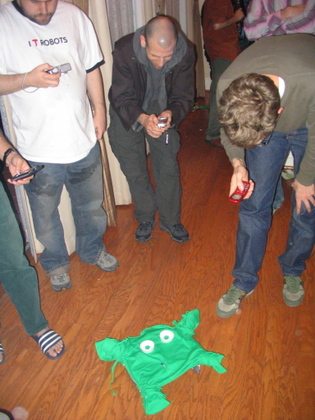 Final adjustments: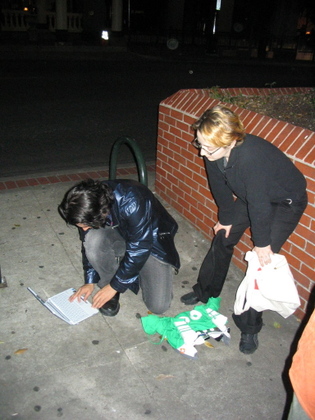 The impact of the technology on Austinites has already been deep. During the nerve-wracking initial crossing, which took place below the balcony of the Herald suite at Austin's Driskill Hotel, passers-by were heard to exclaim, "Dude, it's Frogger!"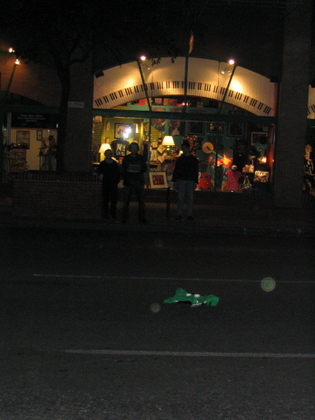 Several bugs remain to be ironed out. But a first test run found the RealFrogger successfully crossing 6th Street at least four times.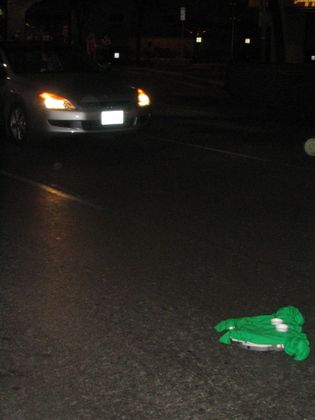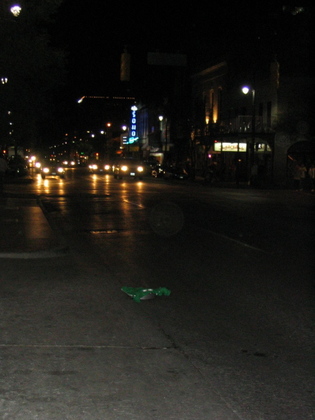 In the end, however, the RealFrogger was irreparably injured by a passing white Ford SUV.
Before: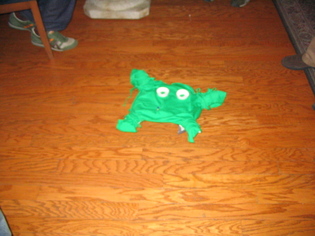 After: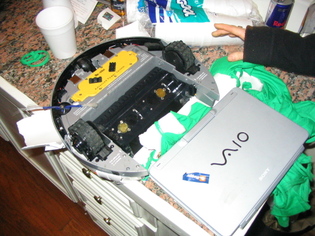 To order your own RealFrogger, contact any iHerald representative, at Herald Enterprises Worldwide headquarters in Second Life.