by Alphaville Herald on 07/04/06 at 10:29 am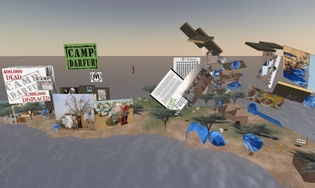 Camp Darfur trashed — by Plastic Duck?
Sources tell the Herald that the notorious griefer and W-Hat associate Plastic Duck (the Herald's third-place Avatar of the Year for 2005) is back. This time, if it's him, he's trashed the re-creation of a Sudanese refugee camp [<-- SL link] that's been built as a consciousness-raising exercise in the Better World sim.
Evidence is slim as to whether or not Plastic is actually the person responsible for flinging Camp Darfur's prims into disarray, but the av who seemed to be doing the damage was overheard to refer at least obliquely to Plastic himself in the following public chats:
"PS already permabanned :V"
"PS I'm in Africa"
"Plastic says 'Hi' "
Two av names have been bandied about as being Plastic's new handle in SL, one of which is unfindable in the Find utility, suggesting he's already been re-banned from the world. If the Duck is back, though, brace yourselves. Another wild ride may be in store for SL.