by Alphaville Herald on 20/04/06 at 3:27 pm
by Daftcoho Callisto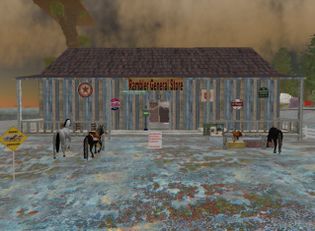 Recently I was invited to sit at the dinner table of the cowboy, Gnash Rambler, and his southern-belle sweetheart, Icould Careless, in the Texas-inspired Rancho Rambler. [SL link--> Gluphisia] I originally discovered the ranch while aimlessly flying across SL, and to my surprise, saw a giant Texas flag made out of bushes. Then as I went further on, I discovered a farmhouse, water tower, corner store, and a humungous sun. Being a Texas native, I had to find out the back-story.
Gnash Rambler is not a furry-obsessed, dance-clubbing, roleplaying weirdo like some of the inhabitants of SL, but rather, a genuine, funky cowboy with a great sense of humor. "Honestly, I don't know roleplaying," he said. "I came into this game, I see a lotta people role playing. I'm like, I'm a burned-out old hippie turned computer nerd. I don't know many roles to play, um, I know Texas, so I'll act like a Texan."
But Gnash Rambler is no jerk. Recently a bunch of nude visitors wandered around his land, taking pictures. I would have thought he'd go and ban them like any normal landowner, but instead, he told me. "I went traipsing down there, and complained to them that they were having a naked party on my land and didn't invite me!" Rambler acts with a sense of southern hospitality. He doesn't demand money for every little favor, and even allows a few of his basic-account friends to live on the land in exchange for their L$50 weekly stipend. Simply put, Gnash Rambler is a good guy.
Rancho Rambler can only be described as a spectacle; it does not follow traditional SL plot requirements: It does not have a mall, it does not have a club, and it does not have a sex dungeon. So of what interest could it be to normal SL-goers? For starters, Rambler TX has its own sun, made of 1,280 prims, a geodesic sphere 97 meters in diameter, smack dab in the middle of the land. Atop this massive star are all the other planets in the solar system, all to scale. The sun is by far the most noticeable characteristic of Rambler TX and it was free. Rambler let a space museum use his land to generate some publicity and double as a sandbox. A friend that was working on scripts tested them on Rambler's land and when the sun was finally completed, the friend let Gnash keep the entire thing.
Gnash's odd sense of humor works its way into his surroundings. Next to Route 69 there are two deer doing something questionable, while signs on the highway warn drivers to lookout for the "mating" deer. There are also perpetually steaming horse droppings that litter the ground of the farm out back, as well as other tiny oddities, like the fact that Gnash drives an Escalade, that make Rambler TX a unique experience.
Finally, have you ever seen a store in SL that manages to not sell sex objects, weapons or massive amounts of bad clothing? This is where Rancho Rambler is a real breath of fresh air. The ranch's store, managed by Careless, features a number of southern-type items. "We tried to keep the store as close to an older general store as possible — without the fresh milk and eggs of course," Careless said.
Gnash Rambler, Texas Ranger, might not have his own TV show, but he does have an incredibly cool little slice of the south in SL. For a touch of Texas in a digital world, Rancho Rambler is a great stop.