by Alphaville Herald on 26/05/06 at 11:56 am
by Fiend Ludwig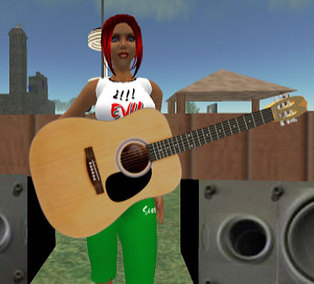 Time zones complicate Mel Cheeky's Second Life
One of every four residents you meet in Second Life lives a real life in a country other than the United States. Although an unabashedly American construct, SL seems to appeal to non-Americans in a big way. Do these residents (myself among them – I am Canadian) experience SL differently because they are not American? I set out to find out in this inaugural report for First Person : Second Life.
Demographic stats provided by Linden Lab show that the large majority of non-American residents are from English speaking countries that share similar political and economic values to the USA. Of the residents that are non-American, approximately 60% are from the UK, Canada, or Australia. Another 20% or so are from countries that are generally identified as 'Western' (Germany, Netherlands, Sweden, Italy, and France).
Residents to whom I spoke unanimously agreed that SL is filled with polite and interesting people who couldn't care less where your real life is located and in most cases will never know anyway. Resident Dani Frua, whose real life is in the UK, told me, "I have met and made friends with people who turned out to live in the US, Canada, Japan, UK, Germany, Sweden, Netherlands, Switzerland, Australia and New Zealand. The point is I did not know where they lived for much of the conversation. One of the many amazing things about SL is you make judgments on people based on their SL presence, not real life looks, location, age, wealth, etc. Provided you speak English, SL is a world without borders. And that's just a fabulous thing."
"The only problem I have had from being in the UK is that SL weddings tend to be in the evenings US time! I haven't been able to attend any yet," Dani lamented.
Certainly groups from other parts of the world can organize SL events that match their own time zone, but many residents do not have that luxury. If Mel Cheeky, a popular SL singer-songwriter, wants gigs, she is bound by SL time. Cheeky, another UK subscriber, must perform live to an SL audience when her time at home is 2-3am. "The time zone thing is a HUGE impact on the SL experience, especially for me as a performer", says Cheeky, "It's an 8 hour difference for me." I asked Mel whether she stayed up this late before finding SL. "No. *lol*," was her response.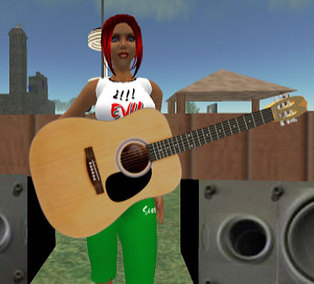 Singer-songwriter Mel Cheeky: Tip big – it's 3am for her!
This dedication to SL is also shown by residents like builder-vendor Yoshinori Shirakawa (Y.S Authentics and T & A), a German subscriber who deals with the same staggering time difference to conduct in-world business, building, and relationships. Yoshinori says, "All the people I meet, without exception, are so friendly! That was the most important fact to feel comfy in this game. The time difference, well, this is annoying because my [SL] partner in business and 'crime' is living far, far away (-9 hours). It works [to some extent]; I have to stay up late anyway."
"In this time I create, chat, explore and have a lot of fun meeting people from all over the world," Yoshinori says. "Tired people from Hong Kong, awake people from Australia, some friends from France, and of course a lot from the US. So it's not just a matter of a relationship to an American social model, it is much more. Is there a world social model? If yes, you will find it in SL."
Yoshinori's SL partner Shelaura Tomba is an American, and a builder-vendor as well (Sweet Things). Shelaura agrees with the sentiments expressed by Yoshinori, but also feels that the non-English speakers SL tends to attract have a high degree of education as they must both know English well enough to communicate in-world, and have the technical savvy and equipment to get hooked-up in the first place.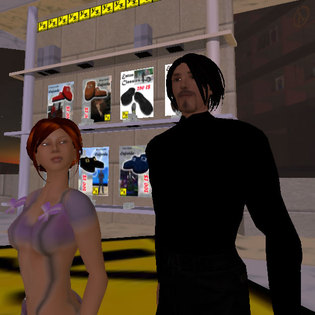 Builder-vendors Shelaura Tomba and Yoshinori Shirakawa: So close, yet 9 hours apart
It may take until SL experiences a large-scale influx of non-English speakers from some new market that this social dynamic will change. SL often feels like a big, cosmopolitan Western city – perhaps New York or London (or Toronto for that matter) – mainly Western and English-speaking, but with many tourists and growing multiculturalism. Until such an arrival occurs, SL residents need to speak English to get along. This alone may suppress the incentive to form large in-world groups that operate in another language and another time zone.
Meanwhile, on the other side of the world, it is tomorrow lunch-time. Australian designer Andromeda Raine (Coconut Ice) says, "I do have a couple of Aussie friends here [in SL], but my closest friends are the US night owls! Sparkle Skye [another SL designer] and I are very close, she's up all night, I'm up all day." I asked Andromeda if she noted any difference in her SL experience because she is not an American. "Well, yes. For example, I speak and act American in [SL]; if I talk too Aussie I get a lot of raised eyebrows," she said. "Also styles of clothes, fashions, spelling, slang, and the way I communicate are just the beginning. I do have 2 very close [non-Aussie] friends who I feel right at home speaking 'Aussie' in front of. Only half the time they ask what I'm on about! The other half they understand. Sometimes I forget and blurt something out like 'stop being such a sook' and I get, 'Sook? What is that, how do you pronounce that?' I have to be careful or I waste time going down a whole new conversation path! *giggles*"
So perhaps, in the Metaverse, people can hear your accent after all.