by Alphaville Herald on 23/06/06 at 12:00 pm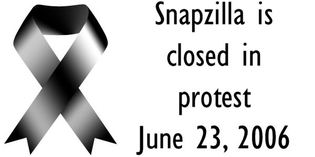 Happy Birthday, Second Life! Although it's not such a happy birthday present that Snapzilla is offering up to Linden Lab today. Everyone's favorite SL photo-sharing site has closed its doors for the day today in protest of Linden Lab's new all-ages policy:
To coincide with the third anniversary of Second Life's launch on June 23rd, this site will be closed for the day in protest of recent changes made by Linden Lab to the registration requirements for Second Life. Specifically, Linden Lab without warning has removed any billing information requirements from the account creation process, which allows complete unrestricted access to Second Life by minor children and destructive users with no accountability and no ability to ban problem users. It exposes the residents of Second Life to unnecessary stress and even potential legal liability and is contrary to the advertised promise of an adults only service that users have subscribed to.
Screenshots uploaded to the site today will not be lost, they just won't be available until tomorrow.
While SL hasn't formally put in a new all-ages policy, the fact that they no longer require any reigstration information other than an email address has the same effect. Is this stressing you out? Are you worried about liability and griefers? Join Snapzilla creator Cristiano Midnight's protest and get in touch with Linden Lab. And keep uploading those birthday photos, you can check them our tomorrow.