by Alphaville Herald on 26/06/06 at 1:03 pm
by Dow Jonas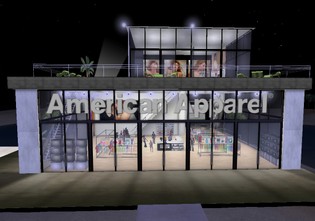 Four historic events occurred on a recent Sunday in Second Life:
1. Aimee Weber and Barnesworth Anubis appeared in their underwear in public.
2. Philip Linden changed his t-shirt.
3. Pictures of RL women in various stages of orgasm were posted around a huge, exciting build on a private island.
4. A RL store opened its realistic doors in Second Life.
Did I put those in the right, newsworthy order?
Well, of course any one of these events had occurred before, but this is the first time they all occurred together! The question is, What is their meaning?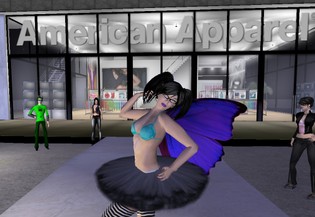 The panties Aimee was sporting weren't a fraction as pretty as those she designs in the vast virtual world of Second Life, fueling the fantasies of journalists about the emergence of a 3-D web. The new t-shirt Philip donned for the occasion seemed bland compared to his usual rock T with its gaping mouth. Geez, pr0n is scattered all over SL in practically every home — that's news? And what is a RL store, anyway, when SL stores have made RL money, fame, and fortune for their owners and when Microsoft, Warner Brothers, Twentieth Century Fox, and even the buttoned-down BBC have all debuted in Second Life?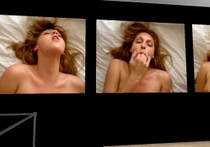 Nevertheless, the convergence of all these avatars changing to life-like skivvies, and El Presidente himself even freshening his look for American Apparel's gala opening night mean that Second Life is indeed at a very historic juncture, poised to change from a glorified, 3-D chat room mainly about sex with links to shopping sites on the Web, to — a glorified, 3-D chat room mainly about sex with links to shopping sites and a few other things we don't even fully understand yet.
Look, it's all in the synergy. If you happened to get the illicit IM and the secret-handshake TP into the coded sim of Lerappa on Sunday (hey, that's Apparel spelled backwards!) then you could feel the energy crackling. Lerappa, like other sims straddling real life and simulated life, is a new kind of portal that serves as a kind of converter from 220 volt to 110 volt and back — with all the accompanying sparks.
With all the enthusiasm about mixed reality, we're not quite sure which way it will go yet — and it might be bi, like the trendiest of avatars. For some, contemplating the millions joining virtual worlds in games like World of Warcraft or even the open-ended social world of Second Life, the intriguing opportunity for marketing comes with intuiting what the avatar wants, and keeping a keen awareness that the avatar is a kind of inventory of inventiveness, a projection of another, desired self — a fact that the august Harvard Review has now acknowledged in a landmark piece about virtuality and advertising.
For others, it's not about the worlds, which are too small in population and too niche in their tastes, it's about the cachet of big companies and big-name brands adding on to their savvy PR toolkits a roll-out in a virtual world. Second Life affords ample opportunity for such expeditions, of course, and it will get better when they can more fully link objects in-world to HTML in Web pages.
The more successful of such expeditions have been achieved by involving guides like Aimee Weber or the Electric Sheep Company, who are not only familiar with the often cranky toolset in Second Life, but have built up their own in-world personas, reputations, and networks. It's a far more complex and expanded notion of what Tony Walsh has called the "advertar" — not some guy wearing a branded t-shirt or sporting the virtual equivalent of a sandwhich board, but a live, interactive, rich-content persona who makes it happen, who bridges the world, who moves people in both directions — in-world to fulfill their fantasies once their favourite company is seen in SL, and out-of-world from the SL population to network and connect — and shop (or perhaps to learn) on other Web sites and in the Real World.
I'm sure I'm not the only avatar whose typist is going to think twice before passing by an American Apparel store, and will likely walk in — in search of a shirt just like Philip's. The recollection of dancing virtually on the coolest little floating dance pads in SL — they really should put out more of them! — could possibly influence my decision to buy clothing in RL. Or let's say I'm already an AA shopper and I hear about this cool place they have on the Internet and I check out SL and look for Aimee and her friends on this cool island sim.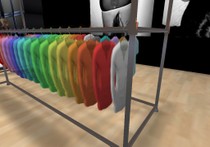 The trick will be in sustaining these high-energy conversion points. Some of these RL/SL islands or mainland hang-outs seem like one-trick ponies by the time the requisite CNet.com or even Fortune Magazine hits are made; all too often, their traffic dips to the lower double digits and the artists and designers and programmers rush on to the next big project.
The key to keeping these places alive will involve not only hard-working avatars willing to come up with fresh content but active groups to join and events to participate in and involvement with droves of people. Maybe the direction of the trend is going out from in-world to World Wide Web these days, but companies will likely wind up coming back to virtual worlds in the end to sustain the customer base generated there.
While it seems an article of faith about these worlds that 10 percent of the creative types provide all the content and entertainment to the other, passive 90 percent, in fact the 90 percent have become used to doing a lot more in games and virtual worlds than just watching. They want stuff to click on, interactivity, somebody to talk to, some game or social activity to participate in — otherwise they might as well just go back to AIM and eBay. The Lindens may find themselves wishing they hadn't dumped all those club owners whom they used to support with events grants and developers' incentive awards. Hopefully some of them will dust off their resumes now and apply to help RL businesses with long-term vision meet people where they spend a lot of their time nowadays — in virtual worlds.
Asked by a reporter if he had dreamed of SL someday seeing a RL store open in Second Life selling RL girl's underwear, Philip Linden replied, "I dreamed about a lot of things!"