by Alphaville Herald on 06/06/06 at 4:23 pm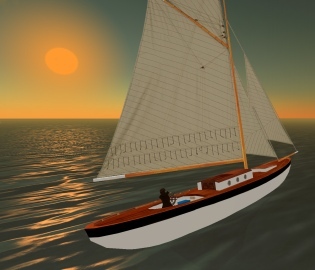 The Second Life Sailing Federation sends news of its summer sailing gala, being held this coming Saturday, June 10. The regatta celebrate's the SLSF's first anniversary, as well as the grand opening of Flappy's Marina and Yacht Club at Chong (155,131,47). [<-- SL link] Festivites commence at 6:00pm SL Time, with fireworks at 8:00 along with live music. And in among all that, don't miss "a special announcement and unveiling certain to change the face of Second Life sailing forever" at 7:00pm, according to the Federation.
As Herald readers know, the SLSF was formed a year ago to showcase the impressive, physics-based boats of Kanker Greenacre, including his signature Flying Tako model. The SLSF now hosts four regattas a week, and claims more than 600 members in its affiliated groups — including "a bounty of real-life sailors taking advantage of the off-season practice opportunities," according to an SLSF press release.
For more information, contact Myrrh Massiel in-world.