by Alphaville Herald on 05/06/06 at 3:09 pm
by Fiend Ludwig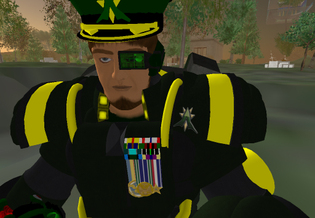 Alliance Navy Admiral Jim Herbst
At little less than one year ago, the Alliance Navy was patrolling the sandboxes in Second Life, hitting back at the griefers who were disrupting the areas with scripted weapons, guns and profanity. Today, however, we find a very different organization. According to Alliance Navy Admiral Jim Herbst, the Navy left the sandboxes in October 2005 and moved to permanent headquarters. Is the story that simple, though?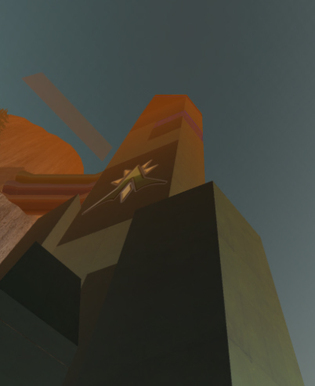 Alliance Navy HQ in Enceladus (courtesy Alliance Navy)
When asked why they stopped their activity in the 'boxes, Herbst replied, "First, we had a home spot, and protecting that from griefing and other groups became priority one, and second, SL'ers started reporting for EVERYTHING." Although not explicit, the assumption here is that the Alliance Navy was being reported by sandbox users as a griefing organization itself. Alliance Navy Air Division Leader Leif Ming concurs: "What we used to do was build big capital ships. Sim-size, awesome to see. And protect sandboxes. We used the ships as our base like the July 2005 article says. Anyway, we got a base here in Enceladus. From that point forward, our sandbox presence heavily decreased."
Not all Alliance Navy members were happy with the new situation, as Leif recounts: "We had an Admiral by the name of Shadow Keegan who decided to bring [sandbox enforcement] up again. He decided one day, 'Hey guys I'm restarting the AN.' His stated agenda is that he wants to return to the sandboxes and go back to enforcing. Unfortunately he also shoots anything that moves. Eventually they'll probably move back into the sandboxes with their untrained, undisciplined army of nooblets and start shooting anything."
"Now obviously, this [by itself] is a problem," Leif continues. "But it's a huge problem for [the Alliance Navy] because they're called the Alliance Navy II. The worry is that it's going to end up giving us a bad rep. And we don't do that kind of shit. We're like the US of the SL Military world. We favor diplomacy."
When asked if they had tried diplomacy with Shadow, Leif saidm "Of course we have." Herbst puts it this way: "Shadow Keegan, their leader, had some behavior issues. Keegan believed I went 'insane' for not giving him the freedom he wanted. By that I mean he would often go into wild fits and shoot fellow AN personnel." When asked if he thinks Shadow named his group the Alliance Navy II to get back at him, Herbst says, "No, he did that because he likes the name Alliance Navy and couldn't think of anything better."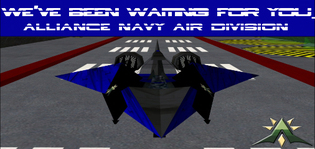 A navy by any other name . . . (courtesy Alliance Navy)
Does this mean war is headed to sandbox-land? Probably not. The Alliance Navy sees the Alliance Navy II merely as a bunch of inexperienced griefers, nothing more, and Herbst gives them "two months before they either die out, or change their name."
To find out for myself what the situation was, I took some time to visit the sandboxes that used to be patrolled by the Alliance Navy. Within seconds of teleporting into the Cordova sandbox, I was bounced into the next sim by a scripted weapon wielded a member of the group America's Army.
When I made my way back to the sandbox I confronted the griefer (names have been changed to protect the probably-not-so-innocent): "Hey Jimmy," I said, "you have been griefing people for the last 10 minutes. Why do you have guns in the sandbox?" No reply, so I tried again: "Hey Jimmy, you have been reported to the Lindens for shooting in a sandbox. Do you have any comment for the SL Herald?" All I got in response this time was, "wat ever [sic] losers, bye."
Griefing in the sandboxes, it seems, is not dying out at all.