by Alphaville Herald on 19/07/06 at 10:49 am
by Pixeleen Mistral, Herald sports desk
Welcome, Griefer
– Philip Linden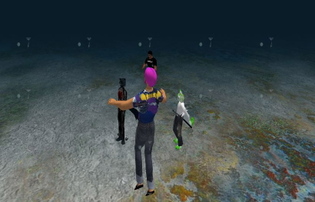 Sailor Espresso Saarinen (pink hair in the foreground) points out two suspected underwater griefers to event security just before being sent into orbit himself. Photo courtesy of Espresso Saarinen.
Herald readers have observed that public events in SL always have a the possibility of a game of griefer cops and robbers in addition to the nominal event. Last Saturday, while mildly minding her own business and trying to cover a sporting event, your correspondent was sent into orbit three times in the space of two hours, in spite of (or perhaps because of?) the presence of a hired security force.
While this may speak volumes about SL's suitability as a platform for serious pursuits, it does provide a certain level of theatre of the absurd to supplement the entertainment value of an event. If the Herald keeps sending me on these assignments and the Lindens don't start allowing for better policing of their own land, I will be forced to file additional expense reports for certain, ahhhh . . . aides and accessories, let us say . . . so that I can stay at the event site long enough to get the story. This is bound to get expensive fast, but the story has to come first, and the Herald has a grand tradition of investigative journalism to uphold.
With SL's limited tools, it is impossible to prove exactly who was launching boats into orbit during the four races that were held by the Second Life Sailing Federation on Saturday, but no race was completely disrupted, as most sailors found ways to finish in the races before the time limit. In one case the boat I was in was launched into the air, but landed in the water, and we simply continued sailing. I think everyone was orbited at least once, and the sailors that shrugged it off seemed to perform better than those who felt it necessary to complain to the event organizers. As is the case in many sports, whining to the referee does not seem to be a winning strategy.
Over the last year, Kanker Greenacre's Flying Tako sailboat has developer a vigorous (and at time acrimonious) racing community. There are now two yacht clubs with well over 200 members each, and three newer clubs, all of which offer a somewhat different take on sailboat racing. The goal of the SLSF Cup was to increase awareness, sailing sites, and participation in SL sailboat racing. But the reality of this sort of multi-week, high visibility event is a strange pentathlon of fun, combining cops and robbers griefing, Linden-schmoozing, politics, mainland/island land struggles, and even a bit of sailing.
Saturday was the first of six weekly events leading up to the two weekends of championship races, to be held August 26-7 and September 2-3. Previously, each of the five participating yacht clubs selected teams of up to four sailors for the SLSF Cup series. Each club enters one boat in each race with a captain steering and tactician to assist. Teams can switch boat crews between races, so there are potentially 20 sailors involved in an event, plus event organizers, hired security, and spectators. Your correspondent was the tactician for both Oliphant Ming and Skippy Spatula.
Shortly before the first race, Oliphant and I were sent flying two sims south, but simply flew back to the start, rezed a boat, and sailed the race. During that race, two other boats were lost due to either a sim crash or some sort of weapon. Dark comments were made by a few sailors that this would keep happening, which makes one wonder how they could predict that. In any case, during the next three races, some sort of man-made mishap occurred to at least one boat per race, nearly always the boat which was in the lead. It was difficult to believe that this could have been chance, and the hunt for perpetrators was on.
Follow-up interviews with various participants (sailors, security, suspected griefers) did little to solve the mystery. The lack of any sort of temporary permit system for the the virtual commons (in this case the water sims near the ANWR sim), results in resident conflict that could be avoided were there a process for securing official temporary usage rights. The usual Linden suggestion of buying or renting sims from Linden labs seems unlikely to be appropriate for short 1-2 hour events, so the residents press on, and are presented with a multi-faceted sporting experience that includes some non-traditional and extreme sports — including impromptu griefer hunts, marathon Linden help sessions and grid monkey wrestling.
Loki Clifton's SL-Security group had been contracted for the nearly impossible task of locking down a Linden protected sim (the event was being held in Linden water sims), and the rules of engagement were such that a "shoot first, ask questions later" approach to security was not an option, given the preferences of the event organizers. This put Security in the position of saying, "Stop! Or I will say Stop again!" Here, the conflict between the Terms of Service, abuse reporting, and residents with conflicting ideas about who has right to use the space is brought into sharp relief.
After a sailor located two avatars on the ocean floor, Security attempted to persuade them to move on. I interviewed one of the alleged griefers, who took the position that Security was trying to bully them off a spot that they think of as "theirs." Without some sort of official Linden-blessing for the event, this turned into a contest of the wills. This raises the question of why there is no process for issuing a sort of parade permit for events that occur on Governor Linden's land. Temporary right to use the commons has been an accepted practice in RL, and it is odd that Linden Lab does not provide for this in SL. Without any sort of temporary use/parade permit (and tools to control those disrupting an event) drama and low level ToS violation are inevitable.
In talking with Loki, he seemed to be trying to offer an alternative to the usual goons and mafias and was willing to take a "shoot as a last resort" approach if that is what his client wants. Loki also mentioned that one of the two suspects has a psiTech implant, and after looking over the psiTech manual, that does seem suspicious. Once the event had been called (after four races) the griefing suddenly stopped, and Skippy Spatula and I sailed the course without trouble. This lends some credence to Loki's suggestion that this was not random griefing.
Reactions to the the event interruption seemed to follow mainland/island affiliations fairly closely. Those invested in islands look at this as yet another reason to move to a private island where they can control everything. Those affiliated with the mainland look for ways to make use of the shared commons. Since four of the five yacht clubs are on the mainland, finding a way to effectively deal with griefing should be a valid concern for everyone.
Another issue in planning the event was the variable performance of Linden water sims. The venue originally planned to host the first event was found to be unbearably laggy on Monday night, and a mass IM to Live Help from the assembled sailors eventually resulted in a visit from Red Linden, who offered hot dogs to anyone who wanted them. I got my first hot dog from a Linden, as the assembled throng pointed out that Max Cases's Sim Neighbors tool showed the Hepurn sim running on a slow server with far too many other sims.
Investigation of other water sims in the area showed a pattern of significant overbooking of the servers (eight sims on a class-three server that normally would support two sims). Without any assurance that the Lindens would fix this problem, the event was moved to the ANWR sim, where a class-three server hosts two sims per server. Ironically, the buoys and starting line in both Hepurn and ANWR were placed there by the Lindens to help promote sailing, but the grid monkeys seem to have their own ideas. Ideally, Governor Linden would take better care of his water sims when he puts sailor-attracting starting lines and buoys in them.
Although the race committee chose to discard the entire series due to "adverse conditions," I was able to obtain the unofficial results, and of the four yacht clubs that sailed Saturday the overall results were:
Kazenojin Seiringu (KS) – 6.5 pts.
Vagbonds Yacht Club (VYC) – 8.75 pts.
Mowry Bay Yacht Club (MBYC) – 10.75 pts.
Starboards Yacht Club (SYC) – 15 pts.
Sailing results for individual races:
Race 1
Kanker Greenacre (KS) 10:24 splits 0:06 2:24 4:57 8:27 10:24
Oliphant Ming (VYC) 10:32 splits 0:03 2:33 4:57 8:28 10:32
Jamey Sismondi (MBYC) 17:14 splits 0:29 2:42 10:39 13:50
Faykin Odets (SYC) DNF splits 0:12 2:24 4:44
Race 2
Myrrh Massiel (KS) 11:20 splits 0:11 3:36 5:47 8:26 11:20
Faykin Odets (SYC) 11:32 splits 0:12 4:16 6:22 8:49 11:32
Jamey Sismondi (MBYC) 12:35 splits 0:24 3:41 5:51 9:27 12:35
Oliphant Ming (VYC) 13:20 splits 0:07 3:07 5:38 9:17 13:20
Race 3
Skippy Spatula (VYC) 10:11 splits 0:00 2:17 4:47 7:59 10:11
Kanker Greenacre (KS) 10:18 splits 0:14 2:25 4:52 8:13 10:18
Faykin Odets (SYC) 10:19 splits 0:02 2:11 4:35 7:27 10:19
Jamey Sismondi (MBYC) 11:06 splits 0:01 2:25 5:02 8:42 11:06
Race 4
Jamey Sismondi (MBYC) 12:49 splits 0:01 2:19 5:16 9:35 12:49
Skippy Spatula (VYC) 17:25 splits 0:01 2:14 5:11 13:55 17:25
Myrrh Massiel (KS) 23:34 splits 0:21 2:33 4:56 18:25 23:34
Faykin Odets (SYC) DNF splits 0:02 2:18 4:51