by prokofy on 14/11/06 at 7:22 pm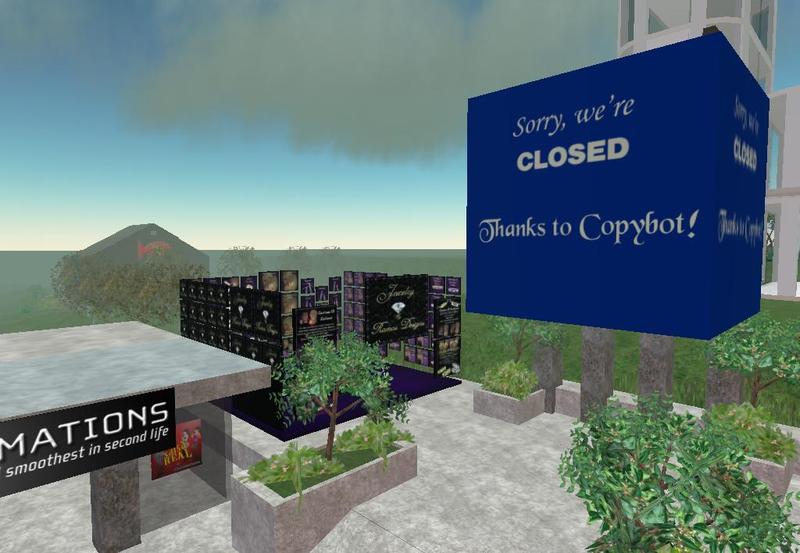 By Prokofy Neva, Community Affairs Dept.

Hundreds of stores were shuttering their doors tonight all over the grid of Second Life in protest against CopyBot, a cloning agent devised by a reverse-engineering team called libsecondlife. which evidently did not go back in the box when its designers summoned it last night. Angry residents quickly pulled out huge blue textures saying "Sorry We're Closed Thanks to CopyBot" and mounted them on plazas, malls, storefronts, clubs, and homes on numerous sims.
Residents rapidly reacted to the threat of rampant copyright threat and organized their activist groups with hundreds of participants, using the social software of the 3-D online streaming world.
They fear that their hard-won position as unique content creators in the popular new virtual space will be lost with what they view as a callous attitude from software experimenters who have been telling them to just "make more new stuff" and not worry about whatever is stolen. "Information likes to be free," is the programmers' rallying cry, which has been met with angry rebuff by scores of people who make their living, part-time or full, from Second Life.
Even as Lindens belatedly began to take action in the face of mass protest, stores kept closing because while evidently recognized as a TOS violation, the CopyBot script was not being deprecated from the server. Stores, clubs, and services closing included: Pottery Loft, Dragonfly Designs, Celestial City, The Edge, Ravenglass Rentals Office, Ramos Designs, Simone!, Twistted Dreams, Southern Paradise Prefabs,
kandeland, 2 Sisters, Dream of the Vixen, Royalty, FF~Shoe Creations, and many more.