by Urizenus Sklar on 28/11/06 at 6:41 pm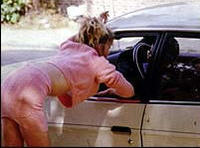 Is Linden Lab for Sale? Or rather, Would they sell it? Well, PR/Marketing blogger B.L. Ochman has speculated that it is just a matter of weeks before it sells. And David Fleck (who has since been forced to walk the plank on the Leaky Ship Linden) told the Times of London that LL was open to a sale. But now our Mainstream Media buddy Adam Reuters reports an interview in which Philip says that Second Life Isn't for Sale.
"I've got no plans but to build a solid standalone company," he said on the Yi-Tan Weekly Technology Call run by consultant Jerry Michalski and technology strategist Pip Coburn. "We're at a place now, we're very close to profitability, we have lots of money in the bank."
Funny, I thought turning a profit would make easier to sell if they wanted. Silly me. Meanwhile Tony Walsh and the droogs in the comment thread on Clickable Culture attempt to parse what the Linens *really* mean. Without much success.