by Alphaville Herald on 25/12/06 at 11:17 pm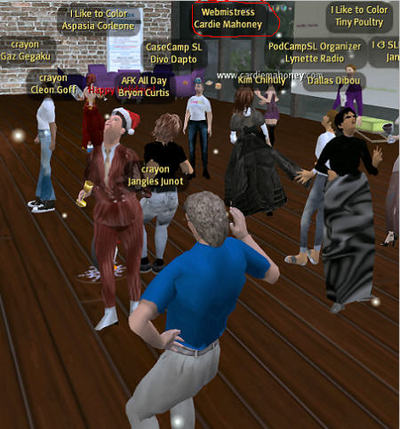 Black Christmas Special from Pat the Rat.
In a truly shocking development that so clearly illustrates the lack of moral compass in the English speaking world it is going to make me vote Republican for the first time ever, a Herald Paparazzo infiltrated the Crayonista "Christmas Party" — and I put this in scare quotes because Black Winter Solstice Debauch is more like it — and caught pictures of the Crayonistas frolicking with Second Life uber-escort Cardie Mahoney. In an even *more* shocking development, Herald founder and contributing editor Urizenus Sklar was not even invited! Well obviously, they didn't want him stealing their women, but that doesn't make it right, now does it? More pictures of the sordid affair available here. What. You didn't know Neville Hobson worked for us? Dahling, he was the first paparazzo in Second Life!