by Alphaville Herald on 11/01/07 at 2:53 pm
by Magnus Rothlisberger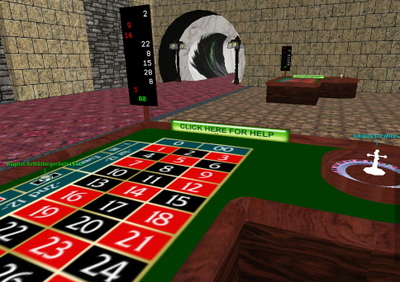 [Editor's note: This shocking tale of loss reaches us from Second Life resident Magnus Rothlisberger, who hopefully now knows better than to keep much cash in his PayPal account. A cautionary tale.
--Walker Spaight]
Armed with a popular betting strategy I set out to test the internet gambling goodness in Second Life. I began at a Raiden Gold Casino roulette table placing individual L$1,000 bets on black. Always bet on black. Every time red or green came up I quickly doubled my bet to L$2,000 and then L$4,000, etc. until that accursed wheel finally landed on a black number.
Some would claim this method of gambling is too boring or has too low of a payout at 1:1 to be any fun. And it was partially true; I was insulted to have to wait 30 seconds for the "No more bets" and wheel before placing my next bet.
But screw anyone who calls winning boring. As the hours ticked by, some wins were easy but others were by the skin of my teeth with prayers and expletives hurled at the table, casino, and any avatars unfortunate enough to pass by during my gambling run.
The tension and stakes increased:
L$1,000 on black (Lost: Red 23)
L$2,000 on black (Lost: Red 14)
L$4,000 on black (Lost: Red 9)
crap
L$8,000 on black (Lost: Red 27)
L$16,000 on black (Lost: Green 00)
L$32,000 on black (Lost: Red 23)
sonofabitch, this wheel sucks
I quickly transferred additional funds from my PayPal account to cover the next bet.
L$64,000 on black (Won: Black 26)
finally!
It certainly was exciting, but in the back of my head I was reminded that each win, even on a L$64,000 bet, only gained me L$1,000. But then again, I was up $L20,000 after only a few hours.
With a shrug, I jumped up from the table, defiantly leaping over the roped-off areas, and headed to the blackjack tables. As I sat down I received an offer to become a Raiden Gold Casino VIP and quickly agreed. There were no benefits that I could see but I did have "V.I.P" displayed prominently over my head. That was good enough for me.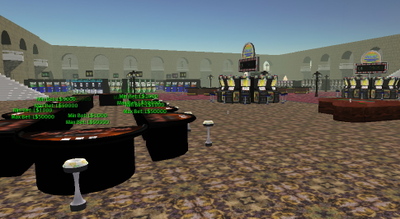 As a V.I.P., I applied the same strategy of doubling my bet at any loss. Blackjack is of course more interactive and I felt like I had more control over my destiny. Betting L$1,000 each hand (unless I lost) I was occasionally rewarded with a "Blackjack! 21!" which increased my payout. This even occurred once after losing 5 times in a row and on a L$32,000 bet.
Bet: L$16,000 (Won: Blackjack! 21!) Payout: L$24,000
After 6 hours I was up L$43,000. It was now early morning and I needed some sleep so I vowed to return the next night and continue my unbreakable winning streak.
I returned to Raiden Gold Casino as a VIP and up L$43,000. My strategy was working and I was ready to take the casino for all it was worth. After winning a few quick hands the dealer began getting impossible cards and I was left with 16, 13, 14, 15, 6, etc., on every deal. If I hit, I bust. If I didn't hit, the dealer immediately had 21. Performing backflips for good luck only resulted in timeouts and having my money returned to me.
Things were getting serious:
Bet: L$1,000 (Lost)
Bet: L$2,000 (Lost)
Bet: L$4,000 (Lost)
Bet: L$8,000 (Lost)
Bet: L$16,000 (Lost)
Bet: L$32,000 (Lost)
what the hell is going on?
For the second time, I transferred money from my PayPal account. I tried a different table, betting L$64,000, and amazingly scored a Blackjack! But shiiiiiitttt, the dealer also amazingly had a Blackjack and cancelled mine out with a push. I was still down L$63,000.
Again I bet L$64,000 and was dealt a King and Jack. 20! Great, let's see you beat that!
12, 13, 16, 21. Bet: L$63,000 (Lost)
I could not believe it. I went from being up L$43,000 to down L$127,000 in half the time. Disgusted and disillusioned, I immediately closed Second Life and watched South Park until 3:00am, muttering to myself all the while.
The next night was New Year's Eve and I received an invitation to the Raiden Gold Casino's New Year's party. They were offering a special cash raffle every few minutes, so I thought this was just the occasion to turn my luck around.
For a third time, I transferred money from my PayPal account. But instead of betting L$126,000 immediately, I thought I would start off humble and just try to win my money back and break even.
Bet: L$1,000 (Lost)
Bet: L$2,000 (Lost)
Bet: L$4,000 (Lost)
Bet: L$8,000 (Lost)
Bet: L$16,000 (Lost)
Bet: L$32,000 (Lost)
Losing six hands in a row without a single win?! Impossible! Down L$189,000. But I had lost so many times I was due for a win. The casino owed me a win. I transfered the remaining money from my PayPal account. This was my last hope. I didn't have enough to double the last bet but it came close.
Bet: L$157,180
I had a Queen and 4 showing and the dealer was showing 3. I hit and received a 2 for a total of 16. That was two low cards in a row following a face card. There had been many face cards in the previous hand. I'd be a fool to hit on 16 with this much money on the line and the dealer showing a 3.
I was shaking as the dealer turned his cards. Had I really bet L$346,180 — roughly US$1,153 — in three days? I wouldn't bet that much in a RL casino. But it had happened so quickly and it didn't seem like real money . . . until now.
The picture speaks for itself: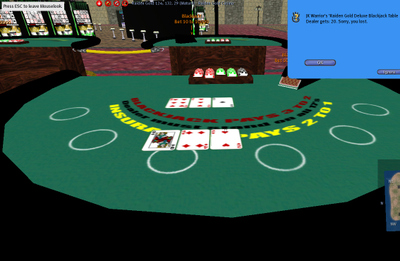 I lost. I . . . lost. And that's how to lose your shirt — and L$346,180 — in three days of Second Life gambling.