by Alphaville Herald on 31/01/07 at 12:18 pm
by Fiend Ludwig
[We sent Herald reporter Fiend Ludwig to test-drive some Beemers in Second Life -- only to find the project could hardly get into first gear.
--Walker Spaight]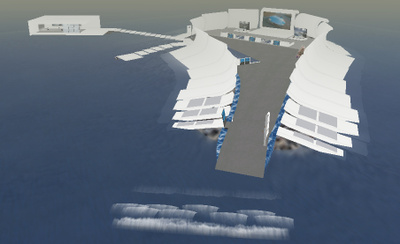 BMW New World: Dude, where's my SL car?
Another corporate sim equals another deserted island. This formula, oft trundled out by the not-so-mainstream media seems, in fact, to be true. Most of the corporate sims around Second Life are normally entirely devoid of other visitors. This was certainly the case when I had a look around BMW New World recently. Upon teleporting in, a chat script chimed, "Hi Fiend Ludwig, unfortunately we cannot welcome you personally right now. Please IM Munich Express with any questions you might have. Talk to you soon." Feeling a little smug, I posted a somewhat flippant report on my blog and thought no more of BMW and their New World.
Until Munich Express actually did IM me.
"Hi Fiend, just read your blog on BMW in SL," he wrote. "You sound a bit skeptical. I can assure you that we would have responded to your IM (OK, may be not right away). I should know, because I am Munich Express. So, if there is anything you would like to know, don't hesitate to send me an IM. Best, Munich." When I overcame the shock that my blog was actually being read by anyone, I replied to Munich asking for the opportunity to explain my skepticism, to get a corporate perspective on the future of corporate sims in SL, and to find out more about those cool-looking cars.
In real life, Munich Express is Achim Muellers, Head of Brand Relations and Cooperations for BMW Group in Munich, Germany, and the person in charge of BMW's presence in SL. He summarizes BMW's goals like this: "I'm fascinated by the creative element of Second Life. It is consumer-generated content at it's best. A very open, curious, extroverted, and challenging global community, which makes it a very interesting one for us to talk to. Initially we want to get into a dialogue, understand the community and take it from there. It is a process with potentials in different areas. Innovation is an important element of the BMW brand identity. Therefore we are always open toward new creative, innovative concepts like Second Life. I believe it was George Bernard Shaw who once said 'All great truths begin as blasphemies.'"
"You will have noted that we started with a soft launch [at the end of November 2006]," Express went on. "We observed Second Life for a while and I also spent some time as a resident prior to getting involved with the company, but I was far from being an insider — many things to learn, even today and tomorrow. One thing I understood, however, is that interaction is very high up on the list, and if you want to interact it helps to know what the people that you want to interact with are looking for. I always say that you only have one chance to leave a first impression. We notice that the number [of visitors] is increasing. That probably has to do with the fact that the residents are starting to find out that we are here."
Express believes a resident-centered approach is better suited to project development in SL, "We want to get the dialogue started; what we do next also depends on our learnings from these discussions. And why not develop and implement creative ideas together? If at all possible we'd love to develop and implement some of these ideas with the residents. I mean, there is so much creative potential here — it would be a shame not to use it."
But will there be drivable BMWs in SL soon? Probably not: "At this point in time we are not planning dynamic product experiences, since the available programs (graphics and physics) do not allow us to develop an adequate BMW virtual driving experience."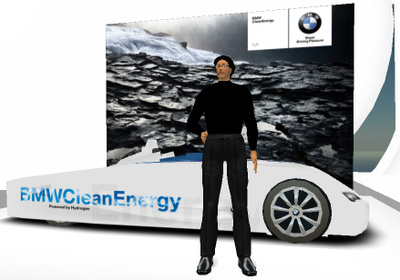 Munich Express walks to his Second Life office for a reason
Perhaps the big guys are getting the message. Express says, "I think that Second Life is here to stay and, as always in life, once the initial hype is gone, the ones that are serious about their commitment and that add value will stay on board." Cynics will say that Munich Express and colleagues are simply pandering to the bloggers and critics — telling us 'native' SL residents what we want to hear. But surely that is a measure of the success of that criticism. Someone is listening. With such scrutiny, it does not pay to fake it, so time will tell if BMW can live by its paradigm. But if they do take the long view and stick it out to become a dynamic part of the community, it can only be a positive step for Second Life.
As for those cool cars — Express says, "The BMW Hydrogen 7 and the CleanEnergy concept demonstrate our commitment to hydrogen as the long-term foundation for individual mobility, which makes it the perfect starter for Second Life: A future-oriented mobility concept on a future-oriented platform."
Now if only we could drive one.