by Pixeleen Mistral on 03/01/07 at 7:14 pm
Are mystery sheepbots connected to SLBoutique?
by Pixeleen Mistral, National Affairs desk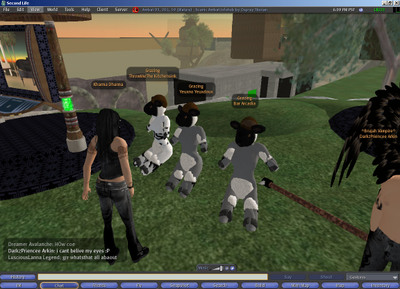 three silent sheep appear in Ambat
Silent sheep shaped avatars were mysteriously appearing at the Ambat infohub before departing for parts unknown last night. This strange and wonderful wooly tale of virtual sheep bots was captured on film by Kharma Dharma – one of the Herald paparazzi. Ms. Dharma contacted the Herald offices with an urgent IM – so I took a break from talking with the SL Police about a suspicious club fire to join the Ambat infohub vigil.
Just as I teleported in, one of the sheep bots made a brief appearance, then disappeared, just as Kharma had predicted. We continued the vigil and another sheepbot appeared – but refused to respond to IM, chat and intentional pushing and shoving – this lack of responsiveness would lead some to believe that this was likely some sort of bot – perhaps logging in for a hard night of casino camp chair sitting.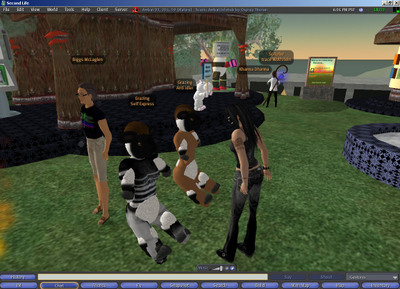 Anti Idler is a member of the Grazing flock
Kharma sent all her the photos to the Herald office via the mojo wire this morning and our staff of forensic scientists pored over the screen shots today looking for clues. The sheep all belong to what appears to be a private group named "Grazing". After some detective work – looking up each sheepbot in the SL profiles, there was another clue – the bot named Anti Idler's profile claims some association with SlBoutique.com – but can you believe what a sheepbot puts in it's profile?
I took the direct approach and IMed several of the sheepbots who were online this morning asking them if they were bots. Eventually my query was answered by Silky Lyon who replied, "absolutely".
While some Second Life media outlets might settle for a sheepbot's IMed confirmation that it is actually a 'bot, here at the Herald we have higher standards and caution our readers that the virtual sheep might have been telling a lie. Still, something odd is going on with all those silently grazing electric sheep. Anti Idler's profile makes us ask what is a Virtual Site Reliability Engineer anyway – and can Linden Lab hire some of those?