by prokofy on 25/01/07 at 4:29 am
A pointy-eared polemic by Prokofy Neva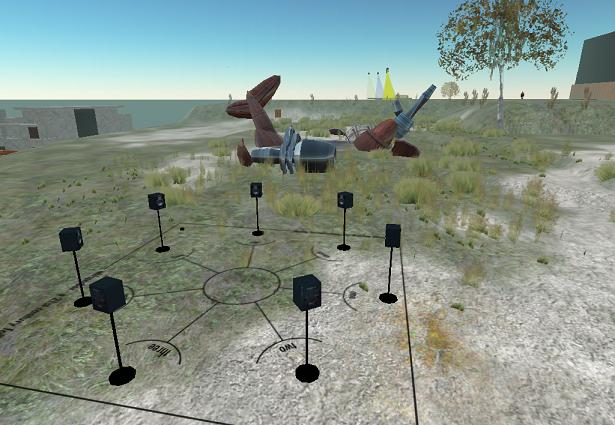 Robbie Dingo's Whisper Box Near Magellan's Crash

While it seems like a credible concept, the good professor's "new media" concept reveals too much Chomsky-reading, and not enough McLuhan. Far from having a new streaming interactive pushme/pullyou immersivia to replace the old one-way pulp-and-electron media, we have something far more broken and dangerous nowadays: an unaccountable archipelago of amateur egos scattered across the budding Metaverse who are all playing a grand game of Gossip. They flash memes picked up from games forums and group IMs and speculative blogs and amateurish podcasts and mash them into approximations of news stories as fast as you can push Blackberry buttons. In the name of this indy corrective to another evil — concentrated media corporations — they scorn the basic methods of investigative journalism and editorial accountability. This isn't just Wikiality; this is Wikiality 3-D, streaming, and with the power to fill your world with red ban lines and self-replicating prims as well as reiterating reputation-damaging falsehoods.
The little salons of 40 intelligent and sage conversants lovingly imagined by Urizenus would be a wonderful thing if they really existed in SL — but they are more likely to be replaced by griefers crashing the neo-18th century drawing rooms and making coherent discourse impossible. And these illegitimate claims of "trolling" and "spamming" in fact are about an often viciously rigid orthodoxy that brooks no dissent, and takes any kind of principled position as a "troll" and any kind of self-affirmation or consistency as a "spam". Ever wonder why you can't post comments on Valley Wag and can't even find the button to register? They have a creepy Friendster or SLOG-like system of only inviting their special friends to post — and their special friends who are confirmed. Nice way to get an echo chamber!
We've seen a lot more lately of the fractured fairy-tales that serve for "media" and the cramped and filtered comments sections to this "media" that perform badly as drawing-rooms in something like Valleywag's coverage of SL. Spurred by Clay Shirky's cranky analysis, VW started the anti-SL train rolling big-time. All of us who have been rabid critics of LL's various phony numbers and fake policies could only be puzzled at these dilettantes and the big opportunity they missed while in the 15-minute limelight.
A classic Chinese whispers game was the exaggerated story of Anshe Chung's alleged call-girl career retreaded from SL into the grudge-bearing Sydney Morning Herald (in fact, it appears that Anshe had only a brief stint as an exotic companion before focusing on the much more lucrative areas of SL business involving content and real estate). Far from any "media digging" on the story as claimed, VW cites SMH…which cites VW — in a typical circular and mutually -admiring blogation. The hyping of the story seems largely of the old LL forums type of "let's start a thread just about one person that Jeska won't close and the target will get banned trying to answer" — over Guni's gaff demanding take-downs of ugly pictures from SMH, which coupled his RL wife with obscenity. The slugging began in earnest on Second Citizen, a bawdy and disreputable no-holds-barred forums like anything but our Professor's 18th century salon. There, Joshua Nightshade plotted how he was going to pay people for dirty stories about Anshe; crash her Wikipedia entry and amplify the claim of a sultry past; and get the story around (later, a bizarre but predictable SL twist to the Whispers game, after a many-hours convo with Anshe herself, he pulled an unpersuasive Damascan turnaround and began defending Anshe).
Valleywag, trawling for anti-Anshe scuttle picked up this kind of inworld recycled gossip from years ago (round two of the meme), it passed it around rapidly until even zefrank, usually a lot more witty and insightful, falsely implied in his vlog that Anshe had made her million through prostitution–ridiculous on the face of it. Anyone who has been in SL even for a day knows that the girls don't charge RL prices, and have to turn over a lot to pimps and club owners or pay for rent. That didn't stop the memia — as you might call this new media that flashes through a loose network of games, blogs, worlds, text-messages, podcasts and even old media — from reinforcing a meme that nobody ever, along this vast chain, disputed (and how could they, with blog comments closed, filtered, or policed for "trolls").
Or take today's Valleywag story of the alleged "pyramid scheme of SL". At first, I eagerly looked forward to reading some sharp-eyed analysis of the whole land racket of SL, the way the Lindens make a good killing on land sales at auction or through island orders, but then devalue it by constantly flooding the market with new sims (one wonders if the 50 just put out yesterday will now lead to the bursting of the post-island-price-hike bubble).
Instead, the story turned out not even to be about LL policies or SL as a whole, and not even about its entire economy, but just one case of what these "journalists" believed to be a pyramid scheme. Why "journalists" in scare quotes? Because they don't cite a single name of an avatar; nor a single name of a business; or even any outside observers.
If the currency speculators they are hinting about involve Ginko, then we can only say: ho-hum. Even Adam Reuters covered that on Day One of his job, it was his maiden story. He remained undecided as to whether the operation was truly a classic Ponzi, or was more like an immigrant bank. But, hell, the Herald covered this story ages ago here, here, and while everybody has chewed over this fat a hundred times, the story — more than two years since the opening of Ginko — never gels into the kind of rollicking good drahma that SLers love, because the pyramid never collapses. People keep getting their payouts, the bank never closes, and the owners seem to play not so much the LinDex currency markets but RL gold or other markets to fuel the inworld operation.
Reuters, the Herald, and other SL blogs gives you tons more information than Valley-Wag about operations like Ginko — we never learn exactly which traders VW is talking about, nor do we get a glimpse about any actual inworld business — just the quick round-trip currency speculation of the author's own "business" where — surprise, surprise! — in this little game-like world of SL he couldn't make much more than the same 2 percent he'd make on regular US dollar deposits.
The story contains outright misleading statements:
One would have to take the Benchmark-backed economic ecosystem more seriously if some of the online sexchat workers and other Second Life entrepreneurs could show that their accumulated virtual earnings could truly be converted into real currency. But, as this financial consultant explains, anonymously, withdrawing money from the Benchmark-backed vitual world is about as hard as cashing out of a pyramid scheme.
This kind of gossipy chat is great for tabloids and the Herald, but geez, waving around the concepts of "numbers" and "economy" and "banking" got even Raph Koster hosed into thinking this was "the most scientific thing he had read about SL" (?!). Where's the science?
The fact is, while sex work is very big as a business in SL, it's probably third after real estate and gambling. And because of the great diversity in any SL business, it's hard to even identify sectors in a world made up of people's club-casino-brothel-mall-apartment-rental sims.
And in fact virtual earnings can easily be cashed out any time within a 0-5 day framework to PayPal for $1.00 fee, or by domestic or foreign check for larger fees. I and others in business in SL do it all the time. Just tonight as I typed this story, I sold $70,000 Linden and cashed out about $250 US which has already arrived in my PayPal account as I complete the story. While delays beyond the 5 days do occur, I find most cashouts take 1-3 days and in that sense is no worse than trying to move cash from PayPal itself into your regular banking account. There are thousands of people earning money and cashing it out of SL to pay RL bills; it's just that they aren't all millionaires and the figures are more likely in the hundreds, not the thousands of dollars each week. That's really important. I'm always amazed when I pay for a RL cost with SL earnings — but then, the secret, as Valley Wag hints but never really explores, is that not only do I underprice my labour costs and pay myself a pittance per hour, Supply Linden, selling printed Lindens on the LindEx (which VW never mentions) is also helping to depress my labour's value.
What Valleywag perhaps is trying to say is that if you take a MAJOR investment — $10,000 is the figure they give — and try to turn that even into $11,000 on the LindEx or with island or auction-land flipping, you would find obstacles in that Linden Lab itself has installed checks and circuit breakers to stop large and suspicious transactions; it is, after all, a synthetic world with micropayments a minimum wage more like US $1.50 a day for many people, not $80 or $100 US. Like any poor, third-world country in transition facing the ravages of dollarization, a remittance economy, and globalization, Second Life's main industries are tourism, sex-trafficking, gambling and exporting of rare items like Walker Spaight's fabulous fabbed avatar (exporting is *damn hard* from this world!)
Valleywag seems to be unencumbered, like Shirky and others, with any study of the economics page where they could analyze not just a vaporous currency market which involves a lot of mirrored or duplicative transactions, but also analyze how inworld businesses are doing. To be sure, there's lots to criticize in the way this information is presented — Lindens fastidiously don't count land deals as "business" and leave those vast amounts out of the statistics (!), then turn around and don't count tier payments as business costs before "profit" — which they call with a new-fangled term "Positive Linden Flow". I'd welcome Valleywag or any serious students of microeconomies in synthetic worlds to come and really give this a look-see — I tend to agree with Walker that we are dealing with a kind of tiny, recently-liberated Soviet-style Trashkanistan sort of place, not a pyramid scheme. Wild horses, old Westerns, and women…
In short, the experience of VW's Randolph Harrison is more like the Westerners who came to Russia in the '90s hoping to make a quick buck through association with the loans-for-shares auctions and came away feeling suckered with heavy taxation, broken dilapidated plants, and a system without personal checks, when they could have had a completely different experience investing in say, a children's clothing cooperative that both provided local employment and created 100 percent cotton products for export to Europe and the U.S. where there were eager buyers — just not on the grand scale of profit that you'd get if you bought the USSR's largest nickel company for peanuts.