by Alphaville Herald on 24/01/07 at 11:12 pm
Pointyheaditorial by Urizenus Sklar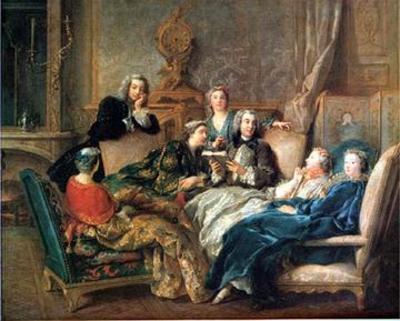 Denizens of the internet have long noted that many online meeting places have served roles like those of the literary salons and coffee houses of the 18th century. Online conferencing systems like The WELL and Mindvox, MUDS and MOOs like Xerox PARC's LamdaMOO and MediaMOO, and graphical social spaces like The Sims Online and Second Life have become places where robust and innovative political, social, and artistic ideas have been discussed and debated. In this essay, I will say a bit about why such "cybersalons" are important, raise the question of whether they are endangered, and ask whether there is anything we must do to preserve them.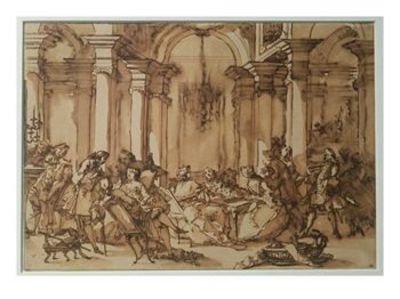 It is interesting that during the decades in which the cybersalons have emerged on the scene, the philosopher Jürgen Habermas has written extensively on the concept of the "public sphere" and its demise. For Habermas, the 18th century French coffee houses and salons formed a kind of paradigmatic model of the exchange of ideas in the public sphere, and in his view it was the critical exchange of ideas in these 18th century venues that led to parliamentary democracy and other great social advances that western culture has enjoyed. In Habermas' view, however, this model of the public sphere has been crippled by the rise of mass media – the problem with mass media being that it turns media into a consumable commodity rather than a forum to critically debate important ideas.
Clearly, Habermas has not been spending a lot of time online. If he had, he might have sounded more optimistic. Of course, the discourse that takes place on the chat boards and in online worlds like Second Life is not always of the highest order, and it certainly has its share of intolerant "trolls" and unreflective, self-important spammers, but no doubt the literary salons of the 18th century had to suffer though these as well. The key point is that the *structure* of the online salons is conducive to the exchange of ideas – it is not a format conducive to mass media, but rather to word of mouth exchanges between small groups of individuals.
Has the literary salon returned to its old glory? If it has returned in the form of online communities, is its new incarnation sustainable, or will it be absorbed ("borged") by the mass media? There is certainly some cause for concern. In the first place, most of these new online spaces are owned by private corporations, and the corporate owners have not always been tolerant of criticism and controversy. Most of the corporations insist that their users sign onerous "terms of service" agreements which, in some cases, require the user to not criticize the platform owner and in any case often allow the platform owner to ban a user "for any reason or no reason."
In the second place, large media companies have seen the rise of Web 2.0 social spaces ranging from MySpace and YouTube to Second Life, and have registered concern that this new social iteration of the web is undermining traditional "push media" like television and mass market newspapers in which a single source broadcasts ideas to a passive audience. The media companies have accordingly attempted to control the content in social spaces as to monetize it on the mass media model (for example by paying people to post entries on blogs or even create fake blogs to advance ideas).
The first bit of good news is that platform owners like Electronic Arts Corporation and Linden Lab have discovered that enforcing the terms of service to silence critics simply doesn't work, and at best it is counterproductive — generating more negative publicity in the blogosphere than the critic ever did when s/he was protesting "in world". Furthermore, there are many platforms for users to participate in, and users have shown a willingness to abandon platforms that are restrictive and move to more liberal and accommodating spaces. Indeed, platforms like Second Life are currently moving to an "open source" format and many other new virtual platforms are being developed as of this writing, so there is good reason to expect that users will be able to vote with their virtual feet. Not *every* cafe must tolerate open and free exchange of ideas. It is enough that *many* of them do.
The other bit of good news is that attempts to commercialize the social media forums in this way has not been successful, and indeed has been met with near universal derision. So far, the social web has successfully fought back against the mass media model – or perhaps more accurately, the mass media model simply does not work for social spaces. There was no need to fight at all. The mass media model of pushing information at thousands or millions of captive eyeballs failed all by itself.
The mass media model fails particularly badly in online graphical spaces like second life, which are currently limited in the number of people that they can support. At the present, no more than 40 to 50 people can simultaneously attend an event in a single location in Second Life.
If this is true, then what replaces the mass media model? In Life After the 30 Second Spot, Joseph Jaffe has argued that the age of push media and mass media may be fading, and businesses must now rethink their marketing strategies. Broadcasting to a large Superbowl audience may have to give way to one-on-one contacts, word of mouth marketing, the cultivation of quality contacts, and playing "the long tail" for an eventual payoff.
If Jaffe is right, then we needn't man the barricades to protect the new online spaces. The giant media corporations will not be swallowing them up. Paradoxically, contemporary marketing will not destroy the virtual salons; the virtual salons are destroying contemporary marketing strategy and replacing it with something altogether new. Or rather, with something altogether old: the very sorts of forums for the exchange of ideas and information that led to the revolutionary modes of thinking that emerged in the 18th Century.