by Alphaville Herald on 01/02/07 at 1:02 pm
by Onder Skall of Second Life Games
Some might say it's all innocent fun. Some might say that the advantages a smaller avatar enjoys couldn't possibly destroy everything we hold dear. Some might say that Hitler wasn't a bad guy either, but I'm not one of them. Are you?
The Tiny culture of Second Life is something that many residents have noticed gaining momentum, but few speak about it — for fear of being silenced. As a result, the general public remains unaware of the economic influence being generated through avatar sales, custom clothing, furniture, and architecture. Tiny-targeted shops are springing up all over Second Life, and their ranks are growing at an exponential rate.
But don't let their fluffy tails and cute paws fool you: Tinies aren't to be toyed with. It takes some brilliant (and most likely devious!) minds to make avatars so overwhelmingly cute. A smaller avatar is harder to shoot, and even when you have them in your sights, it's not so easy to pull the trigger on "Fluffy", is it? Tiny cosplay obviously has a militant agenda!
A recent sacking of Rome (in which a large group of Tinies led by Tedwood Portsmouth raided the Roma sim) was just the beginning. From malls in the sky and elaborately beautiful builds on the ground, the Tinies are preparing their next military action. Take Wynx's Whimsical Wonders in the Emit Time sim, for example: surrounded by fortified walls that look like a verdant valley, they are obviously preparing an adorable fortress for the coming conflict: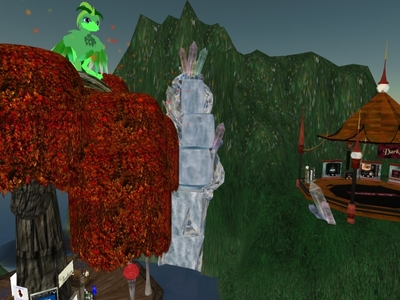 The economic leverage that the tinies can muster is staggering. Consider: A 512 plot goes a much longer way for an avatar one-third the regular size. Besides that, in contract negotiations it's just too difficult to say no to the little darlin's! How can a regular-sized avatar, no matter how adorable, ever hope to compete?
The public can't remain blind forever. Beware, Second Life: you will come to pine for the days when Goreans and Ageplay were our biggest concerns! Imagine the horror of Tinies having sex! The fabric of the very universe itself will be destroyed if they are allowed to simulate sex unchallenged! BEWARE!!!!