by Pixeleen Mistral on 11/02/07 at 6:51 pm
Ethics of copyright violations divide Gorean community
by Curious Rousselot
For over a year, a Gorean copyright fight has been raging over the ethics of distributing the novels of Gor in Second Life. John Norman's Gor novels are the basis for the Gorean role-play – and some eager Gorean scribes have ignored real life copyright in their zeal to spread the good word of Gor.
At issue is whether it is appropriate to distribute Second Life virtual copies of a book from the real world. 26 books, beginning with "Tarnsman of Gor", were written and published between the 1960s and 1990s. These works spawned the Gorean community and describe the core philosophies and lifestyles for the Second Life Goreans. The works are real books, and clearly covered by modern real world copyright laws.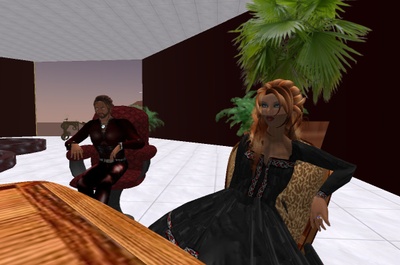 Thraxis Epsilon and Arete Calliope fight against Gor copyright violations
Arete Calliope, the Scribe of Ko-ro-ba, and a number of others are fighting to keep the copyright of the novels of Gor respected in SL. She and her friends have succeeded in bringing the leaders of several Gor sims to their way of thinking. Arete said to me, "Well, my Ubar, Scar Statosky, is fervent in his support of my work." (An Ubar is the leader of a city in Gor). In other interviews I learned that Fidelio Matador, the owner of Glorious Ar, and Kelerion Kava, owner of The Plains sim, have both outlawed the books from being kept in their scriberies – the Gorean equivalent of a library – and the shops found in their sims.
The work to respect copyright isn't easy. Arete confessed that, "I have tried and tried to tell people but they won't listen" and "it IS an issue and I see it becoming rampant." It does seem to be a hard fight to win.
When asked about how the effort was going, Arete said, "There are many Cities that don't seem to mind [having the books available], which I find very upsetting." When asking around I was given copies of several of the Gor novels from a number of people and found a partial collection in Kyna as well as in a Gorean store called Gwail Bits & Pieces Design. Attempts to contact the administration of Kyna went unanswered.
There are certainly alternatives to having the copyrighted books in SL. The Scribery of Ko-ro-ba is collecting as much original SL Gorean writings as it can find. They are working on a collection of the written rules from all the various Gorean sims and have a collection of nearly a hundred original essays by Luther Matador, a Gorean philosopher and scholar. I have reviewed some of these essays and they are incredibly detailed.
Fidelio Matador, Administrator of Glorious Ar, had been working on a project to transcribe the books of Gor two years ago when he was a scribe for Port Kar. When the team he was working with realized the copyright problem they canceled the project and destroyed all the SL transcriptions he had been working on.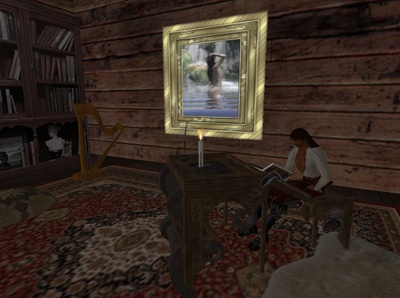 Fidelio Matador – Administrator of Glorious Ar
This January Fidelio Matador, now Administrator of Glorious Ar, also found that Uhuru Onmura was advertising having SL copies of the books available through the Gorean group he runs. He quickly put a stop to it by declaring that the group (of around 600 at the time) was not a place for those sorts of announcements, "After I discussed it with the offender, and after she allowed as how because she was not in the US she did not care about US laws, thus refusing to retract it herself, I posted an announcement to that same group stating that the group shall not be used for this purpose. Period. No controversy, it is the law – my law."
Uhuru Onmuru answered my inquiry for an interview and has come to the same conclusion as the Ubar of Glorious Ar. In the Interview, Uhuru said, "I must admit that i did this new version of the first volume of the Gor series in a state of "overexcitement" having become the new scribe of the city of Brundisium. Also i have to admit not to have cared much about the copyright of them since these books were around as long i am in SL and Gor. But after a few days i thought about it again and decided to stop the whole edition of the Gor books. I also asked all persons who received the books, as far as i remembered them, to delete the copies."
When one chooses to enter the Second Life Gorean sims, some feel there is a need for at least a passing understanding of the culture and philosophy described in the books. As such, availability of the Gor books could help with successful role playing. In an effort to see how difficult it would be to obtain a copy of "Tarnsman of Gor". I dropped by a real life bookstore and asked about availability. "Kristy" – the clerk at the desk was nice enough to check not only the inventory of the store I was at but also a shared database used by most of the bookstores in the city. No store had a copy. She explained to me that they weren't currently available for back-order either; which means the publisher's warehouse is also out-of-stock. In a city of over 2 million people I would not be able to purchase a new copy of this book.
Fidelio Matador also pointed out that there are legal e-books of the Gor novels available for $7.50 each.
The world of Gor is a work of fiction detailed a series of novels written by Professor John Lange under the pseudonym of John Norman and beginning with "Tarnsman of Gor". These books spawned a cult following and in turn are the basis for the Gorean community in SL. Described in these books is a caste oriented society with a strong underlying philosophy of being true to one's self. The society described in the books is based heavily on Roman, ancient Greek and early middle-eastern societies. The philosophy described in the books come from John Norman and is explained in great detail in some of the later books.
Although I have not read the books by John Norman I learned quite a bit about the culture of Gor in SL and much of what I learned surprised me. The philosophy that the people I interviewed seem to have two underlying principles. First, men and women are fundamentally different – not just in looks but also in behaviors. And these differences are encouraged in Gor, not discouraged as some goreans I spoke with thought our world does.
The second aspect of the Gorean philosophy that I learned is that there is a strong sense of personal ethics within the community. This is sometimes seen in their apparently harsh laws and always in the behavior of the people I interviewed. All of them seemed very polite and honest with me.