by Pixeleen Mistral on 09/03/07 at 10:11 am
Linden crackdown not completely effective
Intersexed avatar children up 57% in 21 days
by Pixeleen Mistral, National Affairs desk
Second Life child sex ageplay involving mothers and sons has been dropping in popularity over the last three weeks – and is now down nearly 7% as compared to a Herald study 3 weeks ago. But all other forms of ageplay appear to be growing in popularity, with the hermaphrodite child avatar group growing by over 50%. An escort service group for ageplayers has also sprung up – charging L$300 for the first 10 minutes and L$200 thereafter.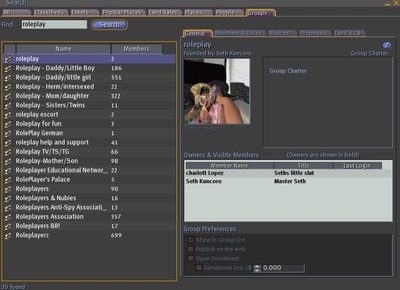 ageplay has been rebranded as "roleplay"
In an exclusive scientific study of fetishes in the metaverse, Herald researchers found 3% overall growth in ageplay group membership over the last 21 days. This is despite a recent Linden Lab crackdown on public advertising of sexually-orientated adult/child ageplay. Researchers concluded that Chadrick Linden's notecard-based metaverse cleanup program has little effect – other than to prompt groups to change their names from "ageplay" to "roleplay".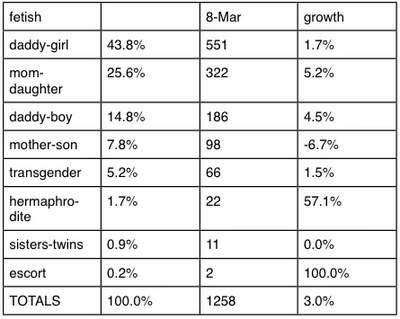 the state of play – by the numbers
As in the previous study, a rigorous scientific methodology was employed. Teams of top-notch researchers looked up groups in the Second Life search tool, then read the group charter to characterize the group, and recorded the group membership numbers.
This exclusive longitudinal study indicated that daddy/little girl remains the favorite of those expressing a preference for what sort of child they play with. In what may be a welcome development for some residents, an escort service group has started.
Chadrick Linden was unavailable for comment at press time.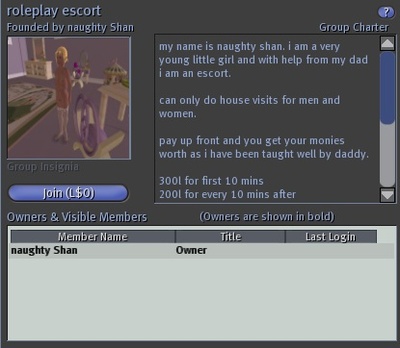 Little girl escorts growing in popularity – L$300 for 10 minutes of service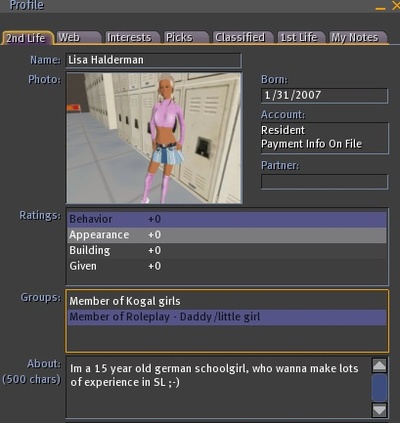 15 year old german schoolgirl – member of daddy/little girl roleplayers