by Urizenus Sklar on 01/03/07 at 2:38 pm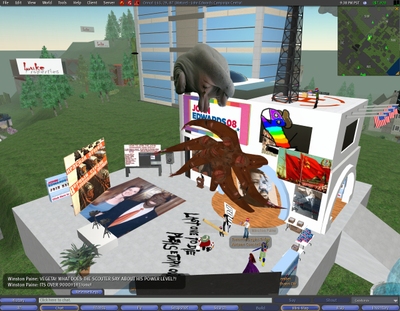 It's bad enough having Fox News excoriate you for not staffing your HQ and calling on you to denounce virtual underage sex brothels, but now there is the problem of Republican griefers. According to an Edwards campaign worker, it was not pretty.
Shortly before midnight (CST) on Monday, February 26, a group of republican Second Life users, some sporting "Bush '08″ tags, vandalized the John Edwards Second Life HQ. They plastered the area with Marxist/Lenninist posters and slogans, a feces spewing obsenity, and a photoshopped picture of John in blackface, all the while harrassing visitors with right-wing nonsense and obsenity-laden abuse of Democrats in general and John in particular.
Story is here. The campaign worker says he filed an abuse report with Linden Lab. Um, sure, that'll work.